Senior World Championships Men's 81 kg and Women's 63 kg Results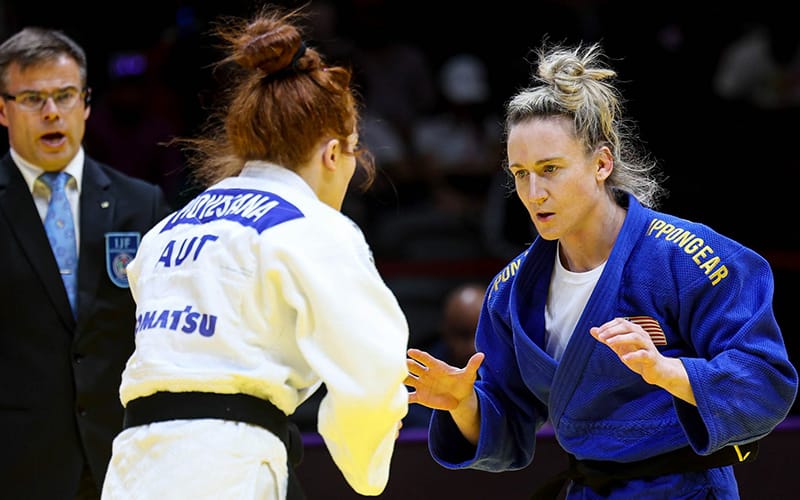 Hannah Martin (right) fought Lubana Piovesana (AUT) in the first round of the women's 63 kg event.
(Colorado Springs, CO) – Team USA struggled in the men's 81 kg and women's 63 kg events on Wednesday at the Senior World Championships in Doha, Qatar.
2023 Senior World Championships Live Results
In his first full year after moving up from the junior ranks, two-time Junior World Team member Nick Yonezuka (West Long Branch, NJ / NYAC / Cranford Judo & Karate Center) drew a bye into the men's 81 kg table of 32 where he faced three-time Senior Pan Am Championships medalist Medickson Del Orbe Cortorreal (DOM). The Dominican threw Yonezuka for a waza-ari (half-point) score in the second period and transitioned to a pin to end the match.
Fighting at his second Senior Worlds, Kell Berliner (Schenectady, NY / Jason Morris Judo Center) was pinned in the round of 64 by 2019 European U23 Championships bronze medalist Pawel Drzymal (POL) for a waza-ari. While Berliner escaped the pin after the waza-ari score, Drzymal locked a second pin in again for another waza-ari to end the match.
World No. 1 Tato Grigalashvili (GEO) successfully defended his 2022 Senior World title, continuing his win streak that began at last year's Worlds in Tashkent, Uzbekistan and continued to include the 2022 World Masters and the 2023 Paris Grand Slam. In the finals, Grigalashvili met a familiar opponent in 2021 Olympic bronze medalist Matthias Casse (BEL). The two faced off in both 2022 Senior World and European Championships finals with Griglashvili taking both wins while Casse claimed gold at the 2021 Senior Worlds and defeated the Georgian for bronze at the Tokyo Games. This time, Grigalashvili threw Casse for a waza-ari to clinch the deciding score with 52 seconds on the clock.
In the women's 63 kg division, three-time Senior Pan Am Championships medalist Hannah Martin (Burnt Hills, NY / New York Athletic Club) fought 2023 Rome European Open bronze medalist Lubana Piovesana (AUT) in the round of 64. Both athletes were given shidos in the first minute for avoiding the grip, but Martin's run came to an end when she was given a hansokumake for an illegal joint lock.
Fighting at her third Senior Worlds, 21-year-old Sara Golden (Crystal Lake, IL / Ki-Itsu-Sai National Training Center) drew Flavia Favorini (ITA) in the round of 64. The match was scoreless through regulation. During the next two minutes of Golden Score (sudden death overtime), Golden was given three penalties and Favorini was awarded the match.
The reigning Olympic Champion, Clarisse Agbegnenou (FRA), showed her dominance again in the 63 kg event, winning her sixth career Senior World title at her second World Tour event since taking a break after the Tokyo Games. Agbegnenou took on 2021 Senior World silver medalist Andreja Leski (SLO) in the finals, pushing the match into the end of the final minute before throwing Leski for a waza-ari and transitioning into a pin to take gold.
Top eight and U.S. results are as follows:
Men's 81 kg
1. Tato Grigalashvili (GEO)

2. Matthias Casse (BEL)

3. Takanori Nagase (JPN)

3. Joonhwan Lee (KOR)

5. Sagi Muki (ISR)

5. Francois Gauthier Drapeau (CAN)

7. Wachid Borchashvili (AUT)

7. Attila Ungvari (HUN)
Also Competed: Nick Yonezuka (West Long Branch, NJ / NYAC / Cranford Judo & Karate Center), 0-1

Kell Berliner (Schenectady, NY / Jason Morris Judo Center), 0-1
Women's 63 kg
1. Clarisse Agbegnenou (FRA)

2. Andreja Leski (SLO)

3. Szofi Ozbas (HUN)

3. Joanne Van Lieshout (NED)

5. Lubjana Piovesana (AUT)

5. Prisca Awiti Alcaraz (MEX)

7. Laura Fazliu (KOS)

7. Catherine Beauchemin-Pinard (CAN)
Also Competed: Hannah Martin (Burnt Hills, NY / New York Athletic Club), 0-1

Sara Golden (Crystal Lake, IL / Ki-Itsu-Sai National Training Center), 0-1