Katelyn Jarrell Takes Top-16 Finish at Senior Worlds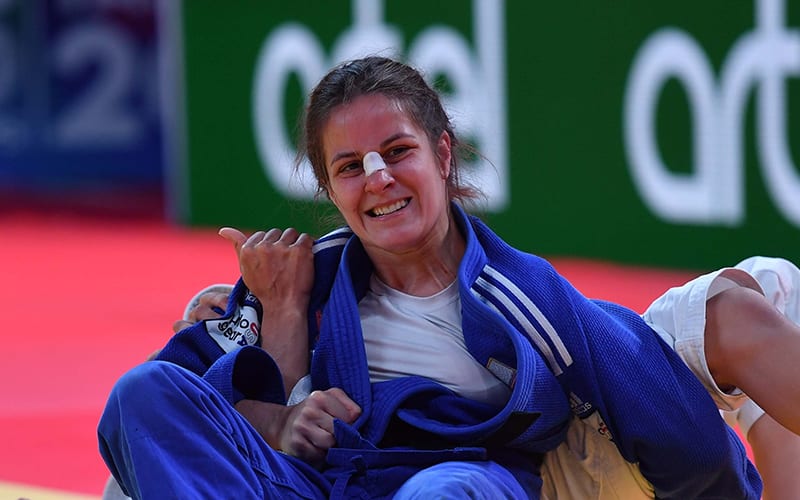 (Colorado Springs, Colo.) – Katelyn Jarrell (East Greenwich, R.I. / NYAC / Mayo Quanchi) advanced to the round of 16 at the Senior World Championships in Tashkent, Uzbekistan on Friday, falling short of advancing to the medal rounds with a loss to an eventual silver medalist.
2022 Senior World Championships Results
Ranked No. 24 in the world at 52kg, Jarrell drew a bye into the second round where she avoided Golden Score overtime when she pinned Djamila Silva (CPV) late in the final minute.
In the third round, Jarrell was pinned by Tokyo Olympic bronze medalist Chelsie Giles (GBR) who went on to win silver in Tashkent.
Two-time Olympian Angelica Delgado (Miami, Fla. / NYAC / Ki-Itsu-Sai National Training Center) also earned a bye into the second round. Ranked No. 17 in the world, Delgado was thrown in the opening minute of her match against 2022 Ulaanbaatar Grand Slam bronze medalist Yerin Jung (KOR) for a wazza-ari (half-point) score that would decide the match.
Competing at his first Senior Worlds, 2021 Junior World Team member Isaiah Ramirez (Barstow, Calif. / Barstow PAL Judo Club) lost by ippon in his opening round by 2021 Zagreb Grand Prix bronze medalist Karo Marandian (UKR).
Top eight and U.S. results are as follows:
Men's 66kg
1. Hifumi Abe (JPN)
2. Joshiro Maruyama (JPN)
3. Baul An (KOR)
3. Denis Vieru (MDA)
5. Vazha Margvelashvili (GEO)
5. Elios Manzi (ITA)
7. Baruch Shmailov (ISR)
7. Bogdan Iadov (UKR)
Also Competed: Isaiah Ramirez (Barstow, Calif. / Barstow PAL Judo Club), 0-1
Women's 52kg
1. Uta Abe (JPN)
2. Chelsie Giles (GBR)
3. Amandine Buchard (FRA)
3. Distria Krasniqi (KOS)
5. Gefen Primo (ISR)
5. Khorloodoi Bishrelt (MGL)
7. Larissa Pimenta (BRA)
7. Aleksandra Kaleta (POL)
Also Competed: Katelyn Jarrell (East Greenwich, R.I. / NYAC / Mayo Quanchi), 1-1

Angelica Delgado (Miami, Fla. / NYAC / Ki-Itsu-Sai National Training Center), 0-1