USA Wins 14 Maccabiah Games Medals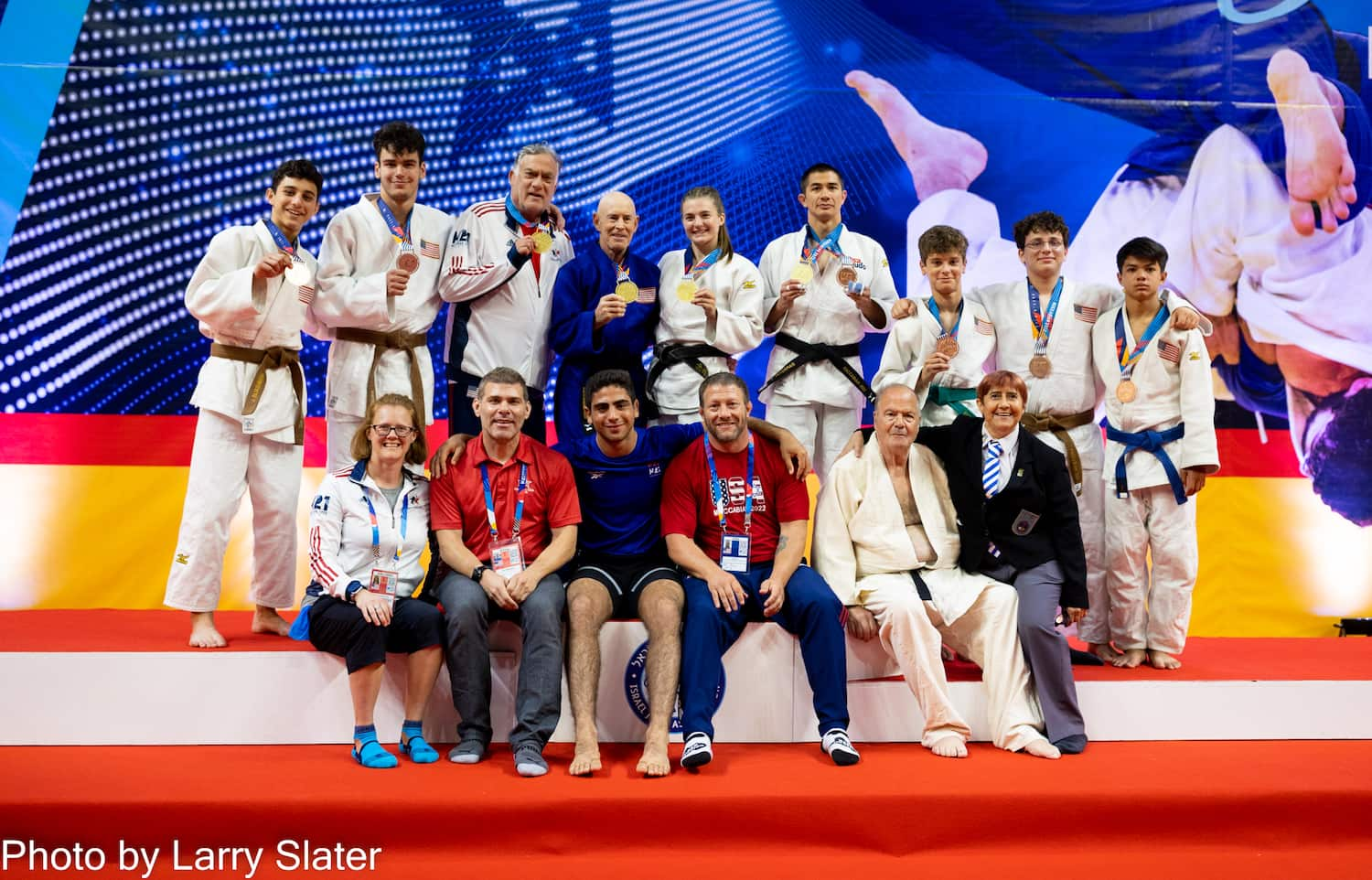 (Colorado Springs, Colo.) – Ten athletes represented the United States in judo competition at the Maccabiah Games in Israel, winning 11 individual medals across the junior, senior and masters categories as well as three team medals.
The Americans were led by Sara Golden (Crystal Lake, Ill. / Ki-Itsu-Sai National Training Center), a 2021 Senior World Team member who not only won gold in the senior 63kg event, but served as a flagbearer for the U.S. delegation at Opening Ceremony.
Golden fought a trio of athletes from Israel who each compete on the junior international circuit, going undefeated with wins over Noam Melosian, Tohar Tamir and Yuval Cohen. The win marks the second international podium finish for the reigning Senior National Champion who also won bronze at the Tunis African Open.
Golden was one of four individual gold medalists for the United States.
Sandy North (Hollywood, Fla. / Budokan Judo) added another Maccabiah title to a packed resume that includes competing at the Maccabiah Games for the last five decades as well as gold medals at the Veteran World Championships. Competing in the veteran +66kg event, North went undefeated in his pool matches against Ricardo Miguel Furman (ARG).
A long-time leader within the Maccabiah Games and Maccabi USA, Lou Moyerman (Philadelphia, Pa. / Liberty Bell Judo) first entered the Games as an athlete in 1981 and reached the top of the podium this year, taking gold in the veteran +100kg competition where didn't drop a match in his pool rounds against his U.S. and Liberty Bell teammate Lawrence Levin (Glencoe, Ill.) who was awarded a silver medal.
Moyerman's son, Adam Moyerman (Philadelphia, Pa. / Liberty Bell Judo), has competed in every Maccabiah Games since 2001 and brought back two more medals this year, winning gold in the veteran 73kg event and bronze in the senior 73kg competition. In the veteran division, Moyerman defeated Rotislav Kaplan (ISR) and Erez Nievo (ISR) each by ippon to advance to the finals where he took out Ben Yakobov (ISR) with another ippon. In the senior event, Moyerman defeated Gonzalo Ezequiel Martin (ISR) by ippon, but lost in the semis to eventual gold medalist Shay Daum (ISR) who scored a waza-ari first and ended the match with an ippon. Moyerman ended with another win and the bronze when he defeated Aron Lippmann (ISR) by ippon.
The Americans also had success in the junior events, winning five additional medals.
Tom Braverman (Allen, Texas / Eastside Dojo) and David Geyfman (Scranton, Pa. / Jason Morris Judo Center) won silver and bronze in the men's 90kg competition. Braverman secured his podium finish when he defeated Nikita Krojilin (OLIM) by a waza-ari in the semifinals before falling to Gal Brazani (ISR) by ippon in the finals. Geyfman lost to Brazani by ippon in the semis, but he came back to defeat Ariel Fridman (BRA) by ippon to win bronze.
In the 50kg event, Solomon Resnick (Westminster, Calif. / Norwalk Judo Dojo) earned bronze with a 1-2 finish in his pool. After a loss by ippon to Ido Nakar (ISR) in his first match, Resnick took a Golden Score (sudden death overtime) win against Gustavo Brunstein (BRA) by ippon. With a medal guaranteed, Resnick ended the day with a bronze after a loss by ippon to Ben Tamari (ISR) who won silver.
Harry Greenberg (Elkins Park, Pa. / Liberty Bell Judo) also posted a 1-2 pool record to win bronze in the 55kg event. Although Greenberg lost his first two matches to Omer Reicher (ISR) and Theo Rocha (BRA) by ippon and waza-ari scores, respectively, he came back to win bronze when he defeated Yuriy Mushailov (AZE) by ippon.
Jacob Eliashberg (Sunnyvale, Calif. / Santa Clara PAL Judo Club) competed in the junior 60kg event, finishing 0-3 to end with a bronze.
In the team competitions, the Americans won gold in the veteran event and bronzes in both junior and the combo team competition.
2022 Maccabiah Games Photo Credit: Larry
Slater