Christian Konoval Places Fifth at Junior Worlds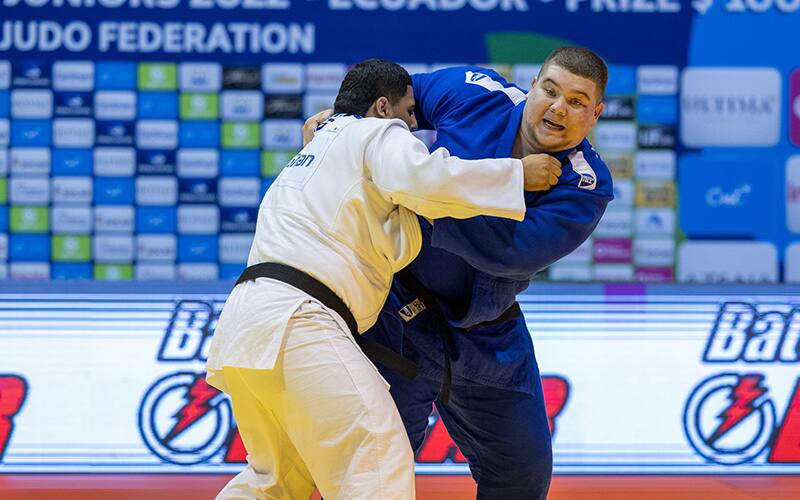 (Colorado Springs, Colo.) – Three-time Junior World Team member Christian Konoval (Rockport, Texas / NYAC / Becerra Judo) finished fifth at the Junior World Championships in Guayaquil, Ecuador on Saturday.
2022 Junior World Championships Complete Results
Nineteen-year-old Konoval earned the second-highest finish of the week for an American, fighting for bronze in the +100kg division.
After a bye into the second round, Konoval took a walkover win against Mansur Rahmon (TJK) to advance to the quarter-finals against Utkirbek Turoboyev (UZB), a 100kg bronze medalist at the 2021 Junior Worlds who moved up to the heavyweight event. Konoval threw Turoboyev for a waza-ari during the first exchange and for another in the third minute to end the match. Konoval lost his semifinal bout to eventual silver medalist Cruz Leon Omar (CUB) on penalties. Fighting for bronze, Konoval was thrown for a waza-ari in the opening minute by two-time Asian Junior Champion Islombek Ravshankulov (UZB). Konoval kept up the intensity for the remainder of the match, but was unable to score.
Competing in his first international event, 16-year-old Romeo Sangdee-Takeuchi (Lomita, Calif. / South Bay Judo) was thrown for ippon in the first round of the +100kg event by 2022 Cadet European Championships silver medalist Davit Kevlishvili (ESP).
Seventeen-year-old Elias Sabin (Elk Grove, Calif. / Rocklin Judo) also made his Junior World debut in Ecuador. A 2020 Junior and Cadet Pan Am Team member, Sabin drew 2021 Junior European Championships medalist Michael Jedrzejewski (POL) and was thrown for two waza-aris.
Top eight and U.S. results are as follows:
Men's 100kg
1. Kenny Liveze (FRA)
2. Tomohiro Nakano (JPN)
3. Kilian Kappelmeier (GER)
3. Benjamin Mataseje (SVK)
5. Mukhammadkodir Mansurov (UZB)
5. Daniele Accogli (ITA)
7. Mathias Anglionin (FRA)
7. Kayo Santos (BRA)
Also Competed: Elias Sabin (Elk Grove, Calif. / Rocklin Judo), 0-1
Men's +100kg
1. Yuta Nakamura (JPN)
2. Cruz Leon Omar (CUB)
3. Shalva Gureshidze (GEO)
3. Islombek Ravshankulov (UZB)
5. Jules Blom (NED)
5. Christian Konoval (Rockport, Texas / NYAC / Becerra Judo)
7. Kar Prilinn Turk (EST)
7. Utkirbek Turoboyev (UZB)
Also Competed: Romeo Sangdee-Takeuchi (Lomita, Calif. / South Bay Judo), 0-1
Women's 78kg
1. Aki Kuroda (JPN)
2. Beatriz Freitas (BRA)
3. Lieke Derks (NED)
3. Iriskhon Kurbanbaeva (UZB)
5. Oceane Zatchi BI (FRA)
5. Sin-Yi Yu (TPE)
7. Zanet Michaelidou (CYP)
7. Yuli Alma Mishiner (ISR)
Women's +78kg
1. Mao Arai (JPN)
2. Hilal Ozturk (TUR)
3. Erica Simonetti (ITA)
3. Miki Mukunoki (JPN)
5. Carmen Dijkstra (NED)
5. Asya Tavano (ITA)
7. Nayli Leon (ECU)
7. Amarantha Urdaneta (VEN)