Gonzalez and Yang Win Cadet Silver and Bronze in Portugal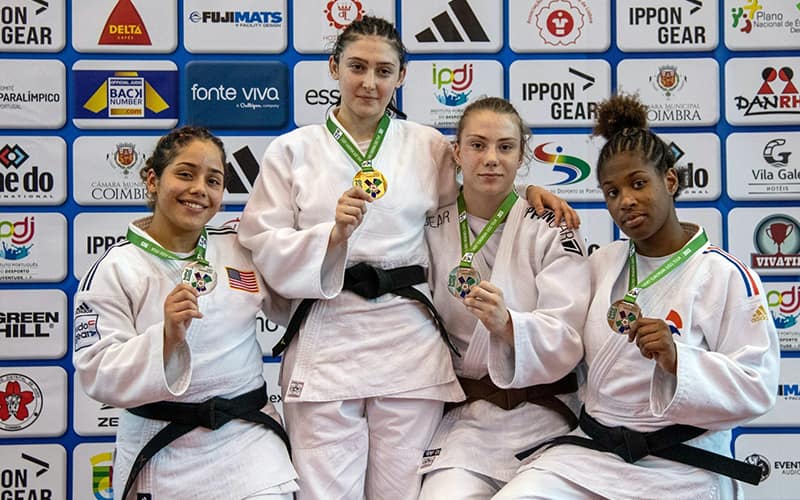 (Colorado Springs, CO) – Team USA returned to the podium at the Coimbra Cadet European Cup in Portugal this weekend with podium finishes on both Saturday and Sunday.
2023 Coimbra Cadet European Cup Results
A silver medalist at this tournament in 2022, 16-year-old Shavon Gonzalez (West Palm Beach, FL / Ki-Itsu-Sai National Training Center) claimed her second straight silver at this tournament and retained her position as No. 1 in the Cadet World Rankings at 70 kg.
Gonzalez defeated Emma Feuillet-Nguimgo (FRA) and Beatriz Rosa (POR) each by ippon (instant win) scores in the opening rounds. In the semifinals, Gonzalez threw 2023 Fuengirola Cadet European Cup bronze medalist Lou Cecile Nlembe (FRA) for a third straight ippon. In the finals, however, Aurora Mengia (ITA) threw Gonzalez for a waza-ari (half-point) early in the match to win her third Cadet European Cup medal this year.
The silver for Gonzalez marks her fifth Cadet Continental Cup medal in just over a year.
A week after winning silver at the USA Judo Senior National Championships in the 60 kg division, 15-year-old Jonathan Yang (Los Angeles, CA / LA Judo Club) won bronze in his debut on the Cadet European Cup circuit in the 55 kg category on Saturday.
Yang, who qualified for the 2023 Cadet Pan American Team with his gold medal win at the Youth Nationals in March, finished 5-1 on the day in a field with 48 opponents.
Yang drew a bye into the second round and won his first two matches of the day against Jeremy Beuchat (FRA) and Manuel Figueiredo (POR) before falling to 2023 Zagreb Cadet European Cup bronze medalist Hasan Hasanli (AZE) in the quarter-finals. Yang threw his next two opponents – Lorenzo Bendoni (ITA) and Emiliano Lattanzi (ITA) – each for ippon in the repechage to advance to the bronze medal final where Yang threw Pablo Millan Salas (ESP) for ippon.
Sixteen-year-old Emily Jaspe (Hialeah, FL / Ki-Itsu-Sai National Training Center) also fought for bronze in Portugal. Jaspe, who fought with Gonzalez at both the 2022 Junior and Cadet World Championships, won three straight matches to advance to the semifinals, but lost her next two to finish fifth.
Top eight and U.S. results are as follows:
Cadet Men's 50 kg
1. Bahadir Feyzullayev (AZE)
2. Nihad Mamishov (AZE)
3. Askhab Isayev (BEL)
3. Abel Brotons Cardenas (ESP)
5. Alexandre Saakyan (FRA)
5. Michele Porrelli (ITA)
7. Alex Llamas Viejo (ESP)
7. Senn Van Buel (NED)
Also Competed: Alex Prado (Coral Springs, FL / Ki-Itsu-Sai National Training Center), 0-1
Women's 40 kg
1. Aiora Martin Carriches (ESP)
2. Narjess Haddeji (TUN)
3. Imane Lima (FRA)
3. Mathilde Aurel (FRA)
5. Miriam Tempesta (ITA)
5. Emma Hersent (FRA)
7. Ludmila Jaures (FRA)
7. Yousra Laghamar (FRA)
Men's 55 kg
1. Samuele Canova (ITA)
2. Johnny Ozmanyan (FRA)
3. Hasan Hasanli (AZE)
3. Jonathan Yang (Los Angeles, CA / LA Judo Club)
5. Murad Fatullayev (AZE)
5. Pablo Millan Salas (ESP)
7. Emiliano Lattanzi (ITA)
7. Unai Penas Merino (ESP)
Women's 44 kg
1. Marta Beorlegui Oses (ESP)
2. Irene Garcia Sanchez (ESP)
3. Rachele Moruzzi (ITA)
3. Africa Puente Lopez (ESP)
5. Celia Van Beneden (BEL)
5. Laura Molina Oliver (ESP)
7. Lena Antoine (BEL)
7. Alice Sloth Hansen (DEN)
Men's 60 kg
1. Johan Gbingbehi (FRA)
2. Amsar Dzhamaldinov (BEL)
3. Pharian Choquenet Dhenry ( FRA)
3. Antonio Esposito (ITA)
5. Eduardo Sagastegui (MEX)
5. Thomas Palillo (ITA)
7 Baptiste De Araujo (FRA)
7. Carlos Costa (POR)
Women's 48 kg
1. Alice Bersellini (ITA)
2. Marketa Korkcakova (CZE)
3. Giulia Bonzano (ITA)
3. Claudia Pla Belmonte (ESP)
5. Siria Angel Nictora (ITA)
5. Isciane Dye (FRA)
7. Julia Detre (FRA)
7. Selma Brovold (NOR)
Men's 66 kg
1. Renat Croitoru (MDA)
2. Irakli Goginashvili (GBR)
3. Riccardo Sacchi (ITA)
3. Rodrigo Janeiro (POR)
5. Daniel Parrilla Munoz (ESP)
5. Alessandro BIcorgni (ITA)
7. Giuseppe Carabotto (ITA)
7. Ruben Nesico (FRA)
Also Competed: Kevin Do Carmo (Lehigh Acres, FL / Ki-Itsu-Sai National Training Center), 0-1
Women's 52 kg
1. Adrina Saez Hevia (ESP)
2. Constance Dos Reis (FRA)
3. Monica Martinez De Rituerto Morillas (ESP)
3. Maria Del Rocio Arcones Montenegro (ESP)
5. Shanice Luis (NED)
5. Ottavia Napoleone (ITA)
7. Dina-Syrine Hamdaoui (FRA)
7. Celia Maillard (FRA)
Men's 73 kg
1. Lucio Tavoletta (ITA)
2. Alhamzah Hassoun (BEL)
3. Noah Boue (FRA)
3. Hunor Mihaly (ROU)
5. Salvatore Mazzola (ITA)
5. Jawanys Belleval (FRA)
7. Giulio Molinaro (ITA)
7. Saad Dikajev (EST)
Also Competed: Anthony Farnot (Lehigh Acres, FL / Ki-Itsu-Sai National Training Center), 2-2
Women's 57 kg
1. Maria Silveira (POR)
2. Sara Cardella (ITA)
3. Camille Sternon (BEL)
3. Itsaso Madariaga Huegun (ESP)
5. Emma Pillot (FRA)
5. Marika Cavaglia (ITA)
7. Martina Capezzuto (ITA)
7. Talyana Abdallah (FRA)
Also Competed: Nicole Cancela (Coral Springs, FL / Ki-Itsu-Sai National Training Center), 0-1
Men's 81 kg
1. Alessandro Bruno D'Urbano (ITA)
2. Kenzo Cremers (BEL)
3. Liam Le Gallou (FRA)
3. David Iurcovschi (FRA)
5. Arkaitz Eneriz Garcia (ESP)
5. Alex Stawski (FRA)
7. Timotej Kos (SLO)
7. Alex Carta (ITA)
Women's 63 kg
1. Lucia Carpio Fernandez (ESP)
2. Emma Benghezal (FRA)
3. Ons Romdhani (TUN)
3. Mai Noerskov (DEN)
5. Emily Jaspe (Hialeah, FL / Ki-Itsu-Sai National Training Center)
5. Nicole Basili (ITA)
7. Maila Pagliaro (ITA)
7. Luna De Kock (NED)
Men's 90 kg
1. Matej Pecha (SVK)
2. Antonio Aixel Ramirez Perez (ESP)
3. Luigi Barbero (ITA)
3. Ozbej Razgorsek (SLO)
5. Tony Tavares (FRA)
5. Joani Toesca-Irazoqui (FRA)
7. Aritz Lavado Reta (ESP)
7. Steeve Andrieu (FRA)
Women's 70 kg
1. Aurora Mengia (ITA)
2. Shavon Gonzalez (West Palm Beach, FL / Ki-Itsu-Sai National Training Center)
3. Stepanka Hojdarova (CZE)
3. Lou Cecile Nlembe (FRA)
5. Francesca Trongone (ITA)
5. Isla Erkkila (FIN)
7. Beatriz Rosa (POR)
7. Lucie Rullier (FRA)
Men's +90 kg
1. Marek-Adrian Masak (EST)
2. Jean Pascal Bi Goly Da Gosta (FRA)
3. Emiliano Rossi (ITA)
3. Davide Graziosi (ITA)
5. Adem Kouki (TUN)
5. Alexandr Matveev (MDA)
7. Filippo Armano (ITA)
7. Alejandro Antonio Rojas Arencibia (ESP)
Women's +70 kg
1. Zeineb Troudi (TUN)
2. Marie Kosnarova (CZE)
3. Emma-Melis Aktas (EST)
3. Lucia Magli (ITA)
5. Sweety Essiemi Okale (FRA)
5. Aitana Sala Cano (ESP)
7. Cinzia Caponetto (ITA)
7. Nina Filkorova (SVK)