Elmahroukey and Golden Win Silver and Bronze in Kuwait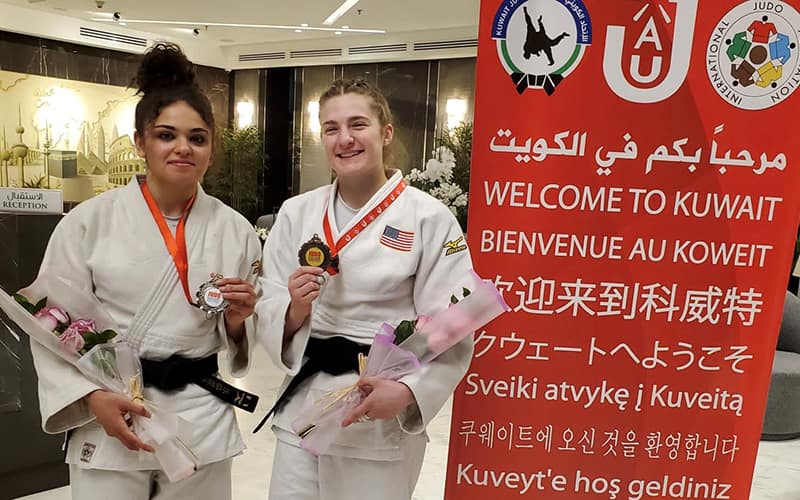 (Colorado Springs, CO) – Two of Team USA's rising judoka reached the podium on Friday at the Kuwait City Asian Open where Noran Elmahroukey (New Providence, NJ / New York Athletic Club) and Sara Golden (Crystal Lake, IL / Ki-Itsu-Sai National Training Center) won silver and bronze in the 57 kg and 63 kg events, respectively.
2023 Kuwait City Asian Open Results
A member of the 2018 Junior World Team, Elmahroukey went 2-1 in just her second appearance on the senior international circuit to earn the silver medal in her 57 kg competition.
Elmahroukey won her first match on penalties, defeating 2019 Senior World Team member Nok Lam Yeung (HKG) in the quarter-finals. In the semis, Elmahroukey defeated 2019 Asian Cadet Championships bronze medalist Balnur Abdeshova (KAZ) by ippon (instant win) in the opening minute. The American's run came to an end in the finals, however, when she was eliminated on penalties by Yuna Shin (KOR).
Competing in a final tune-up before the Senior World Championships begin in Doha, Qatar on May 6, 21-year-old Golden won her fourth career Continental Open medal with her bronze in Kuwait. Golden rebounded from a loss on penalties to Debora Gjakova (KOS) in the quarter-finals to win her next two matches by ippon, defeating Diana Dimitriou (CYP) and Jihyeon Lee (KOR) in the repechage rounds.
Top eight and U.S. results are as follows:
Men's 60 kg
1. Yerzhan Yerenkaiypov (KAZ)
2. Kanat Seilkhan (KAZ)
3. Mohsin Gulab (IND)
3. Jaehyeon Kim (KOR)
5. Meshal Alali (KUW)
5. Ali Agamammedov (TKM)
7. Dovran Yazkylychov (TKM)
7. Mekan Ramazanov (TKM)
Women's 48 kg
1. Juhee Yu (KOR)
2. Asmita Dey (IND)
3. Ka Lee Wong (HKG)
3. Swaita Swaita (IND)
5. Kurbanay Kurbanova (TKM)
5. Aksoltan Hojageldiyeva (TKM)
7. Lok Yi HO (HKG)
7. Oumaima Bedioui (TUN)
Men's 66 kg
1. Aibolat Ystybay (KAZ)
2. Erbol Abasbekov (KGZ)
3. Kemelbek Moldash (KAZ)
3. Bolat Bilal (KAZ)
5. Abylay Mussakhanov (KAZ)
5. Kazybek Chynybekov (KGZ)
7. Mounis Hawsawi (KSA)
7. Dastan Djumashev (KGZ)
Also Competed: Jay Shimizu (Los Angeles, CA), 0-1
Women's 52 kg
1. Mio Huh (KOR)
2. Nurailym Sarsenbek (KAZ)
3. Shuk Ki Tsui (HKG)
Men's 73 kg
1. Kestutis Vitkauskas (LTU)
2. Hwigeon Kim (KOR)
3. Islam Toktassyn (KAZ)
3. Ghady Moussa (LBN)
5. Hong Nin Mak (HKG)
5. Parahat Nazarov (TKM)
7. Sulaiman Hamad (KSA)
7. Begench Soltanov (TKM)

Women's 57 kg
1. Yuna Shi (KOR)
2. Noran Elmahroukey (New Providence, NJ / New York Athletic Club)

3. Maysa Pardayeva (TKM)

3. Fationa Kasapi (KOS)

5. Yamini Mourya (IND)

5. Balnur Abdeshova (KAZ)

7. Nok Lam Yeung (HKG)
Men's 81 kg
1. Woojin Choi (KOR)
2. Madi Amangeldi (KAZ)
3. Sajjad Sehen (IRQ)
3. Kyodong Seo (KOR)
5. Harshdeep Sing Brar (IND)
5. Ratbek Zhumanazarov (KGZ)
7. Abdulelah Albali (KSA)
7. Soran Fathalla (IRQ)
Women's 63 kg
1. Jovana Buncic (SRB)
2. Unnati Sharma (IND)
3. Sara Golden (Crystal Lake, IL / Ki-Itsu-Sai National Training Center)
3. Deobra Gjakova (KOS)
5. Himanshi Tokas (IND)
5. Jihyeon Lee (KOR)
7. Zulhumar Dashkinova (TKM)
7. Diana Dimitriou (CYP)
Men's 90 kg
1. Anarbek Ishenbaev (KGZ)
2. Mamedaly Achyldyyev (TKM)
3. Vlad Visan (ROU)
3. Yuchul Kim (KOR)
5. Aristos Michael (CYP)
5. Abdallah Miqdad (JOR)
7. Talal Alenezi (KUW)
7. John Viron Ferrer (PHI)
Women's 70 kg
1. Nihel Landolsi (TUN)
2. Garima Choudhary (IND)
Men's 100 kg
1. Hongkyu Lee (KOR)
2. Shpati Zekaj (KOS)
3. Avtar Singh (IND)
3. Ghanam Aldikan (KUW)
5. Zelimkhan Bashaev (BRN)
5. Baymyrat Majanov (TKM)
7. Aibek Akimov (KGZ)
Women's 78 kg
1. Juyun Kim (KOR)
2. Indubala Devi Maibam (IND)
3. Milica Cvijic (SRB)
Men's +100 kg
1. Seungyeob Lee (KOR)

2. Giannis Antoniou (CYP)

3. Syimyk Zhaparov (KGZ)

3. Hamad Alrashed (KUW)

5. Hussein Ayyal Salman (JOR)

5. Fahad Altuwaijri (KUW)

7. Mansour Abdulrahman (UAE)
Women's +78 kg
1. Sarra Mzougui (TUN)
2. Tulika Maan (IND)
3. Hye Bin Bae (KOR)
3. Karina Takiyeva (KAZ)
5. Nazgul Maratova (KAZ)
5. Aakriti Joshi (NEP)