Olympic and Paralympic Week Promotes Inclusion Through Judo at the Chula Vista Elite Athlete Training Center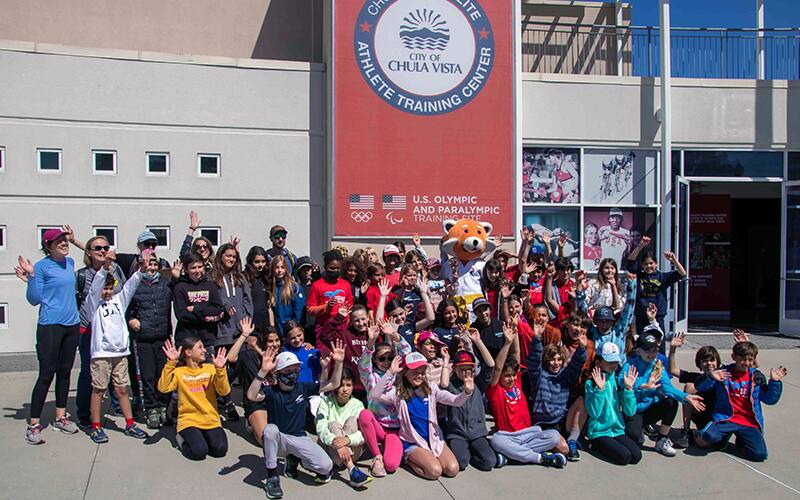 (San Diego, CA) – The Olympic and Paralympic Week is a unique opportunity to promote sports among young people and to unite the community around the values of citizenship and sport.
This year, the event is taking place at the Chula Vista Elite Athlete Training Center in Southern California from April 4-7 with more than 120 kids from French schools across the United States learning about the sport of judo from top American and French athletes, including 2012 Olympic bronze medalists Marti Malloy (USA) and Gevrise Emane (FRA), 2000 Olympic silver medalist Larbi Benboudaoud (FRA) and Tokyo Olympian Nina Cutro-Kelly (USA) and Paralympian Robert Tanaka (USA).
The theme of the 2023 edition is social and physical inclusion, and the event will see the participation of sports organizations serving athletes with developmental disabilities. The Olympic and Paralympic week is aimed at teachers, students, and engages local and regional authorities, sports federations, and associations, as well as high-level athletes.

In the context of the Paris 2024 and Los Angeles 2028 Olympic and Paralympic Games, USA Judo along with the French Judo Federation are sharing their expertise in teaching judo in schools in North America. Le Lycée Français de San Diego has been selected as the pilot school for this program. The school is accredited by the Agency for French Education Abroad (AEFE).

The Opening Ceremony of the event took place on Tuesday and featured distinguished guests with opening remarks made by Chula Vista Mayor John McCann. Special guests also included Julie Duhaut-Bedos, French Consul General for the Los Angeles French Consulat, and Hervé Aka, executive manager for France Judo in North America, as well as officials from the Chula Vista & San Diego mayors' offices.

The goal of the North America Olympic and Paralympic Week 2023 is to raise awareness of Olympic values such as friendship, excellence, respect, courage, determination, inspiration and equality. It also aims to change the way young people look at disability through the discovery of para sports and promote sports activities for people of any age, social background and health condition.

"Judo is an activity for everyone, which allows us to develop coordination, balance, mobility, and self-confidence. It is an excellent way to promote social inclusion and the values of mutual assistance and prosperity," Aka said.
2023 Chula Vista Olympic and Paralympic
Week
Photo Gallery Credit: Jerry Hayes