Hannah Martin Places Seventh at Abu Dhabi Grand Slam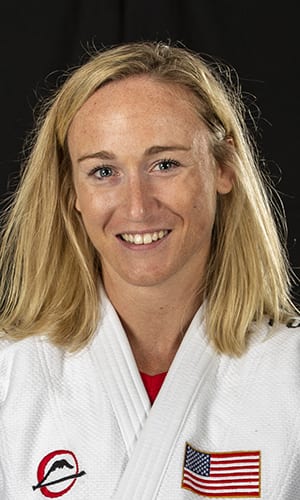 (Colorado Springs, Colo.) – Hannah Martin (Schenectady, N.Y. / NYAC) earned her second seventh place finish of the year at a Grand Slam event on Saturday in the 63kg division in Abu Dhabi.
2022 Abu Dhabi Grand Slam Results
The seven-time Senior World Team member and new mom finished the day with a 2-2 record less than two weeks after competing at the Senior World Championships in Tashkent, Uzbekistan.
In the opening round, Martin and 2020 Olympian Cristina Cabana Perez (ESP) fought through four minutes of regulation and two minutes of Golden Score (overtime) before Martin threw Perez for a waza-ari (half point) to take the match.
Martin won her second round match against Agatha Schmidt when she pinned the German in the final 30 seconds of regulation.
Martin's quarter-final went to overtime as well with the American throwing No. 1 seed Lucy Renshall (GBR) for a waza-ari score two minutes into Golden Score. The call was waved off and the match continued with Renshall holding two penalties and trying to avoid a third. In the fourth minute of overtime, however, Renshall caught Martin with an armbar to win the match and go on to take gold – her eighth career Grand Slam medal and fifth Grand Slam gold in the last 18 months.
In the repechage, Martin was caught in an armbar by two-time reigning Junior World Champion Joanne Van Lieshout (NED) who went on to earn her first Grand Slam medal with a bronze.
Top eight and U.S. results are as follows:
Men's 60kg
1. Giorgi Sardalashvili (GEO)
2. Yung Wei Yang (TPE)
3. Salih Yildiz (TUR)
3. Balabay Aghayev (AZE)
5. Temur Nozadze (GEO)
5. Turan Bayramov (AZE)
7. Vijay Kumar Yadav (IND)
7. Dilshot Khalmatov (UKR)
Women's 48kg
1. Julia Figueroa (ESP)
2. Francesca Milani (ITA)
3. Zongying Guo (CHN)
3. Abiba Abuzhakynova (KAZ)
5. Catarina Costa (POR)
5. Assunta Scutto (ITA)
7. Milica Nikolic (SRB)
7. Leyla Aliyeva (AZE)
Also Competed: Giovanna Prado (Coral Springs, Fla. / Ki-Itsu-Sai National Training Center), 0-1

Maria Laborde (Kenosha, Wis. / Ki-Itsu-Sai National Training Center), 0-1
Men's 66kg
1. Elios Manzi (ITA)
2. Strahinja Buncic (SRB)
3. Matteo Piras (ITA)
3. Yesset Kuanov (KAZ)
5. Wail Ezzine (ALG)
5. Alberto Gaitero Martin (ESP)
7. Bagrati Niniashvili (GEO)
7. Lenin Preciado (ECU)
Also Competed: Isaiah Ramirez (Barstow, Calif. / Barstow PAL Judo), 0-1
Women's 52kg
1. Astride Gneto (FRA)
2. Diyora Keldiyorova (UZB)

3. Odette Giuffrida (ITA)
3. Gefen Primo (ISR)

5. Yasmim Lima (BRA)

5. Fabienne Kocher (SUI)

7. Soumiya Iraoui (MAR)

7. Mascha Ballhaus (GER)
Men's 73kg
1. Nils Stump (SUI)

2. Giovanni Esposito (ITA)

3. Salvador Cases Roca (ESP)

3. Shakhram Akhadov (UZB)

5. Petru Pelivan (MDA)

5. Obidkhon Nomonov (UZB)

7. Daniyar Shamshayev (KAZ)

7. Angsarbek Gainullin (KAZ)
Also Competed: Jack Yonezuka (West Long Branch, N.J. / NYAC / Cranford Judo & Karate Center), 0-1
Women's 57kg
1. Mimi Huh (KOR)

2. Nora Gjakova (KOS)

3. Marica Perisic (SRB)

3. Eteri Liparteliani (GEO)

5. Ozlem Yildiz (TUR)

5. Qi Cai (CHN)

7. Nekoda Smythe-Davis (GBR)

7. Acelya Toprak (GBR)
Men's 81kg
1. Nicolas Chilard (FRA)

2. Jose Maria Mendiola Izquieta (ESP)

3. Zelim Tckaev (AZE)

3. Mihail Latisev (MDA)

5. Abylaikhan Zhubanazar (KAZ)

5. Francois Gauthier Drapeau (CAN)

7. Sergii Krivchach (UKR)

7. Frank De Wit (NED)
Also Competed: Nick Yonezuka (West Long Branch, N.J. / NYAC / Cranford Judo & Karate Center), 0-1
Women's 63kg
1. Lucy Renshall (GBR)

2. Barbara Timo (POR)

3. Joanne Van Lieshout (NED)

3. Gili Sharir (ISR)

5. Anja Obradovic (SRB)

5. Iva Oberan (CRO)
7. Hannah Martin (Schenectady, N.Y. / NYAC)
7. Katharina Haecker (AUS)
Men's 90kg
1. Beka Gviniashvili (GEO)

2. Loris Tassier (FRA)

3. Nemanja Majdov (SRB)

3. Jesper Smink (NED)

5. Dzhakhongir Madzhi (TJK)

5. Didar Khamza (KAZ)

7. Komronshokh Ustopiriyon (TJK)

7. Theodoros Tselidis (GRE)
Also Competed: John Jayne (Chicago, Ill.)
Women's 70kg
1. Elisavet Teltsidou (GRE)

2. Gabriella Willems (BEL)

3. Katie-Jemima Yeats-Brown (GBR)

3. Martina Esposito (ITA)

5. Maya Goshen (ISR)

5. Serafima Moscalu (ROU)

7. Kelly Peterson Pollard (GBR)

7. Fidan Ogel (TUR)
Men's 100kg
1. Kyle Reyes (CAN)

2. Nikoloz Sherazadishvili (ESP)

3. Shady Elnahas (CAN)

3. Aleksandar Kukolj (SRB)

5. Asley Gonzalez (ROU)

5. Elmar Gasimov (AZE)

7. Mathias Madsen (DEN)

7. Nurlykhan Sharkhan (KAZ)
Women's 78kg
1. Zhenzhao Ma (CHN)

2. Natalie Powell (GBR)

3. Anna Monta Olek (GER)

3. Loriana Kuka (KOS)

5. Inbar Lanir (ISR)

5. Audrey Tcheumeo (FRA)

7. Giorgia Stangherlin (ITA)

7. Karen Stevenson (NED)
Men's +100kg
1. Lukas Krpalek (CZE)
2. Jur Spijkers (NED)

3. Temur Rakhimov (TJK)

3. Enej Marinic (SLO)

5. Johannes Frey (GER)

5. Marius Fizel (SVK)

7. Dzhamal Gamzatkhanov (AZE)

7. Yakiv Khammo (UKR)
Women's +78kg
1. Xin Su (CHN)

2. Sophio Somkhishvili (GEO)

3. Rochele Nunes (POR)

3. Lea Fontaine (FRA)

5. Shiyan Xu (CHN)

5. Marit Kamps (NED)

7. Asya Tavano (ITA)

7. Kamila Berlikash (KAZ)