Senior Worlds Men's 100kg and Women's 78kg Results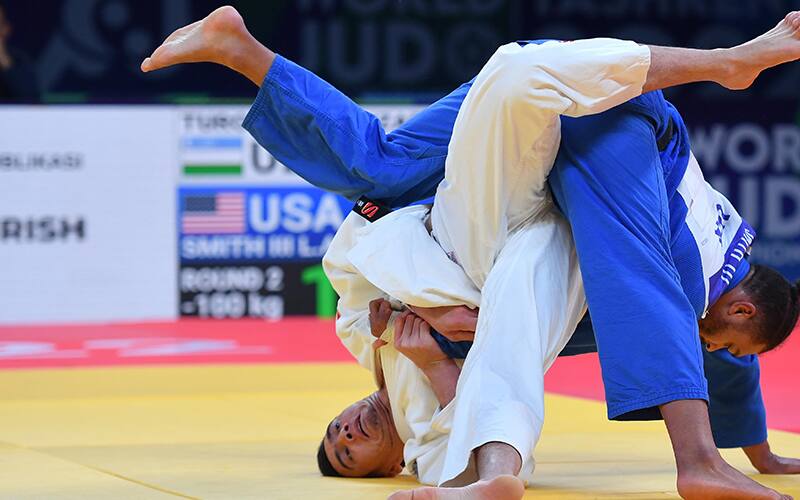 (Colorado Springs, Colo.) – Four-time Senior World Team member L.A. Smith (Rahway, N.J.) was eliminated in the second round of the 100kg competition at the Senior World Championships in Tashkent, Uzbekistan on Tuesday.
2022 Senior World Championships Results
Smith, who won bronze at the Portugal Grand Prix earlier this year, fought Muzaffarbek Turoboyev (UZB), a four-time Grand Slam medalist, after a bye into the second round.
Fighting in front of a home crowd, Turoboyev threw Smith for a waza-ari score in the second minute and took the match to the ground in the third minute where he pinned the American before going on to win the 100kg title for Uzbekistan. The gold would be the second in as many days for the host country who also won the 90kg competition.
Top eight and U.S. results are as follows:
Men's 100kg
1. Muzaffarbek Turoboyev (UZB)
2. Kyle Reyes (CAN)
3. Michael Korrel (NED)
3. Zelym Kotsoiev (AZE)
5. Toma Nikiforov (BEL)
5. Ilia Sulamanidze (GEO)
7. Jorge Fonseca (POR)
7. Shady Elnahas (CAN)
Also Compted: L.A. Smith (Rahway, N.J.), 0-1
Women's 78kg
1. Mayra Aguiar (BRA)
2. Zhenzhao Ma (CHN)
3. Beata Pacut-Kloczko (POL)
3. Yelyzaveta Lytvynenko (UKR)
5. Alina Boehm (GER)
5. Shori Hamada (JPN)
7. Anna-Maria Wagner (GER)
7. GIorgia Stangherlin (ITA)