Senior Worlds Men's 90kg and Women's 70kg Results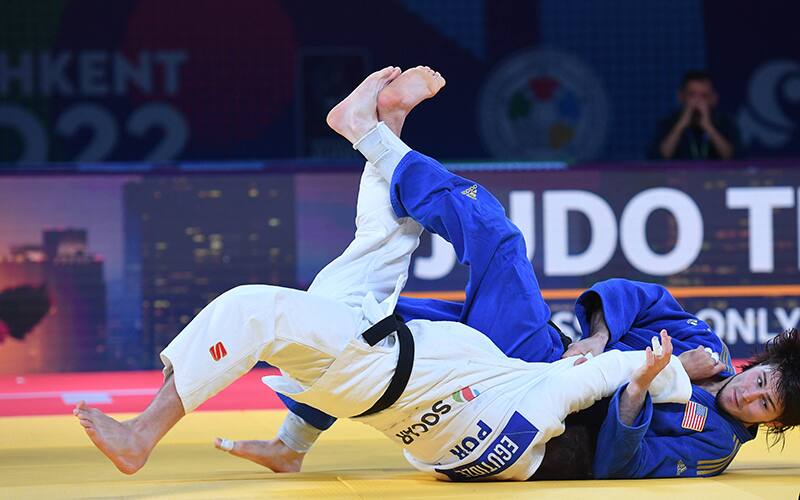 (Colorado Springs, Colo.) – Three members of Team USA competed at the Senior World Championships on Monday in Tashkent, Uzbekistan.
2022 Senior World Championships Results
John Jayne (Chicago, Ill.) and Alexander Knauf (Yorkville, Ill. / NYAC / Cohen Brothers) each fought in the 90kg division, but were eliminated in their opening matches.
Competing at his second Senior World Championships, Jayne drew 2021 Senior World bronze medalist Anri Egutidze (POR) in the first round. The 2022 Senior Pan Am bronze medalist pushed the pace throughout before being thrown for a waza-ari (half point) score in the final minute of the match.
A member of the 2022 Junior World Team making his debut at the Senior Worlds, Knauf came up against two-time Junior World medalist Christian Parlati (ITA) in the first round where he was thrown for two waza-ari scores in the second minute. Parlati went on to win silver at his second Senior World Championships.
On the women's side, four-time Senior World Team member Chantal Wright (San Antonio, Texas / Semper Fortis Judo) met two-time Olympian Gulnoza Matniyazova (UZB) in the 70kg division and was eliminated in the opening round after Matniyazova scored a waza-ari in the second minute and ippon in the third.
Top eight and U.S. results are as follows:
Men's 90kg
1. Davlat Bobonov (UZB)
2. Christian Parlati (ITA)
3. Luka Maisuradze (GEO)
3. Lasha Bekauri (GEO)
5. Ivan Felipe Silva Morales (CUB)
5. Tristani Mosakhlishvili (ESP)
7. Ivaylo Ivanov (BUL)
7. Marcelo Gomes (BRA)
Also Competed: John Jayne (Chicago, Ill.), 0-1

Alexander Knauf (Vernon Hills, Ill. / NYAC / Cohen Brothers), 0-1
Women's 70kg
1. Barbara Matic (CRO)
2. Lara Cvjetko (CRO)
3. Saki Niizoe (JPN)
3. Sanne Van Dijke (NED)
5. Shiho Tanaka (JPN)
5. Miriam Butkereit (GER)
7. Michaela Polleres (AUT)
7. Gulnoza Matniyazova (UZB)
Also Competed: Chantal Wright (San Antonio, Texas / Semper Fortis Judo), 0-1