Sara Golden Grinds Out Golden Score Win at Worlds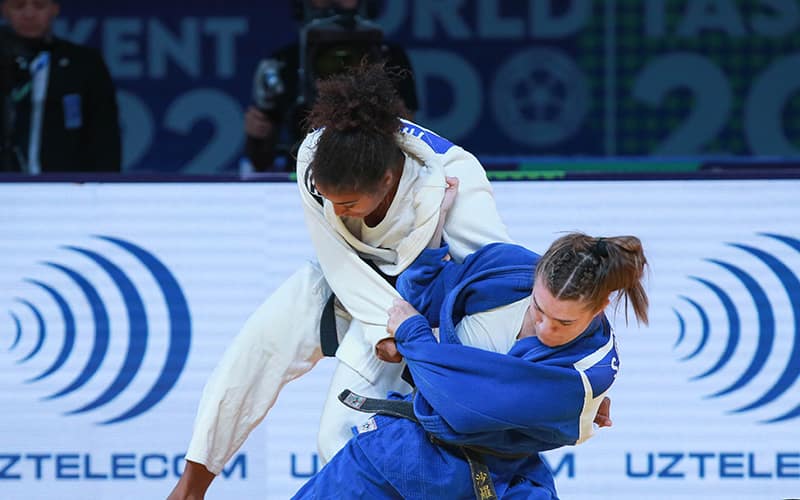 (Colorado Springs, Colo.) – Sara Golden (Crystal Lake, Wis. / Ki-Itsu-Sai National Training Center) scored her first match win on the Senior World Championships stage on Sunday in the 63kg division.
2022 Senior World Championships Results
Golden, a two-time Senior National Champion at 20 years old, entered the tournament in Tashkent, Uzbekistan as a returning member of the 2021 team and three-time Junior World Team member.
In the opening round, Golden drew Carolina Delgado (CPV) in what would become a nearly eight minute battle. With one penalty each at the end of the four-minute regulation, Golden was handed a second penalty for non-combativity in the first minute of Golden Score overtime. The match continued with Delgado being given a second penalty, this time for a false attack, in the third overtime minute. The two ground through the period before Golden took Delgado to the mat, pinning her for the win.
Golden's run would be stopped in the next round, however, when she was footswept during the opening exchange by three-time Grand Slam medalist Angelika Szymanska (POL).
Hannah Martin (Schenectady, N.Y. / NYAC) also competed in the 63kg division, fighting in her seventh Senior World Championships and first as a mother after giving birth in May of 2021. Martin, a four-time Grand Prix medalist who drew a bye into the second round, found herself in a penalty battle when she and Florentina Ivanescu (ROU) went to overtime with two penalties each. Martin dropped the match, however, when she was given a non-combativity penalty in the second minute of Golden Score.
One of six juniors competing for Team USA at the Senior Worlds, two-time Junior World Team member Nick Yonezuka (West Long Branch, N.J. / NYAC / Cranford Judo & Karate Center) drew a bye into the second round, but was thrown for a waza-ari score with just over a minute remaining in the match by three-time Senior Pan Am Championships medalist Medickson Del Orbe Cortorreal (DOM).
Top eight and U.S. results are as follows:
Men's 81kg
1. Tato Grigalashvili (GEO)
2. Matthias Casse (BEL)
3. Shamil Borchashvili (AUT)
3. Takanori Nagase (JPN)
5. Saeid Mollaei (AZE)
5. Sotaro Fujiwara (JPN)
7. Joonhwan Lee (KOR)
7. Attila Ungvari (HUN)
Also Competed: Nick Yonezuka (West Long Branch, N.J. / NYAC / Cranford Judo & Karate Center), 0-1
Women's 63kg
1. Megumi Horikawa (JPN)
2. Catherine Beauchemin-Pinard (CAN)
3. Manon Deketer (FRA)
3. Barbara Timo (POR)
5. Florentina Ivanescu (ROU)
5. Angelika Szymanska (POL)
7. Lucy Renshall (GBR)
7. Renata Zachova (CZE)
Also Competed: Sara Golden (Crystal Lake, Wis. / Ki-Itsu-Sai National Training Center), 1-1

Hannah Martin (Schenectady, N.Y. / NYAC), 0-1