Melissa Myers Wins First Continental Open Title in Senegal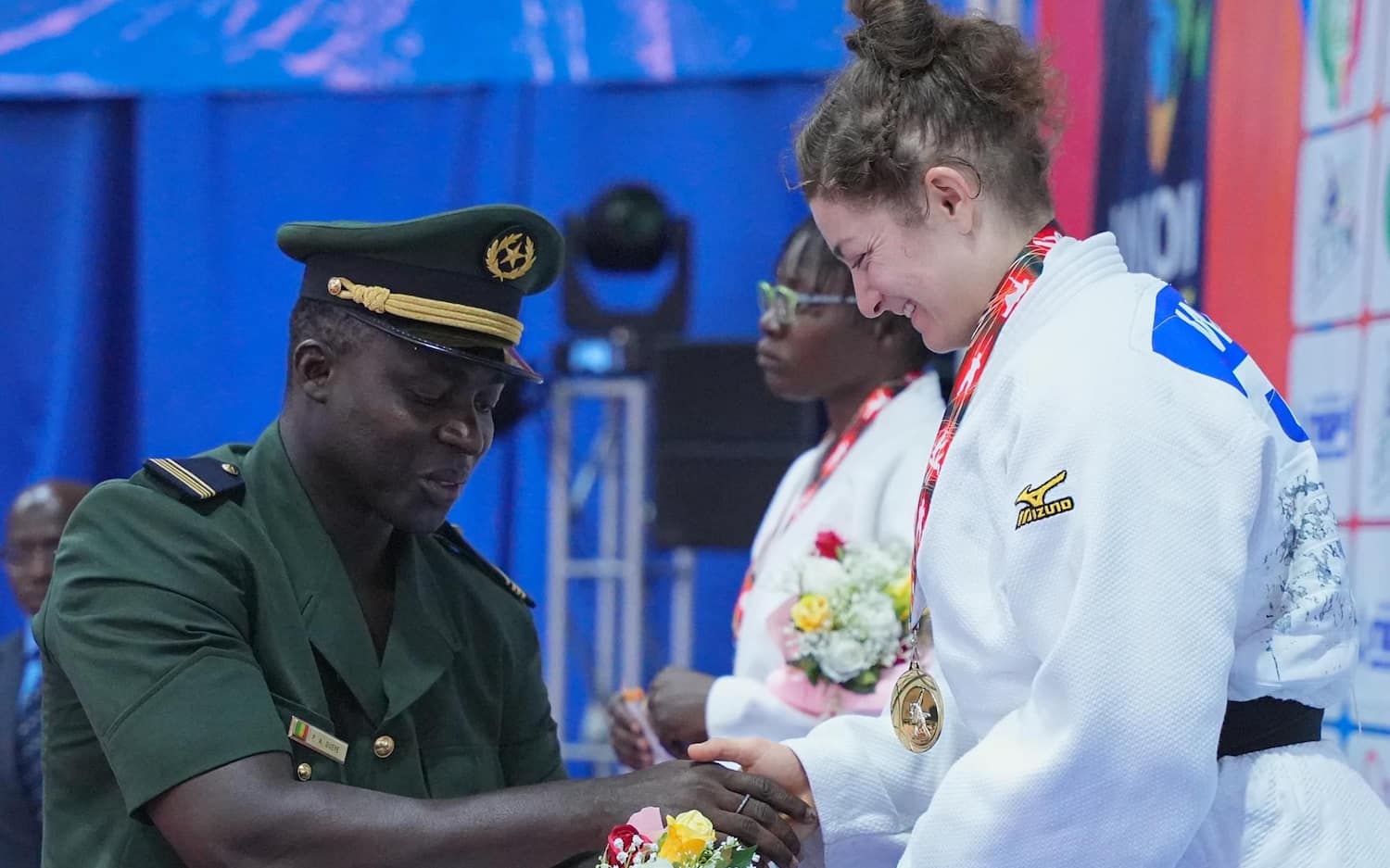 Melissa Myers receives her gold medal in Dakar. Photo Credit: African Judo Union.
(Colorado Springs, Colo.) – Melissa Myers (Burnt Hills, N.Y. / Jason Morris Judo Center) reached the top of the podium at a Continental Open for the first time on Sunday when she took gold at the Dakar African Open in Senegal.
2022 Dakar African Open Results
The 27-year-old defeated both 2022 African Senior Championships bronze medalists by ippon en route to winning her title and earning qualification points for the 2024 Paralympic Games.
Myers, a two-time bronze medalist on the Pan American Open circuit, won her semifinal match against Zita Ornelia Biami (CMR) in the first 90 seconds and needed just over a minute to best Maria Niangi (CMR) in the finals.
In the women's 52kg event on Saturday, Malia Soberano (Aiea, Hawaii) fell one round short of the podium when she fought for bronze and finished fifth. Soberano finished 1-2 on the day, defeating Diodio Sonko (SEN) in the quarter-finals by ippon, but dropping her next two matches to Marie Celine Baba Matia (CMR) and Sonia Lourenco (ANG) by ippon scores.
Top eight and U.S. results are as follows:
Men's 60kg
1. Younes Saddiki (MAR)
2. Felipe Dacruz (LBN)
3. Oumar Mballo (SEN)
3. Simon Zulu (ZAM)
5. Daouda Dabone (CIV)
5. Arnold Kisoka (COD)
7. Milud Erudah (LBA)
7. Moussa Diop (SEN)
Women's 48kg
1. Signoline Kanyamuneza (BDI)
2. Priscilla Morand (MRI)
3. Maimouna Diarrassouba (CIB)
Men's 66kg
1. Edmilson Pedro (ANG)
2. Adil Belkaid (MAR)
3. Ismael Alhassane (NIG)
3. Steven Mungandu (ZAM)
5. Mouhamedou Mboup (SEN)
5. Douga Thera (MLI)
7. Koga Paziaud (GAM)
7. Leon Sala (RWA)
Women's 52kg
1. Marie Celine Baba Matia (CMR)
2. Salimata Fofana (CIV)
3. Sonia Lourenco (ANG)
3. Leyla Aminata Sonko (SEN)
5. Diodio Sonko (SEN)
5. Malia Soberano (Aiea, Hawaii)
7. Irlene Bagine (GBS)
Men's 73kg
1. Antonio Candeiro (ANG)
2. Hassan Doukkali (MAR)
3. Zeferino Gabriel (ANG)
3. Ety Marc Tevia Ndong Nze Nkala (GAB)
5. Mame Ndiaye (SEN)
5. Serigne Saye (SEN)
7. Dmytro Raskin (UKR)
7. Ahmed Alajeemi (LBA)
Also Competed: William Speight (Davidson, N.C. / Yungwirth Judo Academy), 0-1
Women's 57kg
1. Malin Wilson (GBR)
2. Mariana Esteves (GUI)
3. Donne Breytenbach (RSA)
3. Zouleiha Abzetta Dabonne (CIV)
5. Jeovana Freire (ANG)
5. Mame Sira Ndiaye (SEN)
Men's 81kg
1. Andrey Pirolo Del Rosso (SRB)
2. Sory Sacko (MLI)
3. Abdoul Kader Boubacar Adamou (NIG)
3. Amadou Sowe (GAM)
5. Ahmed Sulayman (LBA)
5. Boubou Camara (MTN)
7. Abdourahman Ceesay (GAM)
7. Calvin Marais (RSA)
Women's 63kg
1. Diassonema Mucungui (ANG)
2. Audrey Jeannette Etoua Biock (CMR)
3. Nadia Matchiko Guimendego (CAF)
3. Anna Siga Faye (SEN)
5. Ndeye Marie Ndao (SEN)
5. Anastasiya-Alexandra Nenova (RSA)
7. A. Yasmine COmpaore (BUR)
7. Matinigue Fofana (BUR)
Men's 90kg
1. Abderahmane Diao (SEN)
2. Thomas-Laszlo Breytenbach (RSA)
3. Ryan Dacosta (SEN)
3. Adriano Tschissende (ANG)
5. Carmel Kone (BUR)
5. Abdoulaye Millimono (GUI)
7. Adama Badji (SEN)
7. Mohamed Ellafi (LBA)
Women's 70kg
1. Melissa Myers (Burnt HIlls, N.Y. / Jason Morris Judo Center)
2. Maria Niangi (ANG)
3. Zita Osnella Biami (CMR)
Men's 100kg
1. Koffi Kreme Kobena (CIV)
2. Luc Manongho (GAB)
3. Mohammed Lahboub (MAR)
Women's 78kg
1. Marie Branser (GUI)
2. Mariam Drabo (BUR)
Men's +100kg
1. Mbagnick Ndiaye (SEN)
2. Boduit Wilfried Anderson Polneau (CIV)
3. Piter Da Silva (ANG)
3. Moustapha Fofana (GUI)
5. Karounga Soumano (MLI)
5. Libasse Ndiaye (SEN)
7. Souleymane Diouf (SEN)
7. Clement Musumadi (COD)
Women's +78kg
1. Monica Sagna (SEN)
2. Georgette Sagna (SEN)
3. Crislayn Rodriguez (ANG)
3. Sarah Hawkes (GBR)
5. Fatimetou Sy (MTN)
5. Marie Claude Polneau (CIV)