Liana Mutia Wins First Medal for U.S. Woman in 11 Years at IBSA Worlds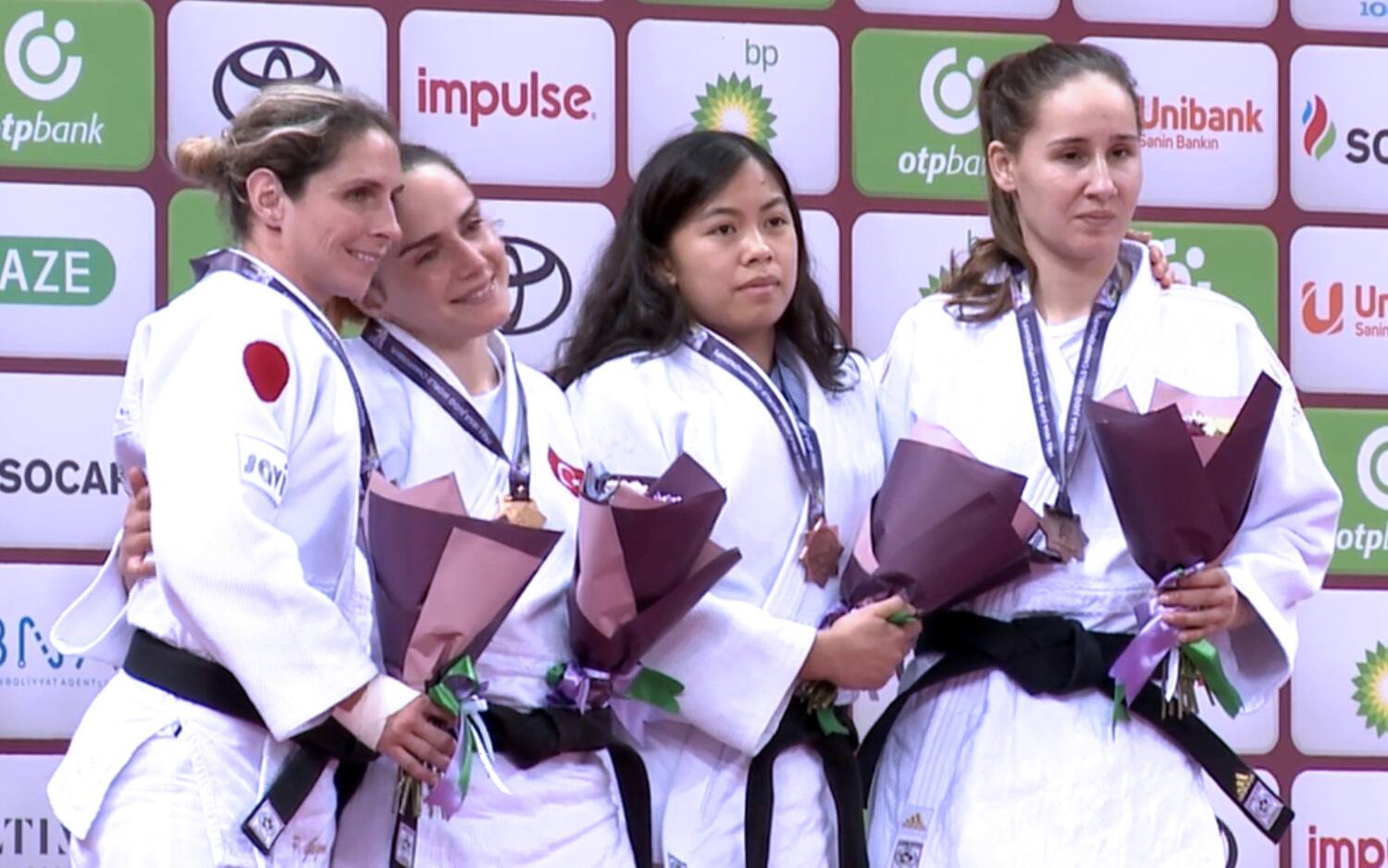 Mutia (second from right) on the podium in Baku.
(Colorado Springs, Colo.) – Liana Mutia (Philadelphia, Pa. / El Idrissi Judo Academy) returned to competition for her first major event since the Tokyo Paralympic Games on Tuesday and began her Road to Paris with a World Championship bronze medal.
2022 IBSA World Championships Results
For Mutia, the tournament was not only a return to international competition, but included a new weight and classification category as well.
Along with the decision by the International Blind Sports Association to hold competition in two weight categories instead of one came condensed weight categories. Mutia, who fought in the 63kg event in Tokyo, would have to choose between moving down to 57kg or up to 70kg.
Mutia, who fought as a 57kg through 2019, elected to make the lighter weight and would be Team USA's lone competitor on the first day of the IBSA Worlds in Baku, Azerbaijan.
Seeded 15th, Mutia drew Vafa Seydova (AZE) in front of a home crowd, but made a quick attack, dropping to her knees for a seoi nage (shoulder throw) in the first second of the match for a waza-ari (half-point) score and moved straight into a pin for the win.
In the quarter-finals, Mutia went nearly three minutes before being thrown for a waza-ari by Priscilla Gagne (CAN), a 2020 Paralympic silver medalist at 52kg.
Mutia came back to win her match in nearly an identical fashion to her opener, throwing Larissa Silva (BRA) off the grip with a drop seoi nage for ippon in the first round of the repechage. She needed only 90 seconds to dispatch two-time IBSA Grand Prix Champion Merve Uslu (TUR) in the next round, throwing Uslu for a pair of waza-ari scores.
In the finals, Mutia's drop seoi nage was on display again as she threw Christina Mowatt (CAN), a 2020 IBSA Pan Am medalist at 52kg, for ippon off the grip.
Top eight and U.S. results are as follows:
J1 Men's 60kg
1. Seyed Meysam Banitaba Khorram Abadi (IRI)
2. Abdurrahim Ozalp (TUR)
3. Marcos Dennis Blanco (VEN)
3. Henry Borges (URU)
5. Miguel Vieira (POR)
5. Elielton Oliveira (BRA)
7. Qusay Abdulrahman (IRQ)
7. Assylan Nurdauletov (KAZ)
J1 Men's 73kg
1. Yergali Shamey (KAZ)
2. Lennart Sass (GER)
3. Dong Dong Camanni (ITA)
3. Florin Alexandru Bologna (ROU)
5. Rayfran Mesquita Pontes (BRA)
5. Gokce Yavuz (TUR)
7. Harlley Damiao Pereira Arruda (BRA)
7. Shokhrukh Mamedov (UZB)
J2 Men's 60kg
1. Davyd Khorava (UKR)
2. Thiego Marques (BRA)
3. Luis Daniel Gavilan Lorenzo (ESP)
3. Zurab Zurabiani (GEO)
5. Sherzod Namozov (UZB)
5. Nukri Migrijanashvili (GEO)
7. Ishak Ouldkouider (ALG)
7. Min Jae Lee (KOR)
J2 Men's 73kg
1. Vahid Jeddi (IRI)
2. Rufat Mahomedov (UKR)
3. Namig Abasli (AZE)
3. Oizhas Orazalyuly (KAZ)
5. Huseyn Rahimli (AZE)
5. Sergio Ibanez Banon (ESP)
7. Giorgi Kaldani (GEO)
7. Bachuki Shelia (GEO)
J1 Women's 48kg
1. Nataliya Nikolaychyk (UKR)
2. Ecem Tasin Cavdar (TUR)
3. Rosicleide Silva De Andrade (BRA)
3. Rocio Ledesma Dure (ARG)
5. Khaiitkhon Khusan Kyzy (KGZ)
5. Emmanouela Masourou (GRE)
7. Hagar Mohamed (EGY)
7. Anna Tabea Muller (GER)
J1 Women's 57kg
1. Dondu Kesnilyurt (TUR)
2. Priscilla Gagne (CAN)
3. Liana Mutia (Philadelphia, Pa. / El Edrissi Judo Academy)
3. Anzhela Havrysiuk (UKR)
5. Christina Mowatt (CAN)
5. Paula Karina Gomez Martinez (ARG)
7. Merve Uslu (TUR)
7. Maria Manzanero Ruiz (ESP)
J2 Women's 48kg
1. Akmaral Nauatbek (KAZ)
2. Sandrine Aurieres Martinet (FRA)
3. Shahana Hajiyeva (AZE)
3. Yuliia Ivanytska (UKR)
5. Kai Lin Lee (TPE)
5. Cahide Eke (TUR)
7. Carmen Brussig (SUI)
7. Giulia Pereira (BRA)
J2 Women's 57kg
1. Zeynep Celik (TUR)
2. Inna Sych (UKR)
3. Junko Hirose (JPN)
3. Dayana Fedossova (KAZ)
5. Jelena Breskovic (CRO)
5. Marta Arce Payno (ESP)
7. Lucia Araujo (BRA)
7. Laura Candela Gonzalez (ARG)