Laborde Leads Team USA to Three-Medal Haul at Perth Grand Prix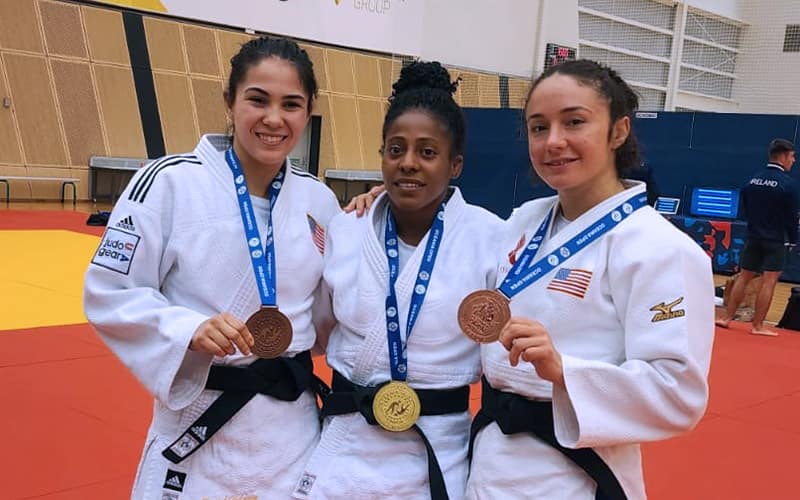 Team USA medalists Mariah Holguin (bronze), Maria Laborde (gold) and Angelica Delgado (bronze).
(Colorado Springs, Colo.) – Maria Laborde (Kenosha, Wis. / Ki-Itsu-Sai National Training Center) won her first Grand Prix title as an American on Saturday, taking gold in the 48kg event at the Perth Grand Prix in Australia.
Laborde, a two-time Senior World medalist for Cuba, led the Americans to a three-medal finish with a six-athlete squad with two-time Olympian Angelica Delgado (Miami, Fla. / NYAC / Ki-Itsu-Sai National Training Center) and 2022 Senior Pan Am bronze medalist Mariah Holguin (San Antonio, Texas / Universal Judo) winning bronze in the 52kg and 57kg events, respectively.
Laborde controlled her opening match from the start, throwing Ellen Salens (BEL) for a waza-ari (half-point) score in the first minute and scoring ippon (instant win) with another throw in the second minute.
In the finals, Laborde threw 2021 U23 European Championships bronze medalist Amy Platten (GBR) for a waza-ari score just over two minutes into Golden Score (sudden death overtime).
Holguin earned a bye into the quarter-finals and was scoreless for nearly four minutes against Jana Ziegler (GER) when the German threw Holguin for a waza-ari score in the final five seconds of regulation and locked in a pin to end the match.
Her next two matches would each be nine-minute battles as she pinned 2018 Senior Oceania Champion Qona Christie (NZL) five minutes into Golden Score in the first repechage round and did the same to 2018 Junior Oceania Champion Charisma Taylor (AUS) to claim bronze.
Delgado came back from an opening loss when she was thrown for ippon during the first exchange of the semifinals by 2022 Junior Asian Open Champion Seyun Jang (KOR) to defeat Maharani Maryan March (INA) who she threw for ippon in the first minute of the bronze medal final.
Anne Suzuki (San Jose, Calif. / San Jose State University) and Sara Golden (Crystal Lake, Ill. / Ki-Itsu-Sai National Training Center) fought for bronze as well, but finished fifth in the 48kg and 63kg divisions, respectively.
In addition to senior competition, the Oceania Open included junior and cadet events on Monday where Iain Berliner (Cumming, Ga. / Jason Morris Judo Center) placed fifth in the junior 60kg event.
Top eight and U.S. results are as follows:
Senior Men's 60kg
1. Cedric Revol (FRA)
2. David Pulkrabek (CZE)
3. Maxime Merlin (FRA)
3. Samuel Hall (GBR)
5. Yiu Long Lai (HKG)
5. Maximilian Standke (GER)
7. Luc Aryan Ng (SGP)
7. Hok Ching Choi (HKG)
Senior Women's 48kg
1. Maria Celia Laborde (Kenosha, Wis. / Ki-Itsu-Sai National Training Center)
2. Amy Platten (GBR)
3. Keisy Perafan (ARG)
3. Ellen Salens (BEL)
5. Anne Suzuki (San Jose, Calif. / San Jose State University)
5. Ka Lee Wong (HKG)
Senior Men's 66kg
1. Reda Seddouki (FRA)
2. Daikii Bouba (FRA)
3. Michael Fryer (GBR)
3. Martin Setz (GER)
5. Nathan Katz (AUS)
5. Lennart Slamberger (GER)
7. Shugen Nakano (PHI)
7. Luukas Saha (FIN)
Senior Women's 52kg
1. Sofia Fiora (ARG)
2. Seyun Jang (KOR)
3. Angelica Delgado (Miami, Fla. / NYAC / Ki-Itsu-Sai National Training Center)
Senior Men's 73kg
1. Martin Hojak (SLO)
2. Benjamin Axus (FRA)
3. Valtteri Olin (FIN)
3. Eric Ham (GBR)
5. Josehua Green (IRSL)
5. Jake Bensted (AUS)
7. Keisei Nakano (PHI)
7. Matthew Free (NZL)
Women's 57kg
1. Lele Nairne (GBR)
2. Acelya Toprak (GBR)
3. Vera Zemanova (CZE)
3. Mariah Holguin (San Antonio, Texas / Universal Judo)
5. Charisma Taylor (AUS)
5. Jana Ziegler (GER)
7. Jasmina Martin (RSA)
7. Qona Christie (NZL)
Senior Men's 81kg
1. Nicolas Chilard (FRA)
2. Lachlan Moorhead (GBR)
3. Leonardo Casaglia (ITA)
3. Tim Gramkow (GER)
5. Lukas Vennekold (GER)
5. Antoni Kouros (GRE)
7. Kell Berliner (Schenectady, N.Y. / NYAC / Jason Morris Judo Center)
7. Sam King (AUS)
Senior Women's 63kg
1. Katharina Haecker (AUS)
2. Renata Zachova (CZE)
3. Prisca Awiti Alcaraz (MEX)
3. Agnese Zucco (ITA)
5. Sara Golden (Crystal Lake, Ill. / Ki-Itsu-Sai National Training Center)
5. Maeve Coughlan (AUS)
7. Syerina (INA)
7. Lai Man Tang (MAC)
Senior Men's 90kg
1. David Klammert (CZE)
2. Jamal Petgrave (GBR)
3. Noah Walliss (NZL)
3. Paul Livolsi (FRA)
5. Harrison Cassar (AUS)
5. Shah Hussain Shah (PAK)
7. Aaron Ng (SGP)
Senior Women's 70kg
1. Anka Pogacnik (SLO)
2. Aoife Coughlan (AUS)
3. Marlene Galandi (GER)
3. Katie-Jemima Yeats-Brown (GBR)
5. Hayley Gatward (NZL)
5. Rachael Hawkes (IRL)
7. Shanice Takayawa (FIJ)
7. Zubeda Talikaza (UGA)
Senior Men's 100kg
1. Rhys Thompson (GBR)
2. George Udsilauri (GER)
3. Isaac Bezzina (MLT)
3. Tevita Takayawa (FIJ)
5. Ryan Goh (SGP)
5. Yejun Yeo (KOR)
7. Jakob Edwards (AUS)
7. Qaisar Khan (PAK)
Senior Women's 78kg
1. Anna Monta Olek (GER)
2. Metka Lobnik (SLO)
3. Moira de Villiers (NZL)
Senior Men's +100kg
1. Martti Puumalainen (FIN)
2. Vito Dragic (SLO)
2. Gede Agastya Darma Wardana (INA)
3. Gyuseon Mun (KOR)
5. Paula Monta (NZL)
5. Liam Park (AUS)
7. Kody Andrews (NZL)
Senior Women's +78kg
1. Hyeonji Lee (KOR)
2. Sydnee Andrews (NZL)
Junior Men's 60kg
1. Mintaek Park (KOR)
2. Junseo Yang (KOR)
3. Abdulrahman Alsaiari (KSA)
3. Ka Ki Wong (HKG)
5. Jack Bannister (AUS)
5. Iain Berliner (Cumming, Ga. / Jason Morris Judo Center)
7. Hayden Brosius (NZL)
7. Matthew Wong (NZL)
Junior Women's 48kg
1. Aulia Shifa (INA)
2. Geungyoung Kim (KOR)
3. Lok Yi Ho (HKG)
Junior Men's 66kg
1. Jihyuk Yang (KOR)
2. Hyeonsu Yoon (KOR)
3. Sabti Alruwaili (KSA)
3. Dylan Payne (NZL)
5. Liam Siboni (AUS)
5. Jack Tween (AUS)
7. Phoenix Edwards (AUS)
7. Pieter Klopper (AUS)
Junior Women's 52kg
1. Seyun Jang (KOR)
2. Anneliese Fielder (AUS)
3. Clarissa Vumbaca (AUS)
3. Sohyeon Noh (KOR)
5. Jacinta Vumbaca (AUS)
5. Elizabeth Tickner (NZL)
7. Alyssa Fry (AUS)
7. Callie Bannister (AUS)
Junior Men's 73kg
1. Dowon Jun (KOR)
2. Seungmin (KOR)
3. Adam Moore (NZL)
3. Bailey Eames (AUS)
5. Abdulmalik Maimani (KSA)
5. Keishin Ochi (AUS)
7. Dimitrios Giantsios (AUS)
7. Matthew Free (NZL)
Junior Women's 57kg
1. Nayeon Park (KOR)
2. Seongeun Kim (KOR)
3. Iyona Ristevski (AUS)
3. Zsofia Berta (AUS)
5. Oren Kelly (AUS)
5. Estela Hogarth (AUS)
7. Olivia Knights (AUS)
7. Sienna Fielder (AUS)
Junior Men's 81kg
1. Jun Hyun Park (KOR)
2. Mohammed Alhajri (KSA)
3. Joshua Koenig (AUS)
3. Carstens Beyers (AUS)
5. Saud Alhajri (KSA)
5. Lucas Vladich-McKenzie (AUS)
7. Samuel Appleby-Windsor (AUS)
Junior Women's 63kg
1. Euna Kim (KOR)
2. Ryley Rametta (AUS)
3. Marissa Finka (AUS)
3. Deana Finka (AUS)
5. Nytalia McCracken (AUS)
5. Roberta Griffiths (NZL)
7. Andjela Bodiroza (AUS)
7. Gabrielle Woodward (AUS)
Junior Men's 90kg
1. Moonsoo Kim (KOR)
2. Jaemyung Lee (KOR)
3. Joshua Shipton (AUS)
Junior Women's 70kg
1. Jimin Yang (KOR)
2. Saya Middleton (AUS)
3. Ruby Gojevic (AUS)
5. Ella Kelso (NZL)
7. Taylah Hayes (AUS)
Junior Men's 100kg
1. Sunghyeon Hwang (KOR)
2. Kris Richter (AUS)
Junior Women's 78kg
1. Minju Kim (KOR)
2. Hyebin Choi (KOR)
Junior Men's +100kg
1. Gyuseon Mun (KOR)
2. Yumin Jang (KOR)
3. Saud Manaie (KSA)
Junior Women's +78kg
1. Hyeonji Lee (KOR)
2. Sydnee Andrews (NZL)
Cadet Men's 50kg
1. Tomas Hargraves (AUS)
2. Ethan Carpenter (AUS)
Cadet Men's 55kg
1. Hayden Brosius (NZL)
2. Ethan Tai Tin (AUS)
Cadet Men's 60kg
1. Abdulrahman (KSA)
2. Vas Middleton (AUS)
3. Riley De Brincat (AUS)
3. Matthew Wong (NZL)
5. Charlie Newman (AUS)
5. Jack Bannister (AUS)
7. Denis Hudec (AUS)
Cadet Women's 48kg
1. Suet Yiu Tang (HKG)
2. NaCmjoo Kim (KOR)
3. Chloe Kericopolas (AUS)
Cadet Men's 66kg
1. Phoenix Edwards (AUS)
2. Liam SIboni (AUS)
3. Elijah Raif (AUS)
3. Jack Tween (AUS)
5. Zachariah Nigh (NZL)
5. Pieter Klopper (AUS)
Cadet Women's 52kg
1. Callie Bannister (AUS)
2. Clarissa Vumbaca (AUS)
Cadet Men's 73kg
1. Abdulmalik Maimani (KSA)
2. Keishin Ochi (AUS)
3. Dimitrios Giantsios (AUS)
3. Pak Hin Ng (HKG)
5. Bailey Eames (AUS)
5. Nicholas McClifty (AUS)
7. Keir Beaman (NZL)
7. Lucas Gardiner (AUS)
Cadet Women's 57kg
1. Zsofia Berta (AUS)
2. Bianca Tandean (AUS)
3. Estela Hogarth (AUS)
3. Oren Kelly (AUS)
5. Ivona Ristevski (AUS)
5. Sienna Fielder (AUS)
7. Olivia Knights (AUS)
7. Lucy Brunton (AUS)
Cadet Men's 81kg
1. Samuel Appleby-Windsor (AUS)
2. Carstens Beyers (AUS)
3. Lucas Vladich-McKenzie (AUS)
Cadet Women's 63kg
1. Marissa Finka (AUS)
2. Huijin Bae (KOR)
3. Gabrielle Woodward (AUS)
3. Deana Finka (AUS)
5. Roberta Griffiths (NZL)
5. Andjela Bodiroza (AUS)
Cadet Men's 90kg
1. Robert Girdwood (AUS)
2. Mohammed Elmalki (KSA)
Cadet Women's 70kg
1. Taylah Hayes (AUS)
2. Ruby Gojevic (AUS)
Cadet Men's +90kg
1. Mohammed Bu Khamsin (KSA)
2. Kris Richter (AUS)
Cadet Women's +70kg
1. Hyebin Lee (KOR)
2. Halina Free (AUS)