Hannah Martin Returns to Podium as a New Mom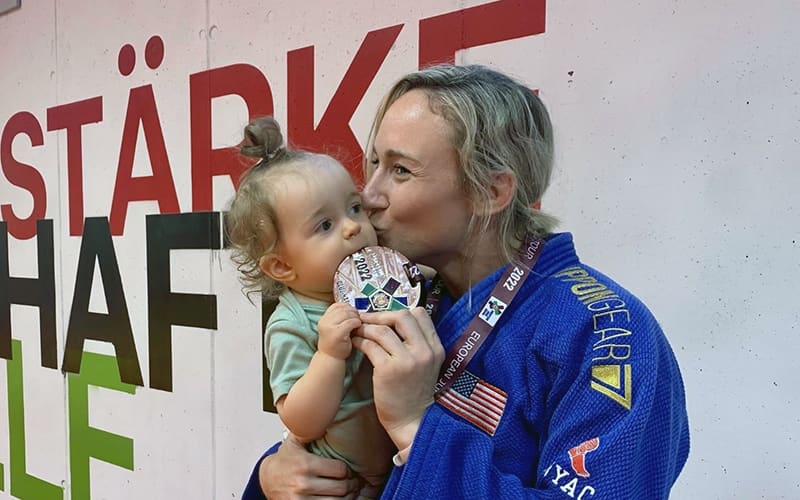 (Colorado Springs, Colo.) – In her fourth international competition after giving birth to her daughter, Zoey, in May of 2021, six-time Senior World Team member Hannah Martin (Schenectady, N.Y. / NYAC) returned to the podium on Saturday, winning her first European Open medal with a bronze in the 63kg event at the Cluj-Napoca European Open in Romania.
Martin now holds 24 international medals at the age of 34, including 16 podium finishes on the Continental Open circuit.
Following a seventh-place finish at the Tbilisi Grand Slam in June, Martin got off to a strong start in Romania, armbarring Cristina Prisacar (MDA) in the first round. In the quarter-finals, and Malin Fischer (GER) each held two penalties in the third minute of Golden Score (sudden death overtime) when the German caught her with a throw for a waza-ari (half-point) score. In the repechage, Martin threw Agata Szafran (POL) for ippon in the final 17 seconds of regulation. In the bronze medal final, Martin fought a strong match against 2019 Senior World Team member Rania Drid (FRA) who was disqualified for an illegal standing armbar in the third minute, giving Martin the win.
"That was one of my main goals coming back was to be a medalist as a mommy. I'm happy I accomplished that already, but I was just trying to get as many fights in as possible," Martin said. "The maximum I could get was four fights and I got that, so I'm very happy that one of my goals are checked off now."
Martin was off the mat for just over a year between becoming pregnant with Zoey in 2020 and her return to the mat in August of 2021 – three months after giving birth.
An alternate to the 2008 Olympic Team as a 19-year-old, Martin was competing in the final stages of the Tokyo Olympic qualifiers in 2020 when COVID-19 shut the world down.
Martin, who married Miguel Ogando Lopes in 2017, lives in Germany where Lopes is a coach at a German National Training Center in Hanover and she now trains alongside German National Team members. The two found out they were expecting during the shutdown – news that would mean the couple would welcome a new baby, but Martin would be out of contention for Tokyo.
"When I was pregnant, I trained a lot. Not doing judo, but everything else … I was watching all the Americans, all of my teammates, competing while I was sitting on the couch, and I just really thought I want to do this. I just felt like I had a fire inside of me to compete," Martin said. "I didn't want to end my career because of COVID. I stopped doing judo when everything got cancelled because of COVID. I didn't want to end my career and have it be like 'Oh yeah, I had a baby and I stopped doing judo because of Corona.'"
Martin returned to training in August of 2021, slowly working her way up to randori with her teammates and preparing herself to come back to the World Tour in January where she earned a pair of top-16 finishes at the Portugal Grand Prix and Tel Aviv Grand Slam. Martin narrowly missed qualifying for the Pan American Championship Team in April.
"At this moment, I don't feel like I'm 100% fit yet. I definitely feel like I need more time still. I haven't even been training a full year yet, but I think, step by step, I'm going to start feeling better and start feeling in better shape, so, I'm just going to go for it," said Martin who is ranked 54th in the world at 63kg after just four events in a system that counts results from the last four years. "I'm just going to go to the qualifying competitions and take my shots."
Martin credits Ogando with helping make it possible to balance training and caring for an infant.
"It's very helpful that my husband is a judo coach. I think if he was doing something else and working a normal 9-5 job and I still had to train twice a day, I think it would be a lot harder," she said. "I really have to give him lots of credit so I'm able to train and also come home and be with Zoey at the same time. I'm able to do this because of the great support system I have at home."
While Martin was a fixture on National Teams for much of the last decade, she said being a mother means her daughter is her main focus with training coming in second.
"Before being a mom, I was the priority. It was always 'Eat, sleep, train.' … You have to be selfish when you're in training as an athlete and now I can't be selfish and only think about me. I come home from training and it's not 'Oh, I have to take care of myself,'" Martin said of her balancing act that also includes her job serving as the social media manager for the European Judo Union.
"I have to come home from training and take care of my daughter and get her ready for bed and feed her and bathe her. She's my first priority which means I'm always tired," she laughed. "I think you also have to be a little crazy, like me, to put yourself through this because it's not easy. Maybe I make it look easy on Instagram, but it's not. It's really really hard."
Being married to a judo coach may mean more flexibility in some areas and the ability to bring Zoey to practice to play on the mats, but it also means lots of time apart while they each travel to tournaments.
"When I compete, he stays home with her and watches me on TV. When I'm competing, he's at home and then when he goes away to coach, like next weekend to Croatia, I'll stay home with her," said Martin who noted that next year they may bring Zoey to a World Tour event in Germany. "There's a competition in Dusseldorf and hopefully she can come see me. Also, she'll be older and maybe she can see 'Oh, that's my mom' and she'll maybe understand what's going on."
Martin will join Team USA again this weekend in the first Olympic qualifying event on the World Tour for the Americans – the Budapest Grand Slam which begins on Friday in Hungary. While she earned qualifying points in Romania, the Grand Slam will be worth a maximum of 1,000 world ranking points and is expected to draw four of the top 10 judoka in the world in her weight category as the two-year qualification process gets underway.
"This is the dream, right? Since I was 17 years old, I've been wanting to go to the Olympics," Martin said. "Qualifying would mean everything. And it will be extra special because it's not just for me, but for my family and gives me a lot of motivation to go for it."