David Leiva Wins First Ever Cadet World Championship Medal for Team USA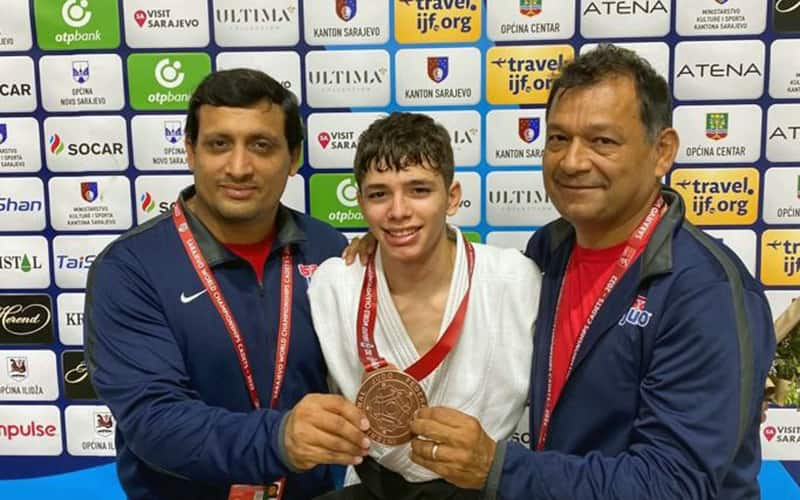 Cadet World bronze medalist David Leiva with coaches German Velazco and Jhonny Prado.
(Colorado Springs, Colo.) – Fifteen-year-old David Leiva (Coral Springs, Fla. / Ki-Itsu-Sai National Training Center) didn't come into the Cadet World Championships looking to make history in Sarajevo on Wednesday.
2022 Cadet World Championships Live Results
In fact, the first time World Team member didn't know that there had never been a U.S. athlete on the podium at the event.
One of Team USA's youngest male athletes, Leiva entered the Cadet Worlds having only competed once at a major international event – the Cadet Pan American Championships in April where he won gold at 50kg and propelled himself to a No. 5 world ranking.
His ranking gave Leiva a bye into the second round where he would face Tuguldur Choijilav (MGL) whom he remained scoreless against for the four-minute regulation period before throwing the Mongolian for ippon just over a minute and a half into the sudden death Golden Score overtime period.
"I was really really nervous for that match, probably my most nervous match of the day," Leiva said. "When I won the first one, I felt a lot better and I was confident that I could keep winning."
In the quarter-finals, Leiva came up short against Dias Zholdybayev (KAZ) who threw the American for a waza-ari (half-point) score late in the third minute before going on to win the event's other bronze medal.
With two wins needed to take bronze, Leiva claimed his next victory when Adis Orozmamatov (KGZ) was penalized for head diving in the first round of the repechage.
In the bronze medal final, Leiva fought Mahammad Mamishov (AZE) – a three-time Cadet European Cup medalist who won bronze at the Cadet European Championships and was ranked No. 4 in the world at the start of the tournament. In the second minute, Leiva threw Mamishov with an o uchi gari (inner leg throw) for a waza-ari, but Mamishov came back to hit Leiva with the same throw and same score during the next exchange.
"I was a little discouraged when he threw me like five seconds after I threw him, but I thought that if I could throw him once I could do it again," Leiva said.
Mamishov pushed the pace and made steady attacks for the remainder of the minute with Leiva taking two non-combativity penalties before the end of regulation. With the score tied in overtime, Mamishav was given his second penalty of the match and the next athlete to be penalized or take a score would win bronze. On the next exchange, Leiva threw Mamishov again to win the match and the bronze.
"I just kept thinking 'I'm gonna win. I'm gonna beat this kid.' There's nothing else you can really think in the match. If not, you'll lose. You just have to be confident in yourself," said Leiva. "When they gave him that second shido, I got more confidence and I just threw him."
It wasn't until after he won his third match of the day that Leiva was told he became the first U.S. athlete to win a medal at the Cadet Worlds.
"I trained really hard for this and I didn't know that nobody else had done it before," Leiva said. "I was surprised, but I just have so many emotions. I'm happy, relieved. I was just crying from happiness."
Leiva's Ki-Itsu-Sai teammate, 17-year-old Javier Delgado (Miami, Fla. / Ki-Itsu-Sai National Training Center) advanced to the top 16 in the 55kg event, finishing 1-1 overall.
The two-time Cadet Pan Am silver medalist threw Danil Sultankhan (KAZ) for a waza-ari in the first round and controlled much of the next round before being thrown by Ail Mahdy (KUW) for ippon in Golden Score.
Competition continues on Thursday with five athletes competing in lightweight events for Team USA:
Men's 60kg
Christopher Velazco (Coral Springs, Fla. / Ki-Itsu-Sai National Training Center)
Men's 66kg
Anthony Farnot (Lehigh Acres, Fla. / Ki-Itsu-Sai National Training Center)
Women's 48kg
Harlee Hiller (Evanston, Ill. / Cohen Brothers Judo)
Women's 52kg
Nicole Cancela (Coral Springs, Fla. / Ki-Itsu-Sai National Training Center)
Taira Sakamoto (Santa Monica, Calif. / Hollywood Judo)
Top eight and U.S. results are as follows:
Men's 50kg
1. Yahn Motoly Bongambe (FRA)
2. Sebestyen Kollar (HUN)
3. Dias Zholdybayev (KAZ)
3. David Leiva (Coral Springs, Fla. / Ki-Itsu-Sai National Training Center)
5. Gor Safaryan (ARM)
5. Mahammad Mamishov (AZE)
7. Adis Orozmamatov (KGZ)
7. Mirjahon Sayfidinov (UZB)
Women's 40kg
1. Anastasiia Superson (UKR)
2. Begumnaz Dogruyol (TUR)
3. Zilan Ertem (TUR)
3. Patricia Tomankova (SVK)
5. Laziza Haydarova (UZB)
5. Nina Auer (AUT)
7. Natalija Prolic (SRB)
7. Sabina Yuldashbekova (KAZ)
Men's 55kg
1. Zacharie Dijol (FRA)
2. Shahin Orujzade (AZE)
3. Saba Sabashvili (GEO)
3. Daviti Lomitashvili (GEO)
5. Roy Rubinstein (ISR)
5. Anvarjon Ibrohimov (UZB)
7. Oleksandr Martynchuk (UKR)
7. Ail Mahdy (KUW)
Also Competed: Javier Delgado (Miami, Fla. / Ki-Itsu-Sai National Training Center), 1-1
Women's 44kg
1. Vera Wandel (NED)
2. Zeynep Betul Sarikaya (TUR)
3. Umidakhon Burkhonjonova (UZB)
3. Rebecca Valeriani (ITA)
5. Marta Beorlegui Oses (ESP)
5. Enkhbulag Jamiyan (MGL)
7. Marketa Korcakova (CZE)
7. Marharyta Miroshnichenko (UKR)