Cadet World Championships
Sep 25, 2019 - Sep 29, 2019 |
The Cadet World Championships is the largest tournament dedicated to young judoka. The level of competition is high and the officials have treated them as if they were seniors.
There were 464 judoka, 256 men and 208 women,from 61 countries who traveled to Almaty, Kazakhstan for the first time to compete at this elite level.
Team USA was represented by a full team, with Marisol Torro leading the pack with a 5th Place finish and valuable points toward her world rank.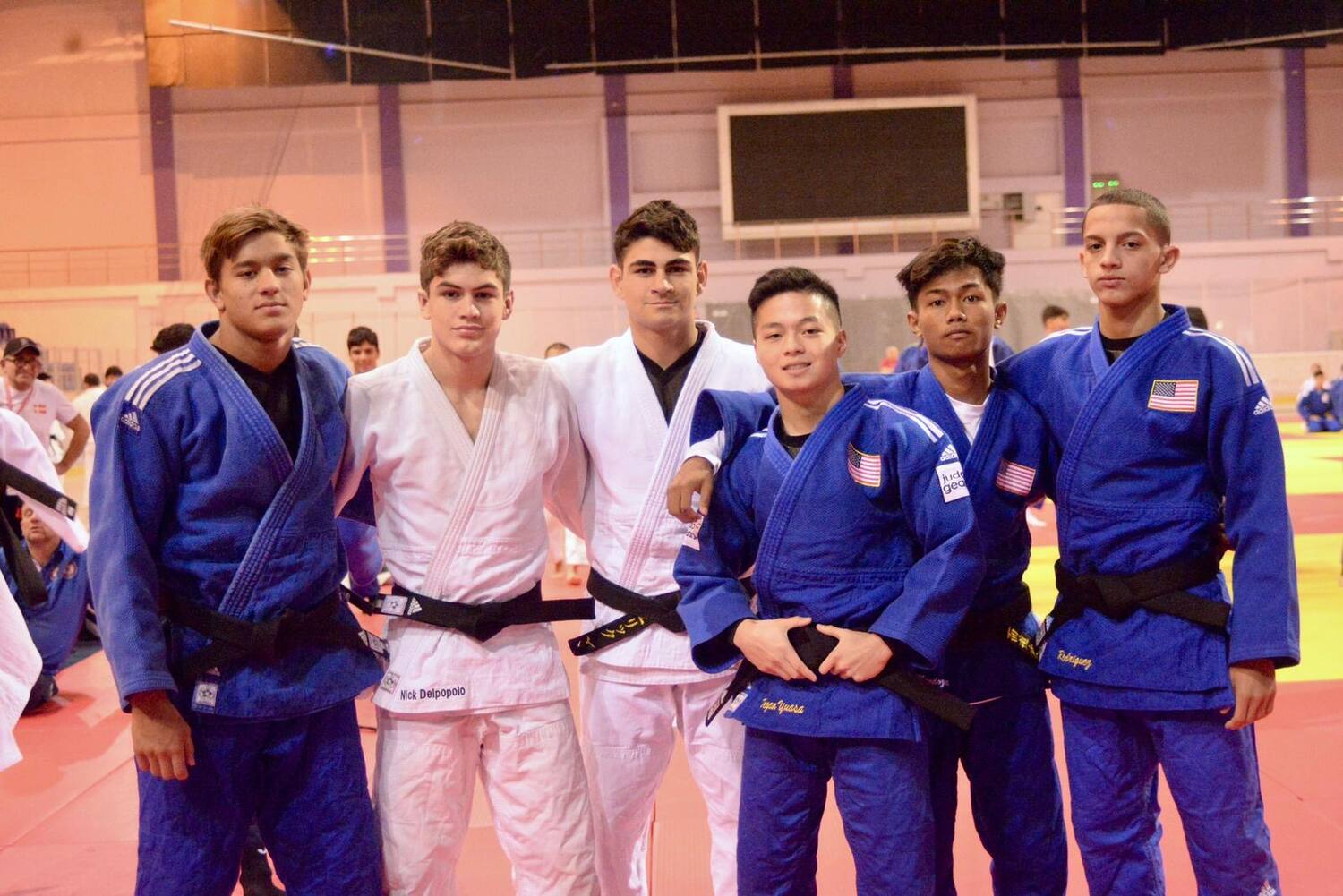 Team USA Boys - Pictured Left to Right: Nick Yonezuka, Ben Dyer, Eric Katrdzhyan, Tegan Yuasa, Anakin Mendoza, and Dominic Rodriguez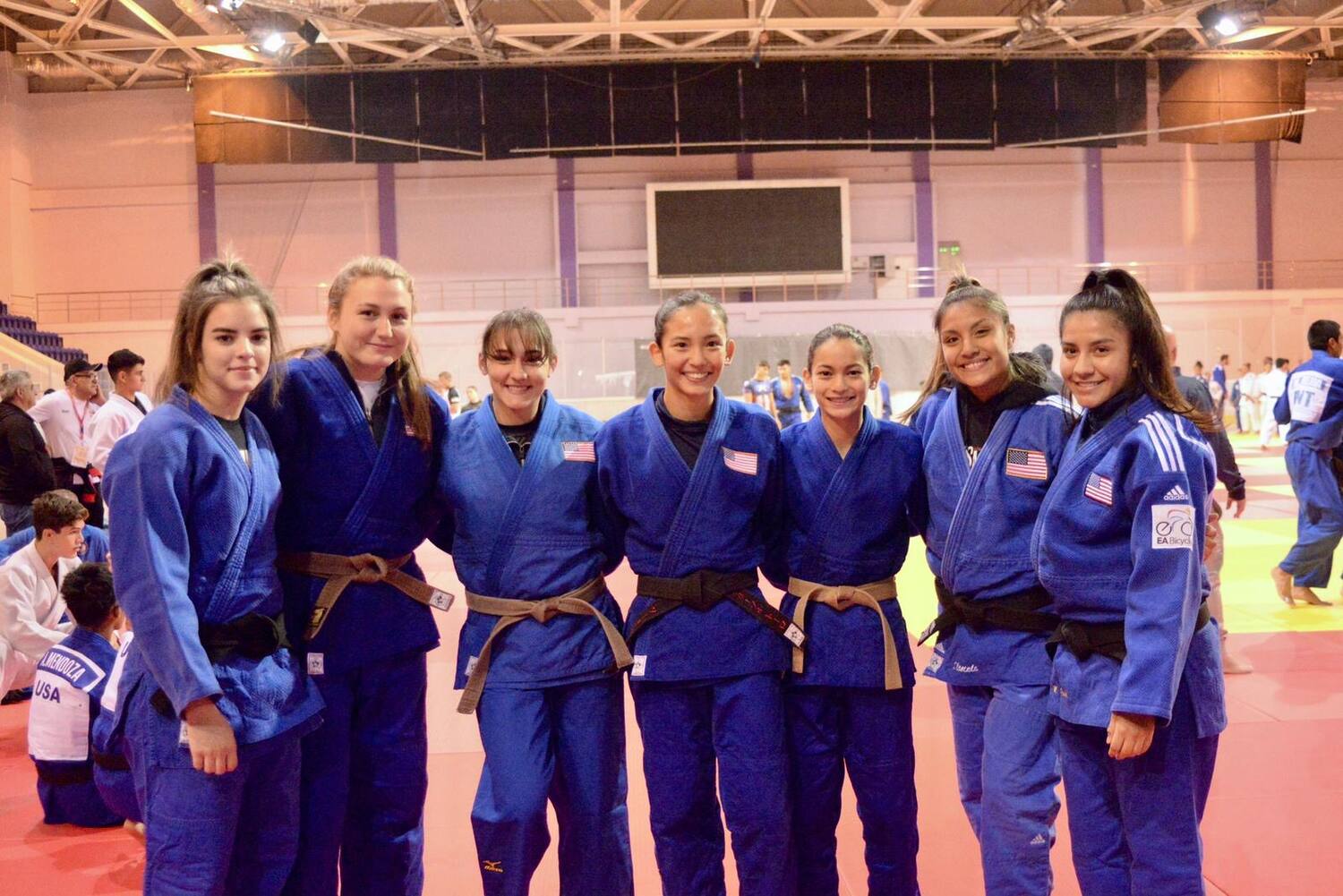 Team USA Girls - Pictured Left to Right: Karlee Carrouth, Natalija Stanojevic, Skylar Hattendorf, Marisol Torro, Luchia Torro, Tasha Cancela, and Melissa Herrera
Congratulations to Marisol Torro and the rest of Team USA for their well fought matches.
Marisol Torro advanced to the semifinals at the IJF World Cadet Championships defeating her Romanian opponent Alexandra Pasca, ranked 5th in the World, in a marathon Golden Score match in the quarterfinals. Marisol finished the tournament in 5th Place, falling short in both her semifinal and repechage matches. Marisol leaves this tournament ranked 4th in the World in Cadets, with 280 points.
Watch her matches here: https://live.ijf.org/wc_cad2019/judokas_athletes/40288/contests
WATCH TEAM USA'S ATHLETE MATCHES:
Luchia Torro (-40kg): https://live.ijf.org/wc_cad2019/judokas_athletes/55331
Eveleen Diep (-48kg): https://live.ijf.org/wc_cad2019/judokas_athletes/56712/contests
Marisol Torro (-52kg): https://live.ijf.org/wc_cad2019/judokas_athletes/40288/contests
Tasha Cancela (-57kg): https://live.ijf.org/wc_cad2019/judokas_athletes/41004/contests
Skylar Hattendorf (-57kg): https://live.ijf.org/wc_cad2019/judokas_athletes/48127
Melissa Herrera (-63kg): https://live.ijf.org/wc_cad2019/judokas_athletes/56710/contests
Karlee Carrouth (-63kg): https://live.ijf.org/wc_cad2019/judokas_athletes/55420
Natalija Stanojevic (+70kg): https://live.ijf.org/wc_cad2019/judokas_athletes/47603
Tegan Yuasa (-50kg): https://live.ijf.org/wc_cad2019/judokas_athletes/40927
Anakin Mendoza (-55kg): https://live.ijf.org/wc_cad2019/judokas_athletes/55334
Dominic Rodriguez (-60kg): https://live.ijf.org/wc_cad2019/judokas_athletes/53962
Dimitri Gamkrelidze (-66kg): https://live.ijf.org/wc_cad2019/judokas_athletes/55205
Benjamin Dyer (-66kg): https://live.ijf.org/wc_cad2019/judokas_athletes/56598
Nick Yokezuka (-73kg): https://live.ijf.org/wc_cad2019/judokas_athletes/40562
Eric Katrdzhyan (-73kg): https://live.ijf.org/wc_cad2019/judokas_athletes/54138
Alexander Knauf (-81kg): https://live.ijf.org/wc_cad2019/judokas_athletes/40925
Alex Semenenko (-90kg): https://live.ijf.org/wc_cad2019/judokas_athletes/55203
Thomas Grigorian (+90kg): https://live.ijf.org/wc_cad2019/judokas_athletes/55948