European Junior Cup La Coruna
May 23, 2014 - May 25, 2014 |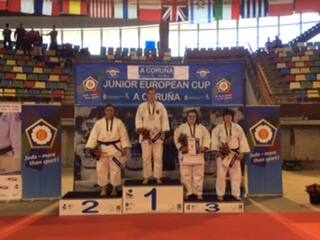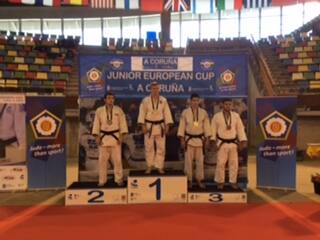 Team USA, comprised of eleven members of the 2014 Junior World Team, had a very successful weekend at the European Junior Cup La Coruna, Spain. Thomas Capra (USA Judo Team Force/Pedro's Judo Center) led the way, by taking Silver in the 90kg division, while Mackenzie Williams (Becerra Judo & Jujitsu Club) took a Bronze in the +78kg division.
Capra won three matches for the day, losing only a very competitive match in the final to Klammert from the Czech Republic. Williams won the bronze medal match against Garcia, her Spanish opponent with a resounding ippon inside of 15 seconds. "Overall I'm pleased with my performance, but I would have loved to win the final. The result gives me confidence as I prepare for the Junior World Championships.", explained Capra.
For the weekend, the team took one silver, one bronze and 6 7th places against top European Junior competition. It was a big step forward for this ever improving group.
"From top to bottom, this was a really solid showing by our team. We need to take the confidence and experience that we gain during these two weeks in Europe and bring it back to the States with us. I couldn't be more proud of the players.", said Head Coach Brett Wolf.
The tournament was followed by a three day training camp in La Coruna. The team's European tour continues next week in Leibnitz, Austria with another European Junior Cup.
Female -
57kg Alisha Galles
63kg Lauren Baez - 7th place
70kg Sophia Swain - 7th place
+78kg Mackenzie Williams - 3rd place
Male -
55kg Brian Abreu - 7th place
60kg Adonis Diaz - 7th place
66kg William Inserra
73kg Caleb Wesley
90kg Matthew Koch - 7th place
90kg Thomas Capra - 2nd place
100kg L.A. Smith III - 7th place