Jack Yonezuka Earns Top-16 Finish at Senior World Championships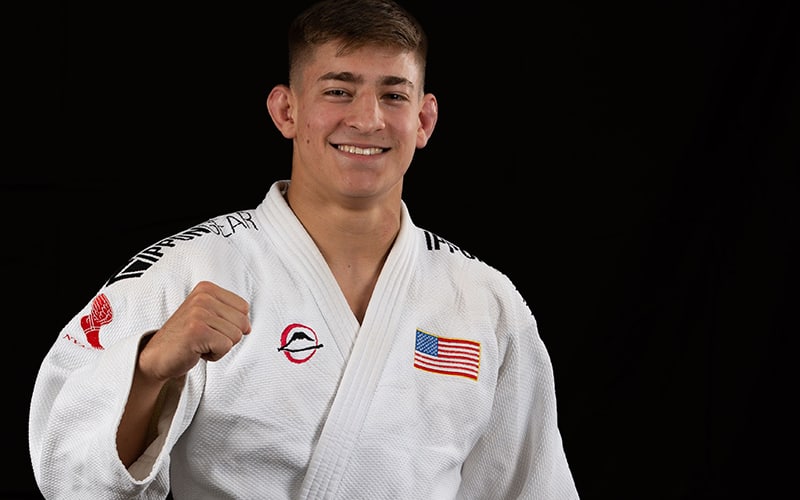 (Colorado Springs, CO) – One of Team USA's youngest athletes earned the squad's best result so far at the Senior World Championships on Tuesday when 19-year-old Jack Yonezuka (West Long Branch, NJ / NYAC / Cranford Judo & Karate Center) placed in the top 16 at his second Senior Worlds.
2023 Senior World Championships Live Results
Fighting in the 73 kg division in Doha, Qatar, Yonezuka went 2-1, narrowly missing a trip to the quarter-finals and earning key Olympic qualification points for the 2024 Paris Games where he is looking to follow in the footsteps of his father and coach, 1980 Olympian Nick Yonezuka (West Long Branch, NJ).
The 2022 Junior World bronze medalist threw five-time European Open medalist Alexander Bernd Gabler (GER) for ippon (instant win) in the third minute of the opening round. In the second round, Yonezuka fought three-time African Championships medalist Faye Njie (GAM) through regulation and more than three minutes into overtime before taking Njie to the ground and closing the match with a pin.
The round of 16 pitted Yonezuka against World No. 2 Hidayat Heydarov (AZE) who was on the hunt for his fourth Senior World medal. With both athletes sitting on a penalty each from a non-combativity call in the first minute, Yonezuka attacked throughout, but it was Heydarov who scored in the final 30 seconds, throwing the American for ippon.
Eighteen-year-old Dominic Rodriguez (Hialeah, FL / NYAC / Ki-Itsu-Sai National Training Center) also entered the event as a junior athlete making his mark on the senior scene and competing in his second Senior Worlds at 73 kg.
Rodriguez, who won the 2022 Senior Pan Am title at just 17 years old, Keisei Nakano (PHI), forcing Nakano into a trio of penalties to close the match in three minutes. Rodriguez took his round of 32 match against two-time Grand Slam medalist Petru Pelivan (MDA) down to the wire before being caught with a throw for ippon in the final two seconds of regulation.
In the evening final, Nils Stump (SUI) won the 73 kg title, making his first Senior World medal a gold on a day that included an upset of Hashimoto Soichi (JPN) who went on to take bronze as his fifth Senior World medal in the last six editions of the event. Building on a season that included gold and bronze medals at his last two Grand Slam events, Stump took the Golden Score win in the finals when 2021 Senior World silver medalist Manuel Lombardo (ITA) was given a hansokumake for head diving.
In the 57 kg competition, Mariah Holguin (San Antonio, Texas / Universal Judo) is one of Team USA's youngest female competitors at just 22 years old, but entered the tournament as her fourth appearance at the Senior World Championships. Holguin, who won bronze at the 2022 Senior Pan Ams, opened with a win against Donne Breytenbach (RSA), choking the 2021 African Championships silver medalist to earn the victory. Holguin was stopped in the round of 32 by World No. 6 Timna Nelson Levy (ISR) when the nine-time Grand Slam medalist pinned Holguin in the final minute.
Two-time Junior World Team member Tasha Cancela (Coral Springs, FL / Ki-Itsu-Sai National Training Center) withdrew from competition with an injury.
The reigning World Masters Champion at 57 kg, Christa Deguchi (CAN) secured her second Senior World title, adding to the gold she won in 2019. After a semifinal win off two throws for waza-ari scores against 2022 Senior World bronze medalist Enkhriilen Lkhagvatogoo (MGL), Deguchi advanced to the finals where she threw 2022 Senior World silver medalist Haruka Funakubo (JPN) for a waza-ari in the first minute and ippon in the second.
Top eight and U.S. results are as follows:
Men's 73 kg
1. Nils Stump (SUI)
2. Manuel Lombardo (ITA)
3. Soichi Hashimoto (JPN)
3. Murodjon Yuldoshev (UZB)
5. Hidayat Heydarov (AZE)
5. Arthur Margelidon (CAN)
7. Obidkhon Nomonov (UZB)
7. Messaoud Redouane Dris (ALG)
Also Competed: Jack Yonezuka (West Long Branch, NJ / NYAC / Cranford Judo & Karate Center), 2-1

Dominic Rodriguez (Hialeah, FL / NYAC / Ki-Itsu-Sai National Training Center), 1-1
Women's 57 kg
1. Christa Deguchi (CAN)
2. Haruka Funakubo (JPN)
3. Enkhriilen Lkhagvatogoo (MGL)
3. Jessica Klimkait (CAN)
5. Mimi Huh (KOR)
5. Hasret Bozkurt (TUR)
7. Nora Gjakova (KOS)
7. Sara Leonie Cysique (FRA)
Also Competed: Mariah Holguin (San Antonio, Texas / Universal Judo