Delgado Places in Top 32 at Senior Worlds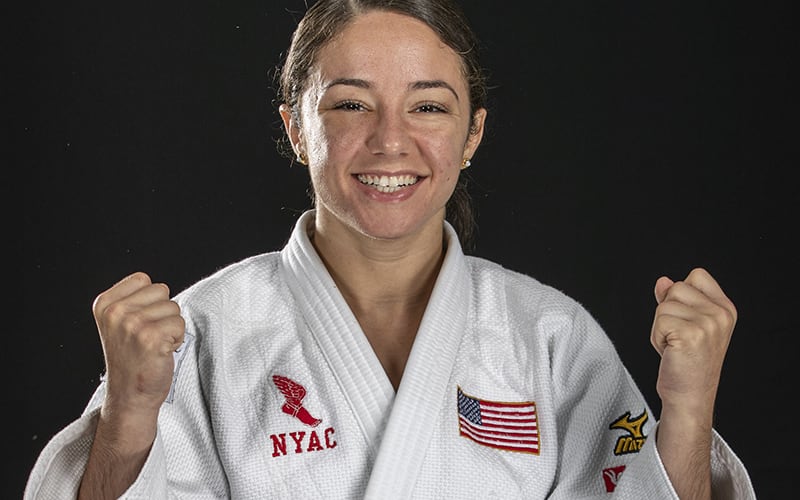 (Colorado Springs, CO) – Two-time Olympian Angelica Delgado (Miami, FL / NYAC / Ki-Itsu-Sai National Training Center) earned a top-32 finish at the Senior World Championships in Doha, Qatar on Monday.
2023 Senior World Championships Live Results
Delgado went 1-1 on the day in the 52 kg event, throwing Djamila Silva (CIV) with an uchimata (inner thigh throw) for a waza-ari (half-point) score in the second minute. Silva, who was already given two penalties in the first minute, picked up a third penalty and Delgado was awarded the match.
In the next round, Delgado faced Tokyo Olympic silver medalist Amandine Bouchard (FRA). Although Delgado was given two penalties early in the match, she held the three-time Senior World medalist scoreless until the final minute when Bouchard threw Delgado for a waza-ari. Bouchard ran out the clock and went on to secure her fourth career Senior World bronze.
The women's 52 kg gold would be won by Uta Abe – the Japanese phenom who won Olympic gold in Tokyo and now holds four Senior World titles at just 22 years old. Abe, who has lost just two matches in her international career, threw Distria Krasniqi (KOS), the Tokyo Olympic Champion at 48 kg, for a waza-ari score and moved into a pin to clinch the match. In the finals, Abe remained dominant on the ground, pinning World No. 4 Diyora Keldiyorova (UZB) to win gold.
Both of Team USA's entrants in the men's 66 kg division were eliminated in the opening round.
Competing at his second Senior World Championships, 2022 Senior Pan Am bronze medalist Ari Berliner (Schenectady, NY / NYAC / Jason Morris Judo Center) attacked throughout the regulation period of his match against 2022 Junior World bronze medalist Muhammed Demirel (TUR), but found himself trailing by two penalties going into Golden Score (sudden death overtime). Demirel scored first in overtime, throwing Berliner for a waza-ari to end the match.
Ramirez was thrown for an early waza-ari score during his opening round against 2017 Senior European Championships bronze medalist Matej Poliak (SVK). In the second minute, Ramirez went in for an attack, but was countered and thrown for ippon.
The men's 66 kg final featured two teammates from Japan – 2020 Olympic Champion Hifumi Abe and two-time Senior World Champion Joshiro Maruyama. The two would face off in a rematch of their 2022 Senior World final where Abe claimed his third career World title. After more than 10 minutes without a score, Maruyama was given his third penalty and Abe earned the gold. The win secured a fourth Senior World title for Abe, the older brother of Uta Abe, which gives the siblings a combined eight Senior World titles.
Japan has now won three of the four gold medals awarded during the first two days of competition with 10 individual medals remaining on the line during the next five days of competition.
Competition continues on Tuesday with the men's 73 kg and women's 57 kg divisions.
Team USA's entrants in Tuesday's events are as follows:
Top eight and U.S. results are as follows:
Men's 66 kg
1. Hifumi Abe (JPN)

2. Joshiro Maruyama (JPN)

3. Baskhuu Yondonperenlei (MGL)

3. Walide Khyar (FRA)

5. Vazha Margvelashvili (GEO)

5. Baul An (KOR)

7. Yago Abuladze (AIN)

7. Elios Manzi (ITA)
Also Competed: Ari Berliner (Schenectady, NY / NYAC / Jason Morris Judo Center), 0-1

Isaiah Ramirez (Barstow, CA / Barstow PAL Judo Club), 0-1
Women's 52 kg
1. Uta Abe (JPN)
2. Diyora Keldiyorova (UZB)
3. Amandine Buchard (FRA)
3. Odette Giuffrida (ITA)
5. Reka Pupp (HUN)
5. Distria Krasniqi (KOS)
7. Seyun Jang (KOR)
7. Gefen Primo (ISR)
Also Competed: Angelica Delgado (Miami, FL / NYAC / Ki-Itsu-Sai National Training Center), 1-1