USA Judo and Judo France Form Partnership on the Road to Paris and Los Angeles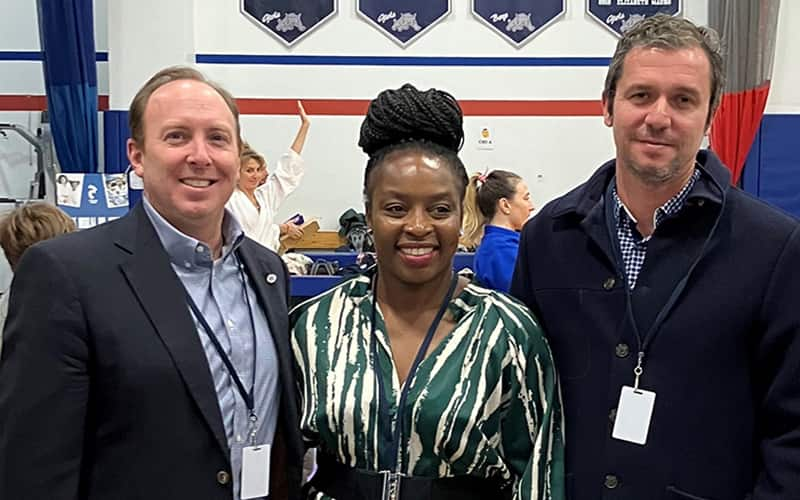 (L-R): USA Judo CEO Keith Bryant, Judo France Vice President of International Relations Gevrise Emane and Consul General Jeremie Robert.
(Colorado Springs, CO) – USA Judo and the French Judo Federation are pleased to announce the launch of a partnership between the two National Governing Bodies to advance the growth of judo in both nations and prepare the U.S. and French National Teams for the upcoming Olympic and Paralympic Games.
The two federations have partnered to share their resources and expertise to expand the promotion and activation of judo in the United States, create cultural exchange opportunities between the two nations and develop shared training opportunities and resources in both France and the United States.
Considered one of the top judo nations in the world, France has had great success at all levels, claiming eight medals, including two gold, at the 2020 Tokyo Olympic Games and two medals at the Tokyo Paralympic Games as well as five medals at the 2022 Senior World Championships and seven medals at the 2022 Junior Worlds. Judo is one of the most popular sports in France with the French Judo Federation boasting more than 550,000 members and 15,000 certified teachers.
The partnership with USA Judo and the French Judo Federation is a concrete example of international cooperation in sports with both organizations learning from each other and looking forward to further developing judo in their respective communities.
"I am convinced that our partnership will be a key element for the success of the Paris 2024 and Los Angeles 2028 Olympic Games by creating closer ties between the sports communities of our two countries and by strengthening the practice and visibility of judo on the international stage," said French Judo Federation President Stephane Nomis. "The French Judo Federation is honored to work with USA Judo to make these events a true moment of sharing and sporting excellence"
A key initiative of the partnership is the development of judo programming in schools for both able-bodied and disabled athletes within physical education and after-school programs. Supported by the Agency for French Education Abroad and France Judo, the program will reach out to the 47 French-American schools located throughout the United States which combined have more than 17,500 students.
As both nations prepare for the Olympic and Paralympic Games in Paris in 2024 and Los Angeles in 2028, the partnership also will create opportunities for community events as well as training camps for Senior, Junior, Cadet and Visually Impaired National Teams at dojos and training centers in the United States and France.
"Having a partnership with the highly successful French Judo Federation is a great example of mutual benefit and welfare as espoused by judo's founder, Dr. Jigoro Kano," said USA Judo CEO Keith Bryant. To be able to share the passion of growing judo in the United States and sharing programs and resources in France in the United States is something that will propel both organizations forward."