2022 USA Judo Team Annual Award Winners Named in Lubbock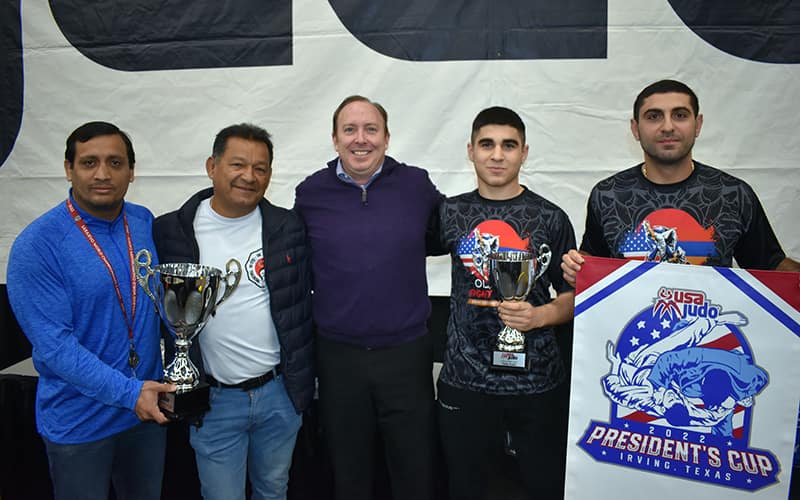 USA Judo CEO Keith Bryant presented Ki-Itsu-Sai National Training Center with the first place 2022 USA Judo Team Annual Award and Olymp Fight Club with the third place award. Cohen Brothers Judo Club (not pictured) finished second in the standings.
(Lubbock, Texas) – Three USA Judo clubs were recognized at the Youth National Championships last weekend for their achievements at the four USA Judo national tournaments held in in 2022: Youth National Championships, Senior National Championships, Junior Olympic National Championships and President's Cup.
Ki-Itsu-Sai National Training Center finished the 2022 season in first place, followed by Cohen Brothers Judo Club in second place and Olymp Fight Club in third place.
Ki-Itsu-Sai, based out of Coconut Creek, FL, repeated its first place win from the 2021 season, ending 2022 with 106 medals at USA Judo national events, including 59 gold. In addition, Ki-Itsu-Sai earned six Senior World positions as well as five spots on the Junior World Team. Ki-Itsu-Sai's David Leiva (Coral Springs, FL) won Team USA's first-ever medal at the Cadet World Championships as one of seven athletes from the club to compete at the event.
Cohen Brothers Judo Club in Vernon Hills, IL finished the 2022 season in second place with 103 medals, including 41 gold. Cohen Brothers also was represented on the world stage with three athletes competing for Team at the 2022 Cadet World Championships with Alexander Knauf (Vernon Hills, IL / NYAC) earning positions on both the Senior and Junior World Championship Teams.
Founded in 2021 in Glendale, CA, Olymp Fight Club has quickly grown to become one of the largest clubs in the nation, claiming the top team award at the 2022 President's Cup with 60 medals (26 gold, 20 silver and 14 bronze). Among the wins by Olymp students at the President's Cup were three podium finishes in the senior categories, including a silver medal finish at 90 kg for 19-year-old Harutyun Mutafyan (Glendale, CA) who is ranked No. 33 in the junior world rankings.