Bobby Donaldson Honored by USA Judo Referee Commission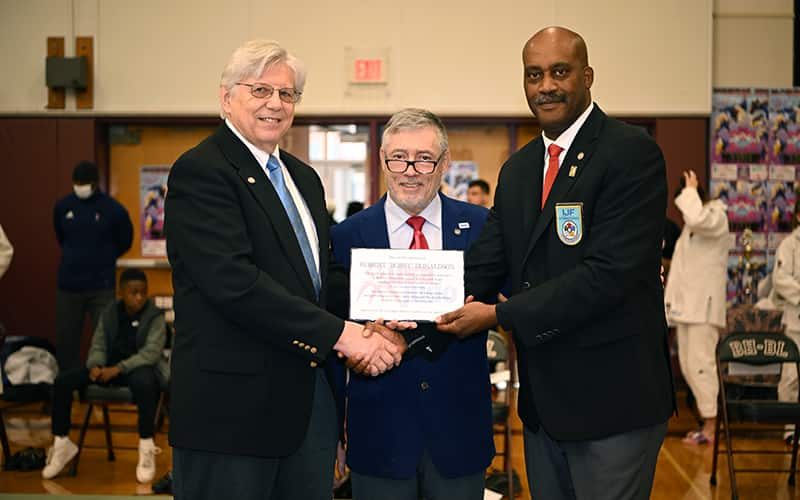 Bobby Donaldson (right) was presented with an award his work on the Referee Mentoring Education Program by Russ Scherer (left) and Gary Berliner (center). Photo Credit: Lou DiGesare.
(Colorado Springs, Colo.) – Bobby Donaldson (Landover, Md. / College Park Judo Club) was recognized at the Morris Cup tournament in Burnt Hills, N.Y. for his work in the development of the Referee Mentoring Education Program.
Donaldson, who officiated the 2020 Junior and Cadet World Championships, was presented an award by Russ Scherer (Beavercreek, Ohio / Kettering Rec Center Judo Club), chair of domestic referee development, and Gary Berliner (Cumming, Ga.), international referee program chair.
"Bobby is the last U.S. referee who was consistently and successfully on the IJF International Judo World Tour after I retired in 2016. If not for CoVID-19 Bobby would likely still be on the Tour and in the running for Paris," Berliner said. "He is uniquely positioned to give insight into, and commentary on the nuances that the IJF Referee Commissioners are looking for in evaluating and considering new Referees for inclusion in the IJF World Judo Tour. Toward that end, and coupled with Bobby's prodigious ability to review matches and discern the actions and decisions of the Referees and Commissioners, he was willingly requested to educate and train the up-and-coming U.S. referees such that they might have the best possibilities of their inclusion on the IJF World Judo Tour."
During his career in the Navy, Donaldson earned a Master Training Specialist certification which he utilized to create a robust training system based upon more professional/consistent standard.
"Referee mentorship has occurred for quite some time, using a variety of techniques. Quite often it involves one on one interaction between a 'student' and 'teacher,' but a good mentor does more than just teach. Bobby Donaldson has developed a program utilizing his experience in training, as well as significant recent international refereeing activity at very high level events," Scherer said. "He incorporates his personal observations and insights obtained at these events into his lesson plans, homework assignments and guidance of those he works with. Analysis of 'why' as well as 'what' is happening in top level competition helps those he mentors gain a deeper understanding of the actions of the top level referees in the world, which aids their own development. Studying the performances of those he mentors, and giving consistent, personal feedback completes the cycle."
The mentoring program has assisted seven referees in passing their IJF A exams, including four USA Judo referees and three from other nations in the Pan American Judo Confederation. Donaldson also has assisted six referees in earning their IJF B certification.
"My purpose was to remove the confusion and standardize performance. COVID allowed me to reach a broader audience as many of my lessons were shared throughout the country," Donaldson said. "Evaluation grades of those in my program have increased as we were able to improve refereeing in this country."