Senior Worlds Men's 73kg and Women's 57kg Results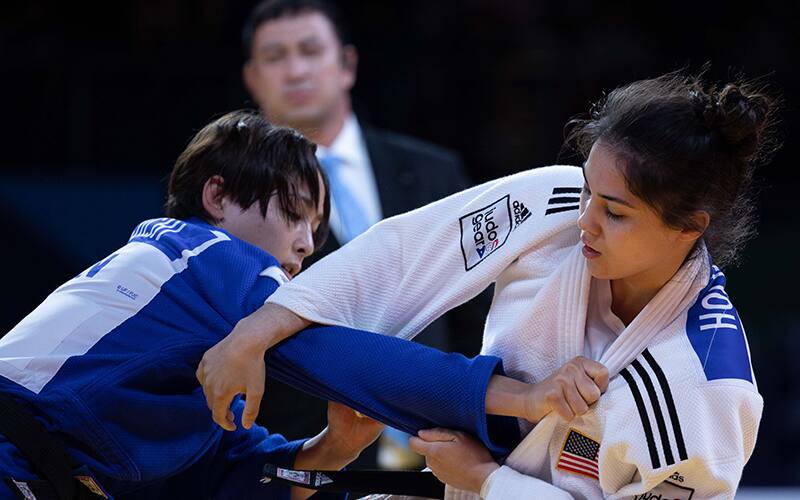 (Colorado Springs, Colo.) – Three members of Team USA competed at the Senior World Championships in Tashkent, Uzbekistan, but were eliminated in the opening round.
2022 Senior World Championships Results
Both of Team USA's 73kg competitors are top U20 athletes who qualified for the Senior World Team for the first time this year.
Eighteen-year-old Dominic Rodriguez (Lehigh Ares, Fla. / NYAC / Ki-Itsu-Sai National Training Center) competed at both the 2021 and 2022 Junior Worlds and had a breakthrough as a senior when he won gold at the Senior Pan American Championships in April. In the first round in Uzbekistan, Rodriguez was thrown for a pair of waza-ari (half point) scores by Shakhram Akhadov (UZB).
A bronze medalist at the 2022 Junior World Championships, Jack Yonezuka (West Long Branch, N.J. / NYAC / Ki-Itsu-Sai National Training Center) drew 2022 Senior Asian Champion Daniyar Shamshayev (KAZ) in his first round. Yonezuka was thrown for a waza-ari score in the second minute and Shamshayev held him off for the remainder of the match.
Fighting at her third Senior Worlds at 57kg, Mariah Holguin (San Antonio, Texas / Universal Judo) was thrown for ippon (instant win) in the first round by 2019 Senior World Champion Christa Deguchi (CAN).
Top eight and U.S. results are as follows:
Men's 73kg
1. Tsogtbaatar Tsend-Ochir (MGL)

2. Soichi Hashimoto (JPN)

3. Hidayat Heydarov (AZE)

3. Daniel Gargnin (BRA)

5. Tohar Butbul (ISR)

5. Manuel Lombardo (ITA)

7. Arthur Margelidon (CAN)

7. Lasha Shavdatuashvili (GEO)
Also Competed: Dominic Rodriguez (Lehigh Ares, Fla. / NYAC / Ki-Itsu-Sai National Training Center), 0-1

Jack Yonezuka (West Long Branch, N.J. / NYAC / Ki-Itsu-Sai National Training Center), 0-1
Women's 57kg
1. Rafaela Silva (BRA)
2. Haruka Funakubo (JPN)
3. Jessica Klimkait (CAN)
3. Enkhriilen Lkhagvatogoo (MGL)
5. Mimi Huh (KOR)
5. Timna Nelson Levy (ISR)
7. Eteri Liparteliani (GEO)
7. Daria Bilodid (UKR)
Also Competed: Mariah Holguin (San Antonio, Texas / Universal Judo), 0-1