Laborde Upsets World No. 6, Earns Top 16 Finish at Senior Worlds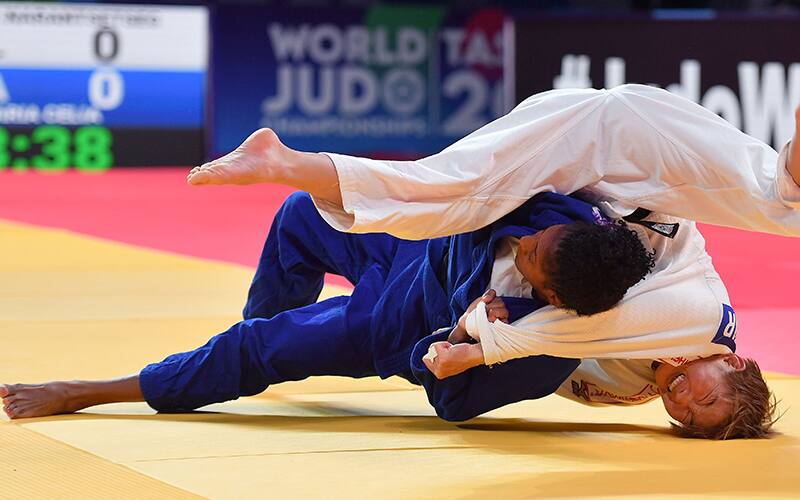 (Colorado Springs, Colo.) – After an eight-year hiatus from international competition, Maria Laborde (Kenosha, Wis. / Ki-Itsu-Sai National Training Center) returned to the World Championship stage on Thursday where she opened the tournament with a top-16 result in the 48kg division.
2022 Senior World Championships Results
A 2014 Senior World bronze medalist for Cuba, Laborde, now a U.S. citizen began competing for Team USA earlier this year, earning three international medals this year, including bronze at the Senior Pan American Championships in April.
Laborde drew World No. 6 Narantsetseg Ganbaatar (MGL) after a bye into the second round and threw the 2019 Masters silver medalist for ippon (instant win) in less than 30 seconds.
In the next round, Laborde fought 2021 Senior Pan Am Champion Mary Dee Vargas Ley (CHI) and found herself trailing by two penalties in just over a minute. Ley scored a waza-ari (half-point) in the third minute, but Laborde came back with a throw for ippon to end the match. When video replay was called, however, Laborde was given a third and final penalty for having her fingers in Ley's sleeve during the throw and the Chilean was awarded the match. Ley went on to upset 2021 Olympic silver medalist Funa Tonaki (JPN) en route to a fifth-place finish.
After being added to the team just days prior to competition due to an injury replacement, two-time Junior World Team member Giovanna Prado (Coral Springs, Fla. / Ki-Itsu-Sai National Training Center) made her Senior World debut in the 48kg division, but was thrown early in her opening match by four-time Grand Slam medalist Baasankhuu Bavuudorj (MGL) for a waza-ari score. Prado hung in for the remainder of the match, but was unable to produce a score.
This year's marks the fifth Senior World Championships for Adonis Diaz (Hialeah, Fla. / NYAC / Ki-Itsu-Sai National Training Center) who returned to the 60kg division after moving up to 66kg earlier this year. After a bye into the second round, Diaz fought 19-year-old Yam Wolczak (ISR). The reigning European Junior bronze medalist caught Diaz with a drop seoi nage early in the second minute for ippon to win the match and go on to earn a career-best fifth-place result at his first Senior Worlds.
Top eight and U.S. results are as follows:
Men's 60kg
1. Naohisa Takato (JPN)
2. Ariunbold Enkhtaivan (MGL)
3. Yung Wei Yang (TPE)
3. Yeldos Smetov (KAZ)
5. Dilshodbek Baratov (UZB)
5. Yam Wolczak (ISR)
7. Francisco Garrigos (ESP)
7. Angelo Pantano (ITA)
Also Competed: Adonis Diaz (Hialeah, Fla. / NYAC / Ki-Itsu-Sai National Training Center), 0-1
Women's 48kg
1. Natsumi Tsunoda (JPN)
2. Katharina Menz (GER)
3. Abiba Abuzhakynova (KAZ)
3. Assunta Scutto (ITA)
5. Mary Dee Vargas Ley (CHI)
5. Julia Figueroa (ESP)
7. Funa Tonaki (JPN)
7. Milica Nikolic (SRB)
Also Competed: Maria Laborde (Kenosha, Wis. / Ki-Itsu-Sai National Training Center), 1-1

Giovanna Prado (Coral Springs, Fla. / Ki-Itsu-Sai National Training Center), 0-1