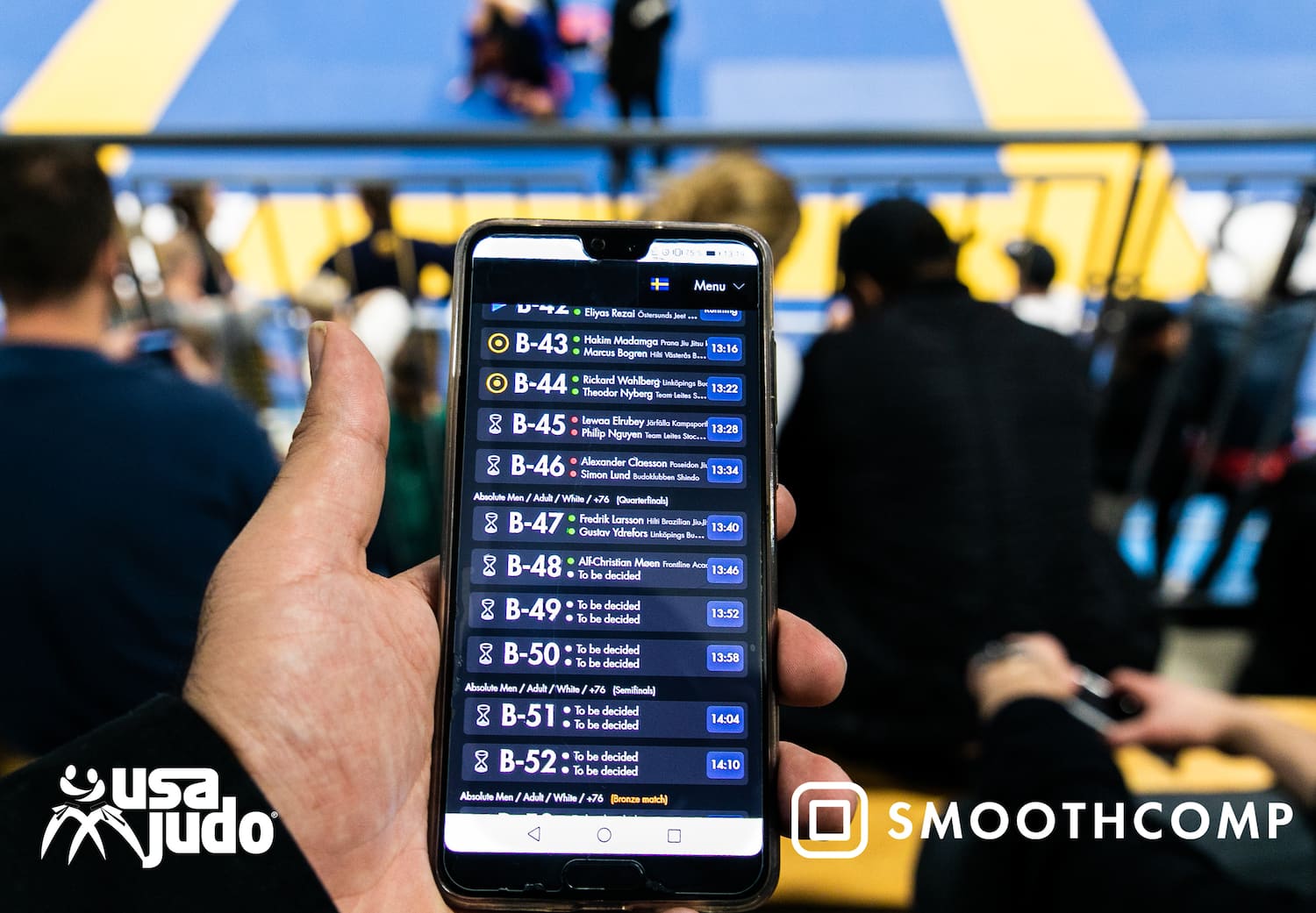 (Colorado Springs, Colo.) – USA Judo is pleased to announce that, beginning with the 2022 USA Judo Senior National Championships this weekend, Smoothcomp will become the official competition management system for USA Judo.
Through the Smoothcomp system, judo athletes and fans will be able to follow USA Judo national events live, score-by-score and round-by-round with live results posted at http://usajudo.smoothcomp.com.
Since 2016, Smoothcomp has been utilized by grappling events throughout the world. It is a software that has become familiar to many judo, Brazilian jiu-jitsu and wrestling event organizers around the world and is known as a user-friendly platform for athletes and tournament organizers alike. Smoothcomp currently has more than 1,600 event organizers around the world with close to a million user accounts and 10,000+ athletes competing on the platform on any given weekend. Working with 18 combat sports, Smoothcomp's partners include the Swedish Judo Federation, Australian Judo States and Norwegian Judo Federation.
With Smoothcomp, USA Judo event participants and fans can now see estimated start times for matches and monitor the event's progress and results on a handheld device, thereby reducing the wait time before an athlete starts competing. Thanks to the ease of operation and ability for matches to be moved when empty mat space is available, Smoothcomp minimizes idle time on mats to make the event operation more efficient for all. Live updates of brackets and schedules throughout the venue will also help competitors and fans be able to better keep track of all the action.
"We are excited about our growing relationship and partnership with USA Judo. I have been impressed with the organization and hard work displayed by USA Judo event staff and organizers in managing events and am pleased that Smoothcomp can provide a tool that should allow Judo events to be operated in a much easier fashion throughout the United States," Ricard Carneborn, Smoothcomp co-founder and COO. "We understand the important role of a national sport federation and are happy to partner with USA Judo in providing them with discounted Smoothcomp resources to pass along to its sanctioned event organizers in an effort to grow judo in the United States."
For years, USA Judo and its sanctioned event organizers have worked on a variety of competition management platforms to run national, regional and local tournaments. With the USA Judo-Smoothcomp partnership, all national, regional and local event organizers will have access to the Smoothcomp platform at a discounted cost from the retail rate. Further details will be made available on this new program in the coming weeks.
"Having a universal competition management platform like Smoothcomp will help in elevating the number of events and participation in our sport," said USA Judo CEO Keith Bryant. "We are appreciative of the partnership with Smoothcomp and are happy to provide another piece of the USA Judo Digital ecosystem as we continue to provide our members with online resources to manage USA Judo memberships, dojo operations and competitions as well as receive on-line coaching resources."
To learn more about Smoothcomp and the partnership with USA Judo, please visit the Smoothcomp booth at the USA Judo Senior National Championships in Daytona Beach this weekend or contact Corinne Shigemoto, USA Judo Director of Membership and Events, at 719-201-6176 or corinne.shigemoto@usajudo.us.