2022 Pan Am Kata Championships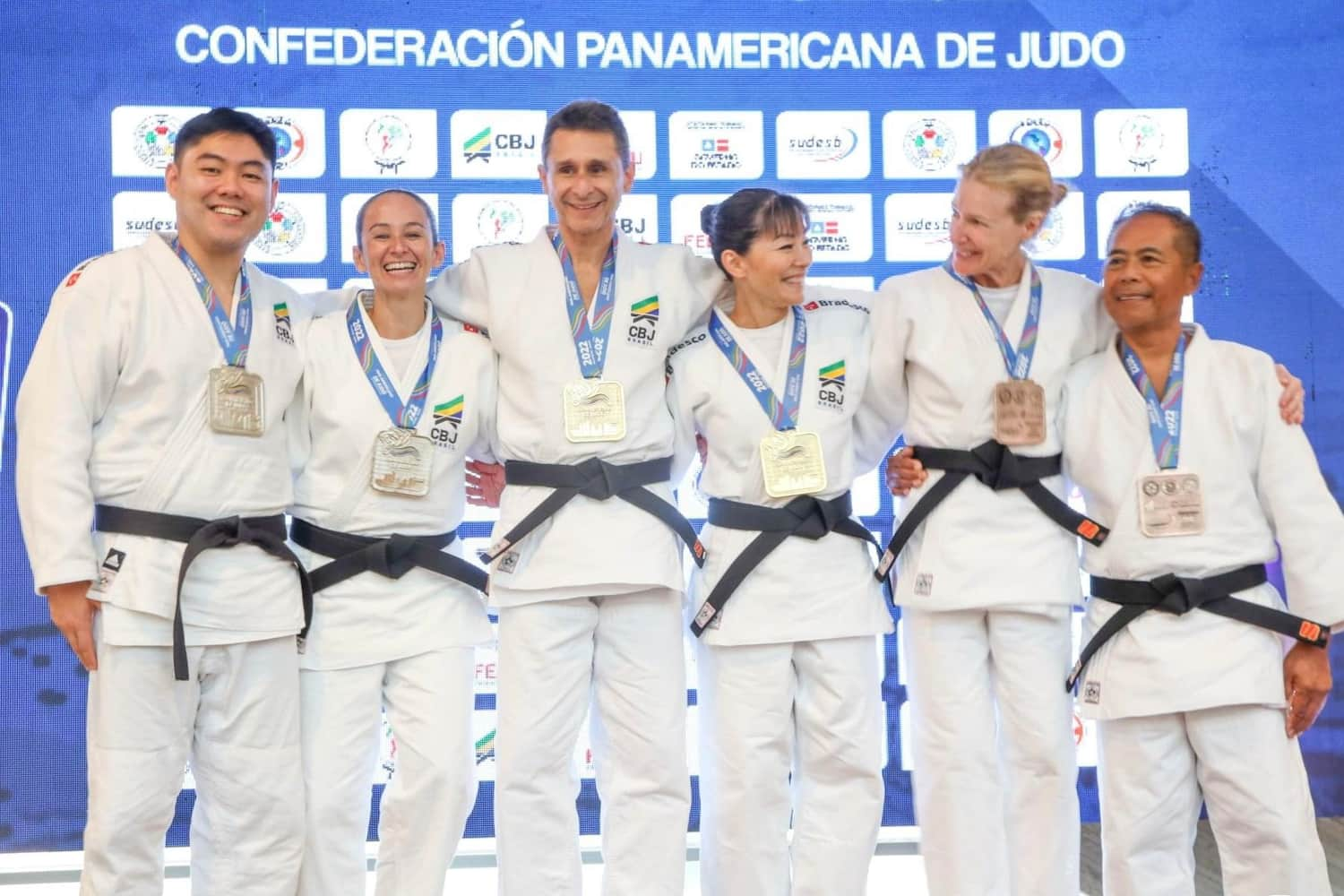 Lee Pasteris and Frederick Dagdagan (far right) won bronze in ju no kata.

(Colorado Springs, Colo.) – Team USA had two pairs reach the podium at the Pan American Kata Championships in Salvador Bahia, Brazil on Wednesday.
2022 Pan American Kata Championships Results
Athletes from Colombia, Brazil and the United States competed in the judged forms competition that included mixed teams in each of the five events.
The husband and wife duo Frederick Dagdagan (Los Angeles, Calif. / Sawtelle Judo) and Lee Pasteris (Los Angeles, Calif. / Sawtelle Judo) won bronze in Ju No Kata. Together, Dagdagan and Pasteris have competed at both the 2021 and 2018 Kata World Championships and won two bronze medals at the 2019 National Championships.
Three-time Kata World Team members Gerardo Tello (Miami, Fla. / A. Kolychkine Judo Foundation) and Sergio Suguieda (Miami, Fla. / A Kolychkine Judo Foundation) claimed bronze in the kime no kata event at their first Pan Am Championships.
The U.S. Kata Team included 11 athletes competing in four events in Brazil.
Complete results are as follows:
Nage No Kata
1. Glatenferd Escobar and Miguel Bermudez (COL)
2. Edwin Gomez and Gerardo Restrepo (COL)
3. Lina Rios and Daniela Restrepo (COL)
4. Carlos Pereira Taluan Nogueira (BRA)
5. Fabiano Barros and Yann Prando (BRA)
6. Gerardo Tello (Miami, Fla. / A. Kolychkine Judo Foundation) and and Sergio Suguieda (Miami, Fla. / A Kolychkine Judo Foundation)

7. Abigail Shino (Sandy, Utah / Rocky Mountain Judo) and Tyler Chen (Sandy, Utah / Rocky Mountain Judo)

8. Christine Levine (Philadelphia, Pa. / El Idrissi Judo Academy) and Kristin El Idrissi (Melrose Park, Pa. / El Idrissi Judo Academy)
Katame No Kata
1. Wagner Uchida and Roger Uchida (BRA)
2. Glatenferd Escobar and Miguel Bermudez (COL)
3. Henrique Costa and Gabriela Costa (BRA)
4. Lina Rios and Daniela Restrepo (COL)
5. Leonardo Londono and Daniel Spaggiari (COL)
6. Laura Jaramillo and Pamela Hernandez (COL)
7. Mary Wakabayashi (Aliso Viejo, Calif.) and Pamela Moye (Los Angeles, Calif. / Sawtelle Judo)
Kime No Kata
1. Sidney Fukayama and Airam Cunha (BRA)
2. Rone Araujo and Victor Araujo (BRA)
3. Gerardo Tello (Miami, Fla. / A. Kolychkine Judo Foundation) and Sergio Suguieda (Miami, Fla. / A Kolychkine Judo Foundation)
Ju No Kata
1. Roberto Pereira and Nadia Hori (BRA)
2. Roger Uchida and Aline Sukino (BRA)
3. Frederick Dagdagan (Los Angeles, Calif. / Sawtelle Judo) and Lee Pasteris (Los Angeles, Calif. / Sawtelle Judo)
4. Pamela Hernandez and Laura Jaramillio (COL)
5. Lori Latimer (Upper Darby, Pa.) and Christine Levine (Philadelphia, Pa. / El Idrissi Judo Academy)
Kodokan Goshin-Jutsu
1. Marcelo Fontes and Leonardo Pavani (BRA)
2. Leonardo Londono and Daniel Spaggiari (COL)
3. Joucelio Santos and Eduardo Santos (BRA)