Cutro Kelly Wins Deaflympics Gold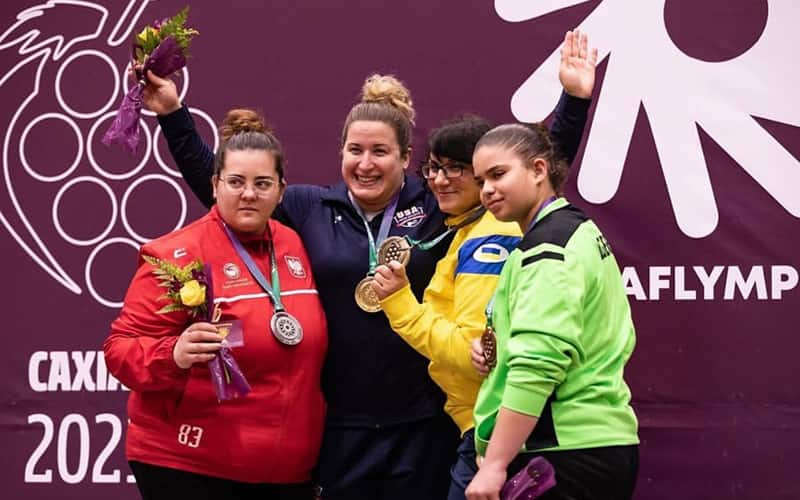 Cutro-Kelly (second from left) won gold at the Deaflympic Games in Brazil on Wednesday.. Photo Credit: USA Deaf Sports Federation.

(Colorado Springs, Colo.) – When Nina Cutro-Kelly (Selma, Texas / Universal Judo) stepped out onto the mat at the Tokyo Olympic Games, judo fans knew that, at age 37, she was the oldest USA Judo athlete to compete at the Games.
Many knew that she was the first women's heavyweight to qualify for Team USA since the 2000 Olympic Games in Sydney.
What few knew was that this trailblazer has 50% hearing loss in both ears and that part of her routine before walking out onto the world's biggest stage was taking her hearing aids out and putting them away during competition.
"I spent so long of my life not necessarily hiding that I was hearing impaired, but trying to prove that I could do anything that anybody else could do. And I think I did that. I made the Olympic Team and it was the first time a heavyweight woman made the U.S. team in 20 years," said Cutro-Kelly who won bronze at the Pan American Championships last month in her first competition since Tokyo. "I'm pushing 40 and I can still medal in the Pan Ams. I think it's important for me to show that you don't do judo with your ears and it's not necessarily an obstacle to being able to compete in a sport on the same level, if not better, than someone with full hearing."
Cutro-Kelly first heard of the Deaflympics when judo was added to the program in 2013. While judo is a new addition to the Deaflympics, the competition is held every four years in the year after the Olympic Games and dates back to 1924. This year's edition began on May 1 in Caxias Do Sul, Brazil and is expected to draw nearly 3,000 athletes from nearly 100 countries competing in 20 sports over 15 days.
On Wednesday, Cutro-Kelly took the mat in her first-ever competition against athletes with hearing impairments and would come into the tournament unseeded in her attempt to become the first U.S. athlete not only to compete in judo at the event, but to come home with gold in the +78kg event.
First up was Bouchra Sadi, the Algerian Junior National Champion, in the quarter-finals.
Cutro-Kelly, who teaches English as a Second Language to French students, had chatted with Sadi throughout the competition in French.
"She actually told me that she didn't know she had hearing loss until a couple years ago and she said 'Oh, well you went to the Olympics, so maybe I could too,'" Cutro-Kelly said. "She's young, but a really strong fighter. We had a little bit of an exchange where she surprised me a little bit where we went to the mat and she tried to pick me up and she actually was able to move me and then I threw her on the next exchange."
In the semifinals, Cutro-Kelly faced Oksana Kravchenko (UKR) – a former competitor on the IJF circuit who won gold at the Deaf World Championships in 2021 and bronze at the 2017 Deaflympics. Cutro-Kelly threw and pinned the Ukrainian in the second minute to advance to the finals where she would meet Natalia Brzykcy, a former international competitor for Poland in both judo and sumo who holds two medals at the Deaflympics. Cutro-Kelly took Brzykcy to the ground and choked her for the win in just 39 seconds.
"I actually went to try to turn her over to get a pin, and she just wasn't moving," Cutro-Kelly said. "I managed to start the choke which I thought would make her roll into a pin, but then I caught the choke."
While the Deaflympics was Cutro-Kelly's first experience with other athletes with hearing impairments, she is committed to wanting to become more involved in the community.
"This was the first real connection I've had with the deaf community since I was very little. I've always had hearing aids and I signed a bit until I was four and then it was just one of those things where I was like 'I wanna be like everybody else' and I actively tried not to sign and it's too bad because, as adult, I think 'What did I do that?' but as a kid I just wanted to be like everybody else," she said.
Now Cutro-Kelly has plans to take a class to learn American Sign Language and help build the judo program in the United States during the leadup to the 2025 Deaflympics which will take place in Tokyo.
"They talked to me about being involved in the next Deaflympics and asked if I would be interested in helping women's wrestling and the entire judo teams develop an actual team," Cutro-Kelly said. "I think at this point in my life, I'm interested in giving back and really try to motivate people who might not think that they can do it. I think that in my many years on the mat that I have some stuff I can share."