Ben Goodrich Wins Silver at IBSA Grand Prix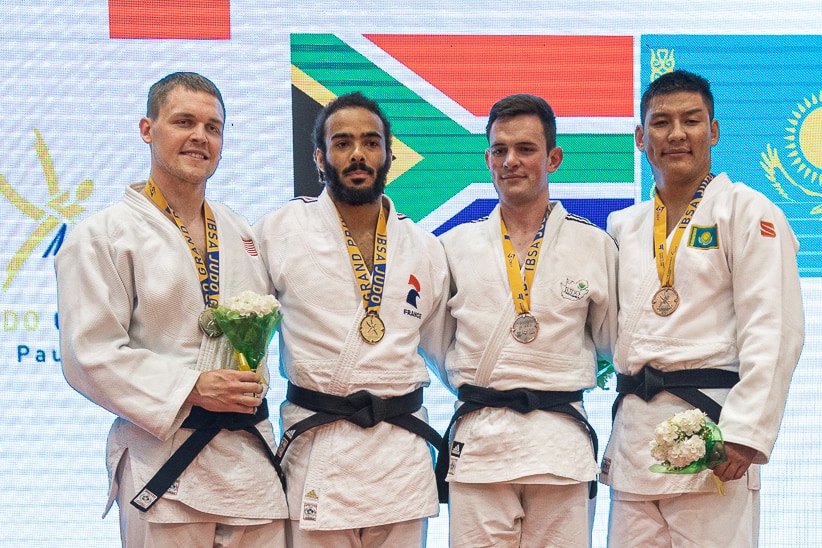 Ben Goodrich (far left) on the podium at the Brazil Grand Prix. Photo Credit: Tuane Fernandes / CBDV
(Colorado Springs, Colo.) – Tokyo Paralympic silver medalist Ben Goodrich (St. Paul, Minn. / U.S. Olympic & Paralympic Training Center) returned to the podium at the Brazil Grand Prix in Sao Paulo, winning silver at his first appearance on the Grand Prix circuit since Games.
The podium finish came in a new category for Goodrich who has moved down from his 100kg weight in Tokyo to 90kg in anticipation of new weight categories being implemented for the Paris Games.
Goodrich opened with a quick victory over Jacque Joubert (RSA), throwing Joubert for ippon (instant win) in the first exchange.
The next match would be even shorter as Goodrich dispatched Zhanbota Amanzhol (KAZ), a gold medalist at the Antalya Grand Prix in April, with a throw off the grip for ippon.
In the finals, Goodrich faced Helios Latchoumanaya (FRA) – a bronze medalist at 90kg from the Tokyo Games who won gold at the Nur-Sultan Grand Prix in May. Latchoumanaya won the ground game against Goodrich, slipping in a choke to win the match in the second minute.
The complete list of medalists is as follows:
Men's J1 60kg
1. Marcos Blanco (VEN)
2. Faical Chebiev (ALG)
3. Roberto Paixao (BRA)
3. Yonaldy Gonzalez (CUB)
Men's J2 60kg
1. Ishak Ouldkouider (ARG)
2. Thiego Marques (BRA)
3. Bryan Aburto (MEX)
Men's J1 73kg
1. Rayfran Pontes (BRA)
2. Alex Bologa (ROU)
3. Yergali Shamey (KAZ)
3. Harlley Arruda (BRA)
Men's J2 73kg
1. Mouloud Moula (ALG)
2. Nathan Petit (FRA)
3. Azamat Nokushev (KAZ)
Men's J1 90kg
1. Arthur Silva (BRA)
2. Bauyrzhan Arstanbekov (KAZ)
3. Oscar Widegren (SWE)
Men's J2 90kg
1. Helios Latchoumanaya (FRA)
2. Ben Goodrich (St. Paul, Minn. / U.S. Olympic & Paralympic Training Center)
3. Jacque Joubert (RSA)
3. Zhanbota Amanzhol (KAZ)
Men's J1 +90kg
1. Wilians Araujo (BRA)
2. Jason Grandry (FRA)
3. Abderrahmane Chetouane (ALG)
3. Antonio Silva (BRA)
Men's J2 +90kg
1. Christopher Skelley (GBR)
2. Jack Hodgson (GBR)
3. Tiagat Azhgaliyev (KAZ)
Women's J1 48kg
1. Rosicleide Andrade (BRA)
2. Rocio Ledesma (ARG)
Women's J1 57kg
1. Prescilla Gagne (CAN)
2. Paula Gomez (ARG)
3. Beilce Loureco (BRA)
Women's J2 48kg
1. Akmaral Nauatbek (KAZ)
2. Carmen Brussig (SUI)
3. Giulia Pereira (BRA)
Women's J2 57kg
1. Dayana Fedossova (KAZ)
2. Laura Gonzalez (ARG)
3. Lucia Araujo (BRA)
Women's J1 70kg
1. Nicolina Pernheim (SWE)
2. Brenda Freitas (BRA)
3. Karoline Duarte (BRA)
Women's J2 70kg
1. Dailidavis Rodriguez (CUB)
2. Michelle Jorgensen (CAN)
3. Michele Ferreira (BRA)
Women's J1 +70kg
1. Erika Zoaga (BRA)
2. Yoccelin Sanabria (VEN)
Women's J2 +70kg
1. Rebeca Silva (BRA)

2. Meg Emmerich (BRA)

3. Priscillia Leze (FRA)