John Jayne Places Seventh at Hungary Grand Slam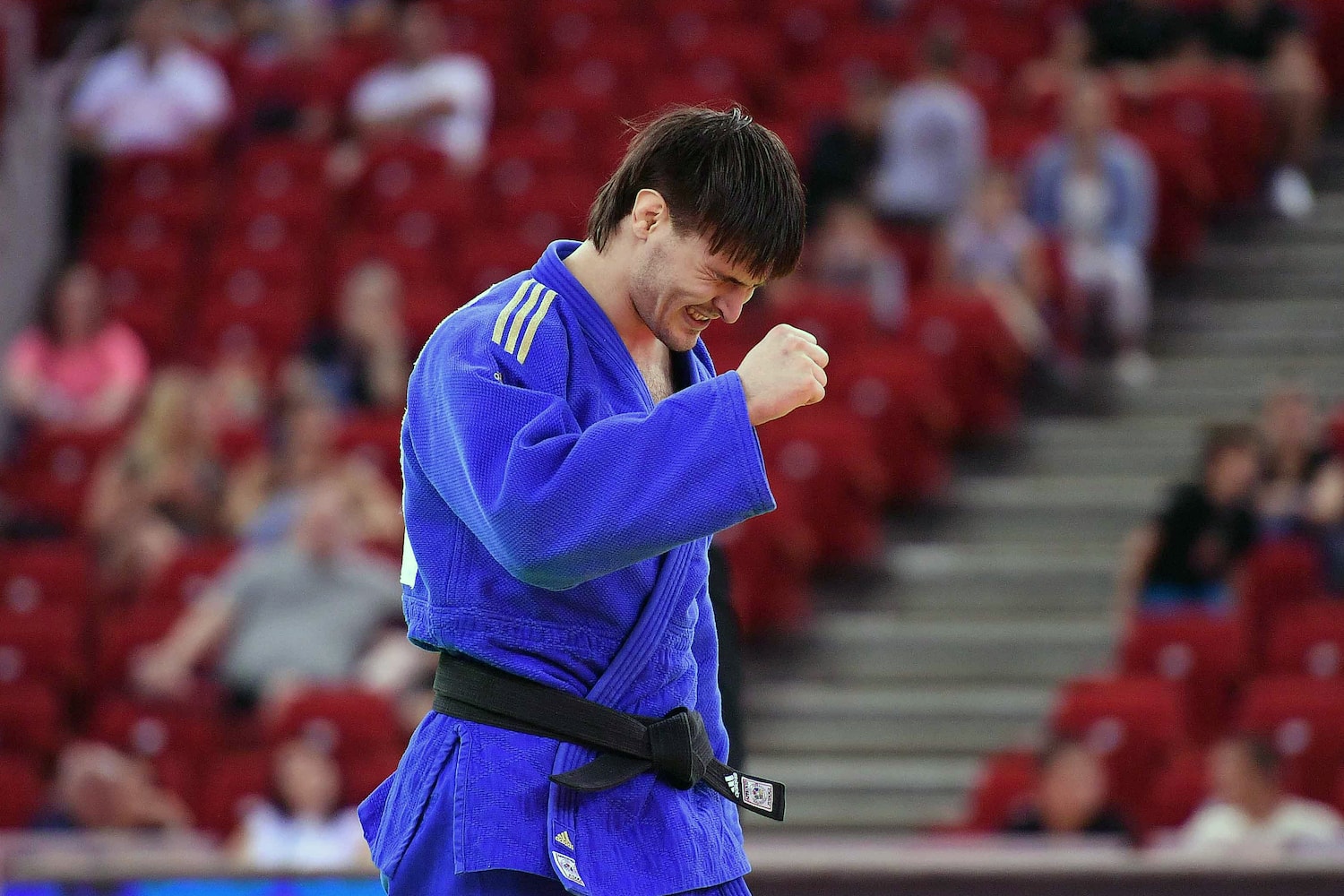 (Colorado Springs, Colo.) – The 2022 season has been one of career highlights for 2021 Senior World Team member John Jayne (Chicago, Ill.) who added another accomplishment to his bio with a seventh place finish in the 90kg division at his first qualifying competition for the 2024 Paris Olympic Games at the Hungary Grand Slam on Sunday.
Jayne, who won bronze at the Senior Pan American Championships in April and earned gold at the Warsaw European Open in February, finished the day with a 2-2 record, including a win over one of the top-16 judo athletes in the world.
After a bye into the round of 32, Jayne took his match against Li Kochman (ISR) to the ground, pinning the 2021 Antalya Grand Slam bronze medalist for ippon (instant win). In the round of 16, Jayne threw Aram Grigorian (UAE), a former Junior World Team member for Russia, with a drop seoi nage for a waza-ari (half-point) to end the match in the first minute of sudden death overtime.
In the quarter-finals, Jayne took on 11-time Grand Slam medalist Beka Gviniashvili (GEO) who threw thew American for a waza-ari in the second minute and pinned him in the final minute. Jayne remained in contention for a position on the podium, however, needing two more wins in the repechage to win bronze.
Fighting in the repechage, Jayne met 2018 Senior World silver medalist Ivan Felipe Silva Morales (CUB) in a rematch of their Senior Pan Am semifinal in April. Jayne stayed with Morales until the last 90 seconds when he was thrown for ippon.
With his seventh-place finish, Jayne moved from No. 31 to No. 28 in the world and is currently the top-ranked U.S. man in the World Rankings in any weight category.
Top eight and U.S. results from Saturday and Sunday's events are as follows:
Men's 73kg
1. Hidayat Heydarov (AZE)

2. Lasha Shavdatuashvili (GEO)

3. Rustam Orujov (AZE)

3. Tohar Butbul (ISR)

5. Magdiel Estrada (CUB)

5. Adam Stodolski (POL)

7. Behruzi Khojazoda (TJK)

7. Fabio Basile (ITA)
Also Competed: Dominic Rodriguez (Lehigh Acres, Fla. / NYAC / Ki-Itsu-Sai National Training Center), 1-1

Jack Yonezuka (West Long Branch, N.J. / NYAC / Cranford Judo & Karate Center), 0-1
Men's 81kg
1. Guilherme Schmidt (BRA)
2. Saeid Mollaei (AZE)
3. Nugzari Tatlashvili (UAE)
3. Antonio Esposito (ITA)
5. Vedat Albayrak (TUR)
5. Francois Gauthier Drapeau (CAN)
7. Nicon Zaborosciuc (MDA)
7. Asad Masabirov (KGZ)
Also Competed: Nicolas Yonezuka (West Long Branch, N.J. / NYAC / Cranford Judo & Karate Center), 1-1
Men's 90kg
1. Sanshiro Murao (JPN)

2. Christian Parlati (ITA)

3. Beka Gviniahsvili (GEO)

3. Ivan Felipe Silva Morales (CUB)

5. Rafael Macedo (BRA)

5. Gergely Nerpel (HUN)
7. John Jayne (Chicago, Ill.)
7. Komronshokh Ustopiriyon (TJK)
Men's 100kg
1. Kentaro Iida (JPN)

2. Varlam Liparteliani (GEO)

3. Zsombor Veg (HUN)

3. Nikoloz Sherazadishvili (ESP)

5. Matias Madsen (DEN)

5. Daniel Eich (SUI)

7. Onise Saneblidze (GEO)

7. Rafael Buzacarini (BRA)
Also Competed: L.A. Smith III (Rahway, N.J.), 0-1

Nate Keeve (San Rafael, Calif. / NYAC), 0-1
Men's +100kg
1. Teddy Riner (FRA)

2. Jelle Snippe (NED)

3. Magomedomar Magomedomarov (UAE)

3. Shokhruh Bakhtiyorov (UZB)

5. Gela Zaalishvili (GEO)

5. Marti Puumalainen (FIN)

7. Johannes Frey (GER)

7. Ushangi Kokauri (AZE)
Also Competed: Christian Konoval (Rockport, Texas / NYAC), 0-1
Women's 63kg
1. Megumi Horikawa (JPN)

2. Angelika Szymanska (POL)

3. Maylin Del Toro Carvajal (CUB)

3. Anriquelis Barrios (VEN)

5. Gemma Howell (GBR)

5. Ketleyn Quadros (BRA)

7. Katharina Haecker (AUS)

7. Catherine Beachemin-Pinard (CAN)
Also Competed: Hannah Martin (Schenectady, N.Y. / NYAC), 0-1
Women's 70kg
1. Saki Niizoe (JPN)

2. Miriam Butkereit (GER)

3. Barbara Matic (CRO)

3. Maria Perez (PUR)

5. Kelly Petersen Pollard (GBR)

5. Maya Goshen (ISR)

7. Sanne Van Dijke (NED)

7. Aoife Coughlan (AUS)
Also Competed: Chantal Wright:(San Antonio, Texas / Semper Fortis Judo), 0-1
Women's 78kg
1. Alice Bellandi (ITA)

2. Inbar Lanir (ISR)

3. Mayra Aguiar (BRA)

3. Shori Hamada (JPN)

5. Emma Reed (GBR)

5. Eiraima Silvestre (DOM)

7. Karen Leon (VEN)

7. Kaliema Antomarchi (CUB)
Women's +78kg
1. Wakaba Tomita (JPN)

2. Idalys Ortiz (CUB)

3. Xin Su (CHN)

3. Raz Hershko (ISR)

5. Nihel Cheikh Rouhou (TUN)

5. Shiyan Xu (CHN)

7. Marit Kamps (NED)

7. Adiyasuren Amarsaikhan (MGL)