Angelica Delgado Opens Olympic Qualification with Grand Slam Bronze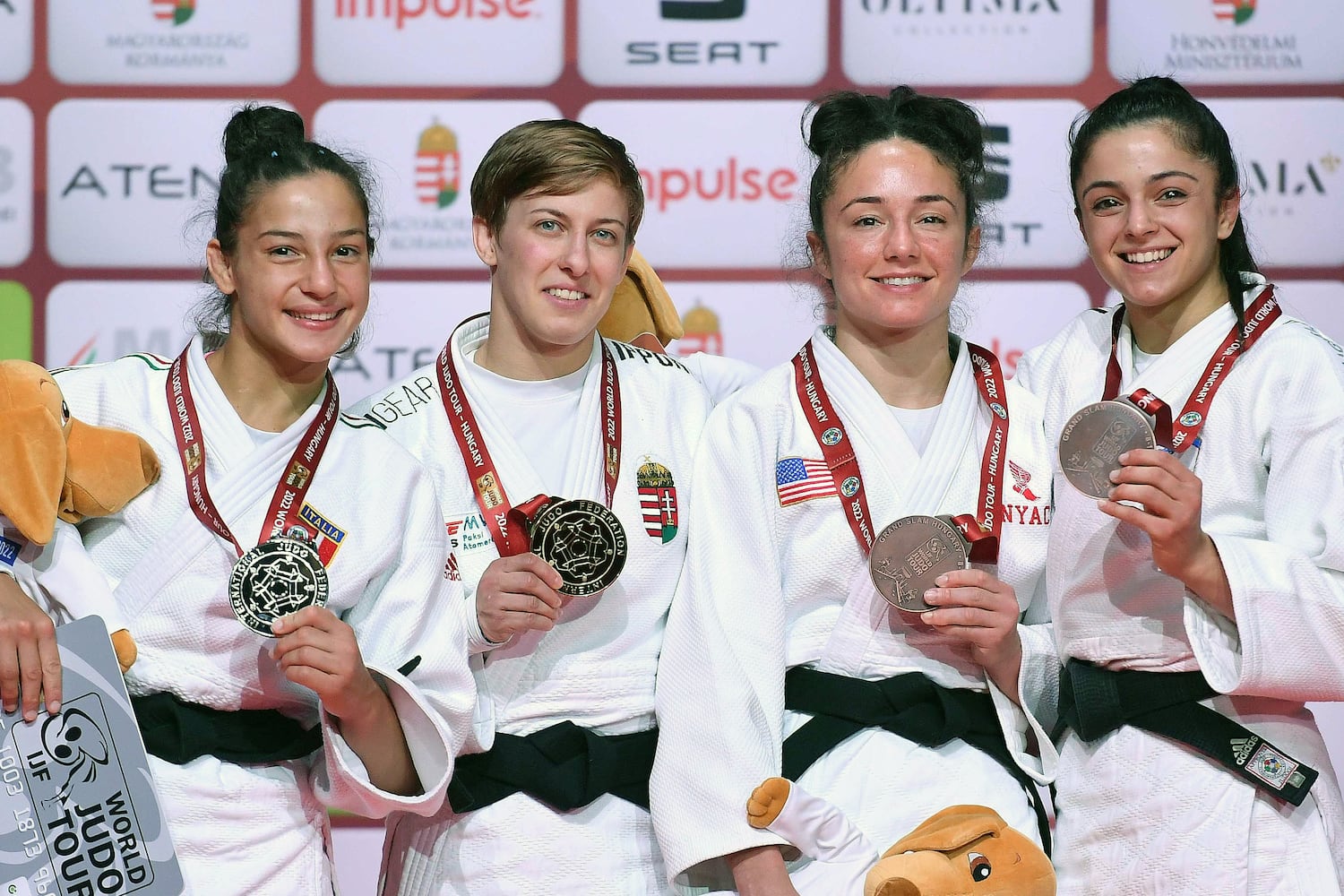 Angelica Delgado (second from right) on the podium in Budapest. Photo Credit: IJF.
(Colorado Springs, Colo.) – Angelica Delgado (Miami, Fla. / NYAC / Ki-Itsu-Sai National Training Center) opened her bid to qualify for her third Olympic Games with a bronze medal finish at the Hungary Grand Slam in Budapest on Friday.
2022 Hungary Grand Slam Results
The win is the third career Grand Slam podium for Delgado who is one of just four USA Judo athletes to have stood on the podium at the prestigious event in the last 13 years. Delgado is in excellent company alongside her Olympic teammates Kayla Harrison (Middletown, Ohio), Marti Malloy (San Jose, Calif.) and Travis Stevens (Wakefield, Mass.) who each earned Grand Slam medals prior to their Olympic podium finishes.
Delgado went 3-1 on the day in Team USA's first World Tour Olympic qualifying tournament of the two-year cycle that began on June 24.
Athletes will compete in tournaments for the next two years to earn World Ranking List points to secure qualification slots for the Paris Olympic Games with each country able to qualify a maximum of 14 athletes total – one per weight division.
Delgado entered the 52kg category ranked No. 17 in the world in the No. 6 seed in the tournament. After a bye into the second round, Delgado needed less than two minutes to throw 2021 Junior World Team member Rebeka Keller (HUN) for a waza-ari (half-point) score. In the quarter-finals, Delgado took on Gefen Primo (ISR), throwing the 2021 Senior World bronze medalist for a waza-ari in the second minute and moving into a pin to end the match. In the semis, 2021 Junior World silver medalist Giulia Carna (ITA) was down by two penalties, but caught Delgado on the ground and pinned the American for ippon.
The loss would pit Delgado against her teammate in the bronze medal final – two-time Senior Pan American medalist Katelyn Jarrell (East Greenwich, R.I. / NYAC / Mayo Quanchi) who was fighting for her first Grand Slam medal after earning two seventh place finishes at Grand Slams in 2021. Jarrell, a 2010 Youth Olympic Champion, opened with a crucial win, throwing five-time Grand Slam medalist Khorloodoi Bishrelt (MGL) for a waza-ari score during their second exchange and holding the Mongolian scoreless for the remainder of the bout. In the quarter-finals, Jarrell was thrown for two waza-ari scores by 2021 Paris Grand Slam bronze medalist Mascha Ballhaus (GER). Fighting in the repechage, Jarrell threw Ben Liu (CHN) for ippon in 11 seconds to advance to the bronze medal final.
The bronze medal matchup between Delgado and Jarrell would be their second this year after the two fought in the semifinals of the Senior Pan Ams in April. Jarrell took an early lead in their previous match, but Delgado earned the win and went on to take silver. This time, Delgado started as the aggressor, throwing her teammate for a quick ippon to secure her position on the podium.
Competition continues throughout the weekend with the women's 63kg and 70kg and men's 73kg and 81kg events taking place on Saturday. The women's 78kg and +78kg and men's 90kg, 100k and +100kg eventswill take place on Sunday.
Top eight and U.S. results for Friday are as follows:
Men's 60kg
1. Jorre Verstraeten (BEL)
2. Lukhumi Chkhvimiani (GEO)
3. Romain Valadier Picard (FRA)
3. Temur Nozadze (GEO)
5. Ariunbold Enkhtaivan (MGL)
7. Angelo Pantano (ITA)
7. Sumiyabazar Enkhtaivan (MGL)
Also Competed: David Terao (Arlington, Va.), 0-1
Men's 66kg
1. Hifumi Abe (JPN)
2. Rakhimjon Subhonov (UZB)
3. Herlen Ganbold (MGL)
3. Tal Flicker (ISR)
5. Ramazan Kodzhakov (BRN)
5. Walide Khyar (FRA)
7. Adrian Nieto Chinarro (ESP)
7. Vazha Margvelashvili (GEO)
Also Competed: Ari Berliner (Cumming, Ga. / NYAC / Jason Morris Judo Center), 1-1
Women's 48kg
1. Funa Tonaki (JPN)
2. Julia Figueroa (ESP)
3. Mireia Lapuerta Comas (ESP)
3. Baasankhuu Bavuudorj (MGL)
5. Zongying Guo (CHN)
5. Narantsetseg Ganbaatar (MGL)
7. Shira Rishony (ISR)
7. Katharina Menz (GER)
Also Competed: Maria Laborde (Kenosha, Wis. / Ki-Itsu-Sai National Training Center)
Women's 52kg
1. Reka Pupp (HUN)
2. Giulia Carna (ITA)
3. Gefen Primo (ISR)
3. Angelica Delgado (Miami, Fla. / NYAC / Ki-Itsu-Sai National Training Center)
5. Mascha Ballhaus (GER)
5. Katelyn Jarrell (East Greenwich, R.I. / NYAC / Mayo Quanchi)
7. Amber Ryheul (BEL)
7. Ben Liu (CHN)
Women's 57kg
1. Haruka Funakubo (JPN)
2. Rafaela Silva (BRA)
3. Jessica Klimkait (CAN)
3. Timna Nelson Levy (ISR)
5. ARnaes Odelin Garcia (CUB)
5. Telma Monteiro (POR)
7. Mina Libeer (BEL)
7. Lele Nairne (GBR)
Also Competed: Mariah Holguin (San Antonio, Texas / Universal Judo), 0-1