Team USA Returns to Cadet World Championships in Sarajevo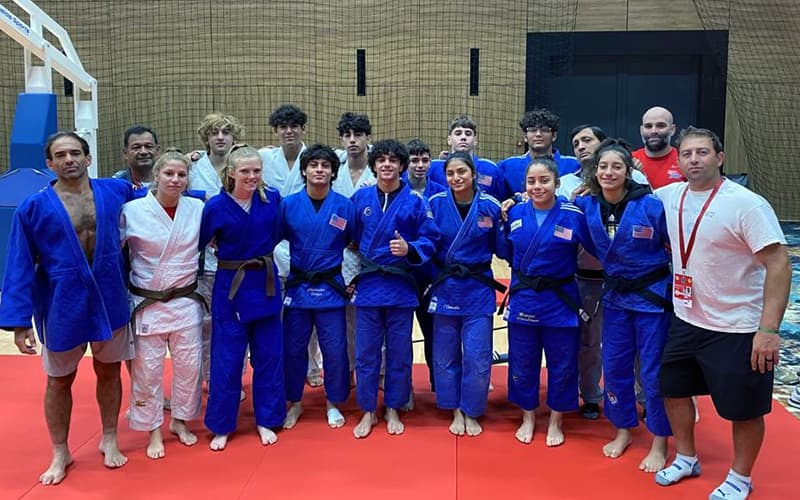 (Colorado Springs, Colo.) – Seventeen U.S. athletes will compete at the first Cadet World Championships in three years beginning on Wednesday when the tournament begins in Sarajevo.
2022 Cadet World Championships Live Results
The four-day individual competition for athletes age 17 and under will feature nearly 500 athletes from 60 nations competing in 10 men's and 10 women's weight categories. Due to the COVID-19 pandemic, this year will mark the first time the Cadet World Championships has been held since 2019.
Competition schedule is as follows:
Wednesday, Aug. 24
Men's 50kg, 55kg
Women's 40kg, 44kg
Thursday, Aug. 25
Men's 60kg, 66kg
Women's 48kg, 52kg
Friday, Aug. 26
Men's 73kg, 81kg
Women's 57kg, 63kg
Saturday, Aug. 27
Men's 90kg, +90kg
Women's 70kg, +70kg
While Team USA's athletes are all first-time Cadet World Team members, the squad holds a wealth of experience with three athletes having competed at the Junior World Championships in Guayaquil, Ecuador two weeks ago and nine athletes being ranked in the top-20 in the world in their respective weight divisions.
Ki-Itsu-Sai National Training Center athletes Shavon Gonzalez (West Palm Beach, Fla. / 70kg), Emily Jaspe (Hialeah, Fla. / 63kg) and Christopher Velazco (Coral Springs, Fla. / 60kg) each represented Team USA at the Junior Worlds.
Sixteen-year-old Gonzalez rose to the No. 1 position in the Cadet World Rankings after three international podium finishes in U17 events this year. Gonzalez won gold in the 70kg event at the Fuengirola Cadet European Cup in Spain in February and took silver at the Cadet European event in Coimbra, Portugal in May. She also earned bronze medals at both the Junior and Cadet Pan Am Championships.
Ranked No. 2 in the world in the cadet 63kg event, sixteen-year-old Jaspe also earned four international podium finishes this year, claiming gold and bronze at the Cadet and Junior Pan Ams, respectively and gold and silver in Coimbra and Fuengirola.
Velazco also stood on top of the podium in Coimbra, winning his first Cadet European Cup title after taking his third straight gold at the Cadet Pan Ams. The 17-year-old earned the top result for Team USA's cadet athletes at the Junior Worlds where he finished in the top 16.
Ranked No. 4 in the world at 52kg, 16-year-old Nicole Cancela (Coral Springs, Fla. / Ki-Itsu-Sai National Training Center) holds four Pan Am medals, including two golds, after winning the 2021 junior and 2022 cadet titles as well as silver at the 2022 junior event and bronze as a cadet in 2021.
Team USA's youngest male athlete, 15-year-old David Leiva (Coral Springs, Fla. / Ki-Itsu-Sai National Training Center), comes in at No. 5 in the world at 50kg. Although this will be Leiva's first European tournament, he took gold at the 2022 Cadet Pan Ams.
Seventeen-year-old Aiden Cohen (Vernon Hills, Ill. / Cohen Brothers) reached the podium in each of the three major international events in which he has competed. Cohen won silver and bronze at the 2022 and 2021 Cadet Pan Ams, respectively, and added another bronze in his European debut in Coimbra to climb to No. 7 in the world at 81kg.
Sixteen-year-old Nikolas Vithoulkas (Whitestone, N.Y. / International Judo Center) comes into the Cadet Worlds ranked No. 11 in the world after back-to-back podium finishes at the Cadet Pan Ams, taking silver in 2021 and bronze in 2022.
A silver medalist at 50kg at the 2020 Cadet Pan Ams, 17-year-old Javier Delgado (Miami, Fla. / Ki-Itsu-Sai National Training Center) added another silver medal after moving up to 55kg at the 2022 Cadet Pan Ams and enters the Cadet Worlds with a No. 16 world ranking.
Harlee Hiller (Evanston, Ill. / Cohen Brothers Judo) won silver medals at both the Junior and Cadet Pan Ams in April and comes into her first European event ranked No. 16 at 48kg.
The complete delegation roster is as follows:
Men's 50kg
David Leiva (Coral Springs, Fla. / Ki-Itsu-Sai National Training Center)
Men's 55kg
Javier Delgado (Miami, Fla. / Ki-Itsu-Sai National Training Center)
Men's 60kg
Christopher Velazco (Coral Springs, Fla. / Ki-Itsu-Sai National Training Center)
Men's 66kg
Anthony Farnot (Lehigh Acres, Fla. / Ki-Itsu-Sai National Training Center)
Men's 73kg
Kai Wallace (Murrieta, Calif. / LA Tenri Judo)
Men's 81kg
Aren Balagezyan (Rego Park, N.Y. / International Judo Center)
Aiden Cohen (Vernon Hills, Ill. / Cohen Brothers Judo)
Men's 90kg
Nikolas Vithoulkas (Whitestone, N.Y. / International Judo Center)
Petros Vithoulkas (Whitestone, N.Y. / International Judo Center)
Men's +90kg
Isaac Zucker (Palo Alto, Calif. / Tamayo Judo Club)
Women's 48kg
Harlee Hiller (Evanston, Ill. / Cohen Brothers Judo)
Women's 52kg
Nicole Cancela (Coral Springs, Fla. / Ki-Itsu-Sai National Training Center)
Taira Sakamoto (Santa Monica, Calif. / Hollywood Judo)
Women's 57kg
Danielle Pekler (Prairie View, Ill. / Cohen Brothers Judo)
Women's 63kg
Emily Jaspe (Hialeah, Fla. / Ki-Itsu-Sai National Training Center)
Jayda Fulp (Fort Worth, Texas / Fort Worth Judo)
Women's 70kg
Shavon Gonzalez (West Palm Beach, Fla. / Ki-Itsu-Sai National Training Center)
Coaches
Aaron Cohen (Vernon Hills, Ill. / Cohen Brothers Judo)
Jhonny Prado (Coral Springs, Fla. / Ki-Itsu-Sai National Training Center)
German Velazco (Coral Springs, Fla. / Ki-Itsu-Sai National Training Center)