Knauf and Garriga Earn Seventh-Place Finishes at Junior Worlds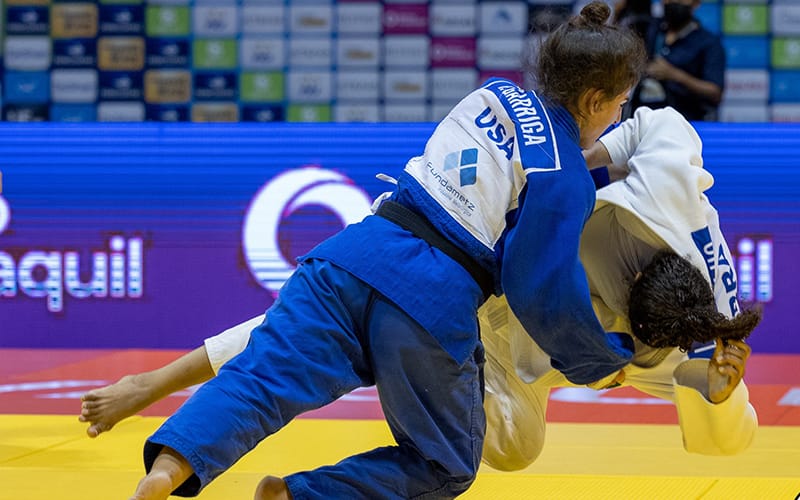 (Colorado Springs, Colo.) – Two members of Team USA placed in the top seven in their respective events at the Junior World Championships in Guayaquil, Ecuador on Friday.
Alexander Knauf (Yorkville, Ill. / NYAC / Cohen Brothers) and Isabella Garriga (Richmond, Texas / Texas A&M Judo) each posted 2-2 records in the 90kg and 70kg events, respectively.
A two-time Senior National Champion, Knauf entered his first Junior World Championships ranked seventh in the world following a gold medal win at the 2021 Junior Pan Ams and a silver medal result at this year's edition of the event.
After a bye into the second round, 20-year-old Knauf took 2018 Junior Pan Am bronze medalist Sergueis Rodriguez Figueroa (CUB) to Golden Score (sudden death overtime) where he threw the Cuban for ippon (instant win) in just eight seconds. In the round of 16, Knauf needed just over a minute to throw Ryan Rijksen Salman (GBR) for ippon. One win away from the medal rounds, Knauf was thrown by Alex Cret (ROU) in the quarter-finals for a waza-ari (half-point) score. Cret moved into a pin, but Knauf tapped out with an injured shoulder and withdrew from the repechage. A 2022 Portugal Grand Prix bronze medalist on the senior circuit, Cret went on to win the Junior World bronze.
Two-time Junior World Team member Garriga drew Brae Booth (CAN), a 2019 Junior Pan Am medalist, in the first round and won the match with a throw for ippon in the second minute. Competing in her final junior international tournament, Garriga produced one of the division's greatest upsets in the second round when she threw No. 2 seed Luana Carvalho (BRA) for a waza-ari in the third minute and holding the 2021 Junior World bronze medalist and 2022 Senior Pan Am silver medalist for a waza-ari score. In the next round, however, Garriga was thrown twice by Sarah Mehlau (GER), first for a waza-ari and then for ippon. In the repechage, Garriga drew 2021 Junior World bronze medalist, Katarzyna Sobierajska (POL), the No. 3 seed in the tournament and a 2021 Grand Prix medalist on the senior circuit. In the third minute of the match, Sobierajska threw Garriga for a waza-ari score and moved into a pin to take the win.
Nick Yonezuka (West Long Branch, N.J. / NYAC / Cranford Judo & Karate Center) finished 1-1 in his second and final appearance at the Junior World Championships. The 2022 Senior Pan Am Team member threw Juan Pablo Ruiz (COL) for ippon in the first round. He went to Golden Score against Junior World No. 9 Nurbek Murtozoev (UZB) before being thrown for ippon.
A 2021, Cadet Pan American Champion, 16-year-old Shavon Gonzalez (West Palm Beach, Fla. / Ki-Itsu-Sai National Training Center) qualified for her second Junior World Team as well as her first Cadet World Team with gold medal wins in both events at the Junior Olympic Championships in June. Ranked No. 1 in the world as a cadet, Gonzalez controlled her opening match against two-time Junior Pan Am medalist Eliana Aguiar (VEN), throwing Aguiar for a waza-ari early in the match. By the fourth minute, however, Gonzalez was given her third and final penalty and Aguiar was awarded the win.
Sixteen-year-old Emily Jaspe (Hialeah, Fla. / Ki-Itsu-Sai National Training Center) fought Eter Askilashvili (GEO) in her opening match of the 63kg division, but was thrown for two waza-ari scores. Jaspe, the reigning Cadet Pan Am Champion, will compete alongside Gonzalez at the Cadet World Championships later this month in Sarajevo.
A member of the 2019 Cadet World Team and 2021 Cadet Pan Am Champion, 18-year-old Karlee Carrouth (Oklahoma City, Okla. / USA Stars) returned to Team USA for her first Junior World appearance. Carrouth fell short of advancing out of the opening round, however, when she was thrown for a waza-ari by Farangiz Redjepova (UZB).
Top eight and U.S. results are as follows:
Men's 81kg
1. Mihail Latisev (MDA)
2. Arnaud Aregba (FRA)
3. Adam Kopecky (CZE)
3. Eljan Hajiyev (AZE)
5. Aurelien Bonferroni (SUI)
5. Meiirlan Maxim (KAZ)
7. Bright Maddaloni Nosa (ITA)
7. Nurbek Murtozoev (UZB)
Also Competed: Nick Yonezuka (West Long Branch, N.J. / NYAC / Cranford Judo & Karate Center), 1-1
Men's 90kg
1. Jakhongir Mamatrakhimov (UZB)
2. Peter Safrany (HUN)
3. Aleksa Mitrovic (FRA)
3. Alex Cret (ROU)
5. Tornike Poladishvili (GEO)
5. Miljian Radulj (SRB)
7. Alexander Knauf (Yorkville, Ill. / NYAC / Cohen Brothers)
7. Tom Droste (GER)
Women's 63kg
1. Joanne Van Lieshout (NED)
2. Kaillany Cardoso (BRA)
3. Melkia Auchecorne (FRA)
3. Agnese Zucco (ITA)
5. Katarina Kristo (CRO)
5. Kurumi Ishioka (JPN)
7. Antonietta Palumbo (ITA)
7. Alessia Corrao (BEL)
Also Competed: Emily Jaspe (Hialeah, Fla. / Ki-Itsu-Sai National Training Center), 0-1

Karlee Carrouth (Oklahoma City, Okla.), 0-1
Women's 70kg
1. Ai Tsunoda Roustant (ESP)
2. Fidan Ogel (TUR)
3. Samira Bock (GER)
3. Idelannis Gomez Feria Gomez (CUB)
5. Katarzyna Sobierajska (POL)
5. Sarah Mehlau (GER)
7. Brenda Olaya (COL)
7. Isabella Garriga (Richmond, Texas / Texas A&M Judo)
Also Competed: Shavon Gonzalez (West Palm Beach, Fla. / Ki-Itsu-Sai National Training Center), 0-1