Jack Yonezuka Makes History with Junior World Bronze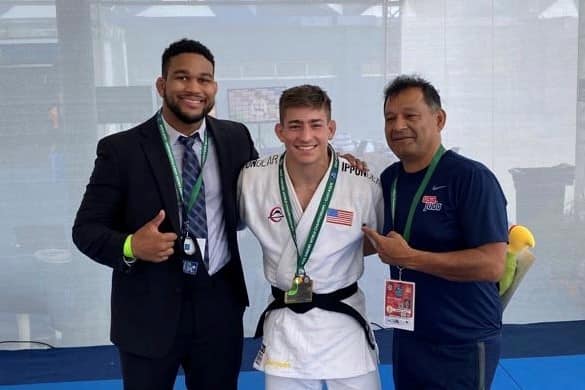 2022 Junior World medalist Jack Yonezuka with coaches Colton Brown and Jhonny Prado.
(Colorado Springs, Colo.) – When competition began at the Junior World Championships in Guayaquil, Ecuador this week, it had been nearly 30 years since the last U.S. man stood on the podium in 1992.
2022 Junior World Championships Live Results
Nineteen-year-old Jack Yonezuka (West Long Branch, N.J. / NYAC / Cranford Judo & Karate Center) entered his second Junior World Championships with a family legacy, joining his 20-year-old brother Nick Yonezuka (West Long Branch, N.J. / NYAC / Cranford Judo & Karate Center) on the squad and following in the footsteps of his father, Nick Yonezuka (West Long Branch, N.J. / Cranford Judo & Karate Center), a 1980 Olympian who coaches both of his children.
The family's patriarch, grandfather Yoshisada Yonezuka, was a two-time Olympic coach who passed away in 2014 and left the storied Cranford program to his son.
Coming into the event on Thursday, Jack won gold in his 73kg event at the Senior National Championships in April and rebounded from a bronze medal finish at the Junior Olympic Championships in June to win gold in both the junior and senior events at the U.S. Open two weeks ago.
With senior team qualification in his sights, Yonezuka spent the 2022 season on the Senior World Tour which meant that his lack of junior competitions this year would leave him unseeded in the tournament.
Accordingly, he drew the World No. 1 in the opening round – two-time reigning Junior Pan American Champion Gabriel Falcao (BRA). Down by two penalties to one in Golden Score, Yonezuka threw the Brazilian in the first minute of the sudden death overtime period for a waza-ari (half-point) to take his first win of the day.
Yonezuka pinned Jumber Meladze (CAN) for ippon (instant win) to make the quarter-finals, but fell to the eventual gold medalist, Ryuga Tanaka (JPN), in the next round on penalties in Golden Score.
In the repechange, Yonezuka threw Ahmadzod Masudi (TJK) for a waza-ari score to secure himself a position in the bronze medal final where he would face Daniel Szegedi (HUN) – the 2020 European Junior Championships bronze medalist who bested 2022 Senior Pan Am Champion Dominic Rodriguez (Lehigh Acres, Fla. / NYAC / Ki-Itsu-Sai National Training Center) in the first round.
Yonezuka threw Szegedi for a waza-ari and held the Hungarian scoreless to win bronze.
With his podium finish, Yonezuka joins a storied history of U.S. Junior World medalists that includes 1996 U.S. Olympic alternate Marcus Dawson (Cranford, N.J.) – an alumnus of the Yonezuka family's club who won the last Junior World medal for a U.S. man with bronze in 1992 as well as a roster of Olympic medalists that includes two-time Olympic Champion Kayla Harrison (Middletown, Ohio) and 2008 Olympic bronze medalist Ronda Rousey (Santa Monica, Calif.) who won Junior World golds in 2008 and 2004, respectively. On the men's side, two-time Olympic medalist Jimmy Pedro (Methuen, Mass.) won Junior World bronze in 1990 and 1992 Olympic medalist Jason Morris (Glenville, N.Y.) earned bronze at the 1986 Junior Worlds.
In the women's events, two-time Junior Pan Am medalist Tasha Cancela (Coral Springs, Fla. / Ki-Itsu-Sai National Training Center) led the way for the Americans, placing seventh in the 57kg event at her second Junior Worlds.
Twenty-year-old Cancela earned a bye into the second round where she defeated Clara Barinas Benitez (DOM) on penalties. In the quarters, she took eventual Junior World Champion Ozlem Yildiz (TUR) to Golden Score before being thrown for a waza-ari.
In the repechage, Cancela met Bianca Reis (BRA) in a rematch of their 2022 Junior Pan Am final. Reis took the match on penalties and went on to finish fifth.
Three first-time team members also competed in the Junior World Championships, but were eliminated in the opening round.
Fighting in her first international event, 19-year-old Leana Nelson (Coventry, R.I. / Top Game Martial Arts) competed against Ana Skrabl (SLO) and went the full four minutes, but lost by a waza-ari score.
Sixteen-year-old Emily Jaspe (Hialeah, Fla. / Ki-Itsu-Sai National Training Center) trailed Eter Askilashvili (GEO) by a waza-ari score before being thrown for a second waza-ari in the final minute. Jaspe, the 2022 Cadet Pan Am Champion, will return to the international stage in two weeks when she makes her Cadet World debut.
A member of the 2019 Cadet World Team and 2021 Cadet Pan Am Champion, 18-year-old Karlee Carrouth (Oklahoma City, Okla. / USA Stars) was thrown for ippon by Farangiz Redjepova (UZB).
Competition will continue on Friday with the women's 70kg and men's 81kg and 90kg events.
Women's 70kg
Shavon Gonzalez (West Palm Beach, Fla. / Ki-Itsu-Sai National Training Center)
Isabella Garriga (Richmond, Texas / Texas A&M Judo)
Men's 81kg
Nicolas Yonezuka (West Long Branch, N.J. / NYAC / Cranford Judo & Karate Center)
Men's 90kg
Alexander Knauf (Yorkville, Ill. / NYAC / Cohen Brothers)
Top eight and U.S. results are as follows:
Men's 73kg
1. Ryuga Tanaka (JPN)
2. Giorgi Terashvili (GEO)
3. Marcin Kowalski (POL)
3. Jack Yonezuka (West Long Branch, N.J. / NYAC / Cranford Judo & Karate Center)
5. Daniel Szegedi (HUN)
5. Kote Kapanadze (GEO)
7. Hassan Doukkali (MAR)
7. Ahmadzod Masudi (TJK)
Also Competed: Dominic Rodriguez (Lehigh Acres, Fla. / NYAC / Ki-Itsu-Sai National Training Center), 0-1
Women's 57kg
1. Ozlem Yildiz (TUR)
2. Akari Omori (JPN)
3. Veronica Toniolo (ITA)
3. Rin Eguchi (JPN)
5. Bianca Reis (BRA)
5. Marta Garcia Martin (ESP)
7. Chiara Zuccaro (ITA)
7. Tasha Cancela (Coral Springs, Fla. / Ki-Itsu-Sai National Training Center)
Also Competed: Leana Nelson (Coventry, R.I. / Top Game Martial Arts), 0-1
Women's 63kg
1. Joanne Van Lieshout (NED)
2. Kaillany Cardoso (BRA)
3. Agnese Zucco (ITA)
3. Melkia Auchecorne (FRA)
5. Katarina Kristo (CRO)
5. Kurumi Ishioka (JPN)
7. Alessia Corrao (BEL)
7. Antonietta Palumbo (ITA)
Also Competed: Emily Jaspe (Hialeah, Fla. / Ki-Itsu-Sai National Training Center), 0-1

Karlee Carrouth (Oklahoma City, Okla. / USA Stars), 0-1