Velazco Earns Top-16 Finish at Junior Worlds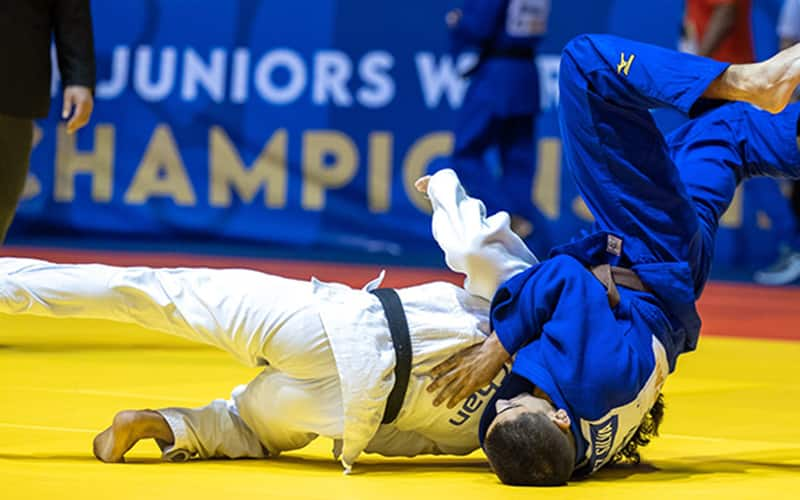 (Colorado Springs, Colo.) – One of the youngest members of the U.S. men's squad, 17-year-old Christopher Velazco (Coral Springs, Fla. / Ki-Itsu-Sai National Training Center) placed in the top 16 at his first Junior World Championships on Wednesday in Guayaquil, Ecuador.
2022 Junior World Championships Results
Velazco drew Lucas Fernandez (CHI) in the first round and threw the 2021 Junior Pan American Championship bronze medalist for a waza-ari score with just over a minute remaining in the match.
In the next round, however, Velazco took on 2021 Junior World Championships bronze medalist Romain Valadier-Picard (FRA). Valadier-Picard controlled the match, throwing Velazco for a waza-ari score and armbarring him later in the second minute to close the match. A two-time Grand Slam medalist on the senior tour, Valadier-Picard went on to win his second career Junior World bronze.
The United States also saw two other first-time team members in action with 16-year-old Jayne Loo (Mercer Island, Wash. / Budokan Judo Dojo-Japanese Cultural & Community Center of Washington) and 19-year-old Amin Bakhtiyor (Fairfax, Va. / Pedro's Judo Center) competing in the women's 48kg and men's 66kg events, respectively.
Loo met Ayana Duisenbay (KAZ) in the opening round, but was thrown for a pair of waza-ari scores and eliminated.
Bakhtiyor fought Robbe Demets (BEL) in the first round and was also thrown for two waza-ari scores.
Competition continues on Thursday with the men's 73kg and women's 57kg and 63kg events.
Men's 73kg
Dominic Rodriguez (Lehigh Acres, Fla. / NYAC / Ki-Itsu-Sai National Training Center)

Jack Yonezuka (West Long Branch, N.J. / NYAC / Cranford Judo & Karate Center)
Women's 57kg
Tasha Cancela (Coral Springs, Fla. / Ki-Itsu-Sai National Training Center)

Leana Nelson (Coventry, R.I. / Top Game Martial Arts)
Women's 63kg
Emily Jaspe (Hialeah, Fla. / Ki-Itsu-Sai National Training Center)

Karlee Carrouth (Oklahoma City, Okla. / USA Stars)
Top eight and U.S. results are as follows:
Men's 60kg
1. Taiki Nakamura (JPN)

2. Giorgi Sardalashvili (GEO)

3. Tornike Maziashvili (GEO)

3. Romain Valadier Picard (FRA)

5. Michel Augusto (BRA)

5. Turan Bayramov (AZE)

7. Chong-You Lin (TPE)

7. Yam Wolczak (ISR)
Women's 48kg
1. Hikari Yoshioka (JPN)

2. Assunta Scutto (ITA)

3. Gemma Maria Gomez Antona (ESP)

3. Merve Azak (TUR)

5. Alexia Nascimento (BRA)

5. Pauline Cuq (FRA)

7. Rebeka Rita Koszegi (HUN)

7. Asia Avanzato (ITA)
Men's 66kg
1. Nurali Emomali (TJK)

2. Azizbek Ortikov (UZB)

3. Muhammed Demirel (TUR)

3. Kim Bravo Blanco (CUB)

5. Ioan Dzitac (ROU)

5. Radu Izvoreanu (MDA)

7. Balint Gombas (HUN)

7. Levi Maerkt (GER)
Women's 52kg
1. Giulia Carna (ITA)

2. Chloe Devictor (FRA)

3. Binta Ndiaye (SUI)

3. Marina Castello Diez (ESP)

5. Rebeka Keller (HUN)

5. Nicole Stakhov (GER)

7. Umida Djumaniyazova (UZB)

7. Alya De Carvalho (FRA)