Team USA to Compete at Senior Pan American and Oceania Championships, April 15-16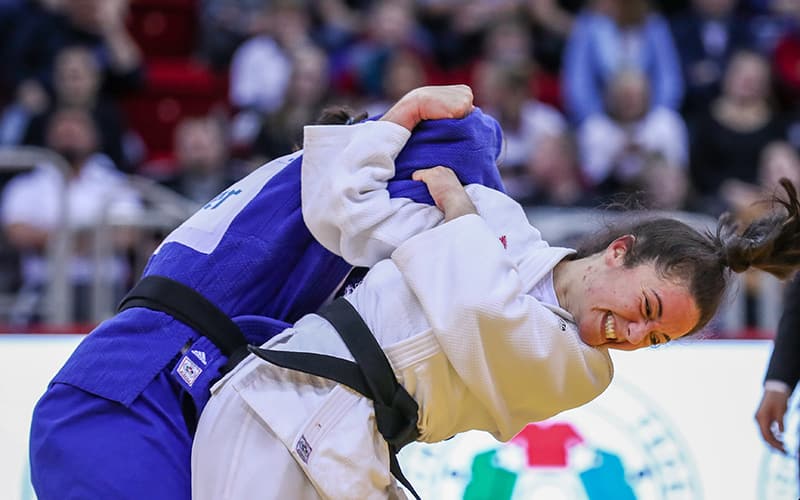 Angelica Delgado is aiming for her eighth career medal at the Senior Pan Ams.

(Colorado Springs, Colo.) – Eighteen athletes, including eight previous zonal medalists, will represent Team USA at Pan American and Oceania Championships from April 15-16 in Lima, Peru.
For the first time, the event will be a combined Pan American and Oceania Championships with athletes competing from North and South America as well as Australia, New Zealand, Fiji and Samoa.
2022 Senior Pan American and Oceania Championships Live Results
Competition schedule is as follows:
April 15
Men's 60kg, 66kg, 73kg
Women's 48kg, 52kg, 57kg, 63kg
April 16
Men's 81kg, 90kg, 100kg, +100kg
Women's 70kg, 78kg, +78kg
Team USA features three Olympians among the 12 returning Senior Pan American Team members.
Angelica Delgado (Miami, Fla. / NYAC / Ki-Itsu-Sai National Training Center / 52kg) and Nina Cutro-Kelly (Selma, Texas / Universal Judo / +78kg) each competed at the Tokyo Olympic Games last year.
Delgado, who competed at both the 2016 and 2020 Olympic Games, will be fighting at her 12th Pan Am Championships. A seven-time medalist at Grand Prix and Grand Slam events, Delgado also has medaled at every Pan Ams in which she has competed since 2015. Throughout her career, Delgado has reached the podium seven times at the Pan Am Championships and earned medals at both the 2011 and 2015 Pan Am Games.
An 11-time Senior Pan Am Championship Team member, Cutro-Kelly holds four Senior Pan Am Championship medals, including a career-high silver at the 2021 Pan Ams. She also earned bronze at the 2015 Pan Am Games.
Two-time Olympian Nick Delpopolo (Fort Worth, Texas / Fort Worth Judo / 81kg) placed seventh at his last Olympic appearance in Rio and is returning to fight at his 12th straight Senior Pan American Championships with three career Grand Prix medals to his credit. The last U.S. man to win gold at the event, Delpopolo earned the 2013 title in his former 73kg division. Across his career, Delpopolo has earned five bronze medals at the Pan Am Championships well as bronze at the 2019 Pan Am Games.
Now a U.S. citizen, former Cuban National Team member Maria Laborde (Kenosha, Wis. / Ki-Itsu-Sai National Training Center / 48kg) will be making her U.S. Senior National Team debut this weekend. Laborde won gold at the 2014 Pan Ams, just months before winning bronze for Cuba at the Senior World Championships. Last month, she competed internationally for the first time since 2014, winning gold for Team USA at the Tunis African Open.
Team USA includes four more Senior Pan Am medalists joining Delgado, Cutro-Kelly, Delpopolo and Laborde in Lima.
Katelyn Jarrell (East Greenwich, R.I. / NYAC / Mayo Quanchi) won bronze at both the 2017 and 2021 Senior Pan Ams in the 52kg event and earned a bronze medal at the 2017 Cancun Grand Prix. Alisha Galles (Lancaster, Calif. / NYAC) and Chantal Wright (San Antonio, Texas / Semper Fortis Judo) took back-to-back bronzes in 2020 and 2021 in the 63kg and 70ikg events, respectively. On the men's side, L.A. Smith III (Rahway, N.J.) won bronze at the 2018 Senior Pan Ams in the 100kg event and is coming off a bronze medal finish in January at the Portugal Grand Prix.
With just over two years to go until the 2024 Olympic Games, Team USA also has a crop of outstanding young athletes on the squad, including three junior athletes who also competed at the Junior and Cadet Pan Am and Oceania Championships last weekend.
Dominic Rodriguez (Lehigh Acres, Fla. / NYAC / Ki-Itsu-Sai National Training Center / 73kg) won three straight Cadet Pan Am titles between 2019 and 2021 and added a bronze at this year's junior event. The 17-year-old also stood on the podium at the Tunis African Open last month, winning silver at his first major senior international event.
Nineteen-year-old Nick Yonezuka (West Long Branch, N.J. / NYAC / Cranford Judo / 81kg) won silver at the 2020 Junior Pan Ams and claimed two podium finishes at Senior Pan Am Open events in 2021.
Heavyweight Christian Konoval (Rockport, Texas) made his Pan Am debut at the junior event, winning silver, but the 18-year-old put the world on notice with a seventh-place finish at the Paris Grand Slam last fall and has gained valuable international experience at two Junior World Championships.
Team USA's complete delegation roster is as follows:
Women's 48kg

Maria Laborde (Kenosha, Wis. / Ki-Itsu-Sai National Training Center), 2014 Senior World bronze medalist and 2014 Senior Pan Am Champion
Women's 52kg
Angelica Delgado (Miami, Fla / NYAC / Ki-Itsu-Sai National Training Center), two-time Olympian and seven-time Senior Pan Am Championships medalist
Katelyn Jarrell (East Greenwich, R.I. / NYAC / Mayo Quanchi), five-time Senior World Team member and two-time Senior Pan Am Championships medalist
Women's 57kg
Mariah Holguin (San Antonio, Texas / Universal Judo), two-time Senior World and 2018 Senior Pan Am Championships Team member
Women's 63kg
Alisha Galles (Lancaster, Calif. / NYAC), four-time Senior World Team member and two-time Senior Pan Am Championships medalist
Sara Golden (Crystal Lake, Ill. / Ki-Itsu-Sai National Training Center), 2021 Senior World Team member and 2020 Senior Pan Am Championships Team member
Women's 70kg
Nicole Stout (Schenectady, N.Y. / Jason Morris Judo Center), 2017 Senior World Team member and 2021 Senior Pan Am Championships Team member
Chantal Wright (San Antonio, Texas / Semper Fortis Judo), three-time Senior World Team member and two-time Senior Pan Am Championships medalist
Women's +78kg
Nina Cutro-Kelly (Selma, Texas / Universal Judo), 2020 Olympian and four-time Senior Pan Am Championships medalist
Men's 60kg
Jacob More (Alva, Fla. / Ki-Itsu-Sai National Training Center), two-time Junior World Team member and 2017 Junior Pan Am Championships Team member
Men's 66kg
Ari Berliner (Cumming, Ga. / NYAC / Jason Morris Judo Center), 2021 Senior World and Pan Am Championships Team member
Isaiah Ramirez (Barstow, Calif. / Barstow PAL Judo Club), 2021 Junior World Team member and 2020 Junior Pan Am Championships bronze medalist
Men's 73kg
Dominic Rodriguez (Lehigh Acres, Fla. / NYAC / Ki-Itsu-Sai National Training Center), 2021 Junior World Team member and 2021 Junior Pan Am Championships bronze medalist
Men's 81kg
Nick Delpopolo (Fort Worth, Texas / Fort Worth Judo), two-time Olympian and six-time Senior Pan Am Championships medalist
Nick Yonezuka (West Long Branch, N.J. / NYAC / Cranford Judo), 2021 Junior World Team member and 2020 Junior Pan Am Championships silver medalist
Men's 90kg
John Jayne (Chicago, Ill.), 2021 Senior World Team member and three-time Junior World Team member
Men's 100kg
LA Smith (Rahway, N.J.), three-time Senior World Team member and 2018 Senior Pan Am Championships bronze medalist
Men's +100kg
Christian Konoval (Rockport, Texas / NYAC), two-time Junior World Team member
Coaches:
Jhonny Prado (Coral Springs, Fla. / Ki-Itsu-Sai National Training Center)
German Velazco (Coral Springs, Fla. / Ki-Itsu-Sai National Training Center)