USA Judo Celebrates Trailblazing Olympic and Paralympic Medalists Allen Coage and Lynn Manning
How many times have you heard or uttered the phrase, "we are living in unprecedented historic times," in the past year? Probably more than you can count and almost certainly more than you can remember. The past year certainly has been both unprecedented and historic given the worldwide COVID-19 pandemic. In reality each and every year can be unprecedented and historic in its own right, but we often don't recognize the historical significance of many instances as they are happening. As we know though it is important that we not only study our history, but work to understand it as our past greatly influences our future.
The importance of recognizing and showcasing individuals that have made significant contributions to the great sport of Judo is something that Harry Kendall of the National Association of African American Judoka is passionate about. The primary administrator for the Association, Kendall oversees a private group page on Facebook where he and other group members can document and discuss the history of the group and its members. Earlier this month USA Judo learned that Kendall has taken on an ambitious project for 2021 in planning an induction ceremony for the first official class of Association's Hall of Fame and we recently spoke with him to learn more about it.
"It was in 2013 at the Senior Nationals in Reno (Nev.) that we organized, after having spoken for a long time about the black presence in Judo in America and how it happened. We found that a lot of black United States servicemen were stationed in Japan and trained at the Kodokan in the 1950's and 60's. A lot of the old judo guys were the black guys from the military and it just kind of followed suit that when they returned to the U.S. they continued practicing Judo, establishing a pretty strong influence in the community. We decided to start an organization because we felt that African Americans didn't always get the recognition for what our race has put into the sport. Dave Rutland was the first inductee in 2020, but 2021 will be the first official Hall of Fame class. With Senior Nationals in Reno again this year, we are anticipating having the induction ceremony there."
The inaugural induction class of the National Association of African American Judoka Hall of Fame will include many of the most accomplished athletes and individuals in USA Judo history. With so many so worthy of recognition USA Judo felt it an appropriate time to highlight USA Judo's first African American Olympic and Paralympic medalists, Allen Coage and Lynn Manning. While both men have now passed, they left a legacy that will live forever and not just in Judo.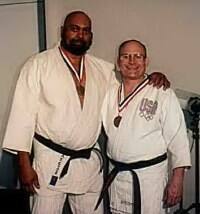 Allen Coage and Jim Bregman
Coage won the bronze medal in the men's +93kg weight class at the 1976 Olympic Games in Montreal, Quebec, Canada becoming the first African American to win an Olympic Judo medal and only the second USA Judo Olympic medalist joining James Bregman, who won bronze at the 1964 Olympic Games in Tokyo, Japan where the sport of Judo made its Olympic debut. Born October 22, 1943 in Harlem, New York City, Coage grew up in the borough of Queens attending Thomas A. Edison High School of which he graduated in 1962. At the age of 15, while riding the New York City Subway, a poster advertising Jerome Mackey's Judo Dojo caught his eye and shortly after he began training in Judo. He began his competitive career in 1964 at the age of 22. Coage quickly found success winning Amateur Athletic Union Judo Championship heavyweight titles in 1966, 1968, 1969, 1970 and 1975. He represented the United States of America at both the 1967 and 1975 Pan American Games winning gold in each. In 1970, Coage temporarily relocated to Japan to attend Nihon University for two years where he studied and practiced judo extensively. Back in the USA in 1972, Coage suffered a severe knee injury during his U.S. Olympic Trials bout against Jim Wooley, who went on to compete that summer at the Olympic Games in Munich, Germany. In 1976, Coage achieved his Olympic dream winning a bronze medal at the Olympic Games in Montreal where he was a teammate of Wooley's. Retiring from competitive Judo following his historic achievement, Coage went on to a successful career in Professional Wrestling under the ring names of Bad News Brown, Buffalo Allen and Bad News Allen. A dual citizen of the United States and Canada, Coage lived an amazing life that even included a stint as a bodyguard for late legendary singer Aretha Franklin. Coage died of a sudden heart attack on the morning of March 6, 2007 in Calgary, Alberta, Canada at the age of 63 years old.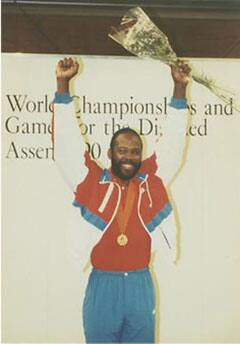 Lynn Manning World Championships
Born in Fresno, Calif. on April 30, 1955 Lynn Manning found Judo after a life changing event. At the age of 23, he was shot in the face by a stranger over a pinball tournament disagreement while he was in a Hollywood, Calif. bar. The incident rendered Manning blind. On October 25, 1978 Manning started his judo lessons at the Braille Institute in Los Angeles, Calif. as a way to stay in shape. And stay in shape he did becoming a world elite visually impaired judoka. Manning traveled the world representing the United States of America in elite judo competitions culminating with a silver medal performance at the 1992 Paralympic Games in Barcelona, Spain making him the first African American Paralympic medalist in the sport of Judo. Judo became an official sport of the Paralympic program at the 1988 Paralympic Games in Seoul, Korea. In 1990, Manning was named the Blind Male Athlete of the Year by the United States Olympic and Paralympic Committee in large part for winning the Blind Judo World Championship at the 1990 World Victory Games in Holland. He remained active as a Sensei in Judo giving back to the sport by teaching visually impaired children and adults the martial art he loved at the same L.A. Braille Institute where he got his start. Despite the incredible success he found in the world of competitive Judo, Manning is best known as an American playwright, poet and actor. A member of the Screen Actor's Guild, Actors' Equity and the Actor's Studio's West-coach Writers/Directors Unit, Manning is best known for his autobiographical work Weights, which premiered in Los Angeles in 2001. The play, which illustrates his life story from his poverty stricken childhood to his adult life as a blind black man writing poetry, plays, appearing on television shows and in commercials all while suffering through the highs and lows of his life, won three NAACP Theatre Awards including Best Actor for Manning. Just one month before dying of liver cancer on August 3, 2015 at age 60, Manning was invited by U.S. President Barack Obama and attended a White House celebration on the 25th Anniversary of the American with Disabilities Act that was signed and enacted into law by U.S. President George H.W. Bush in 1990.
This article highlights the legendary stories just two of the many amazing USA Judoka. USA Judo would like to thank people like Harry Kendall and groups like the National Association of African American Judoka for keeping their stories and legacies alive.
Additional info on Allen Coage – en.wikipedia.org/wiki/Allen_Coage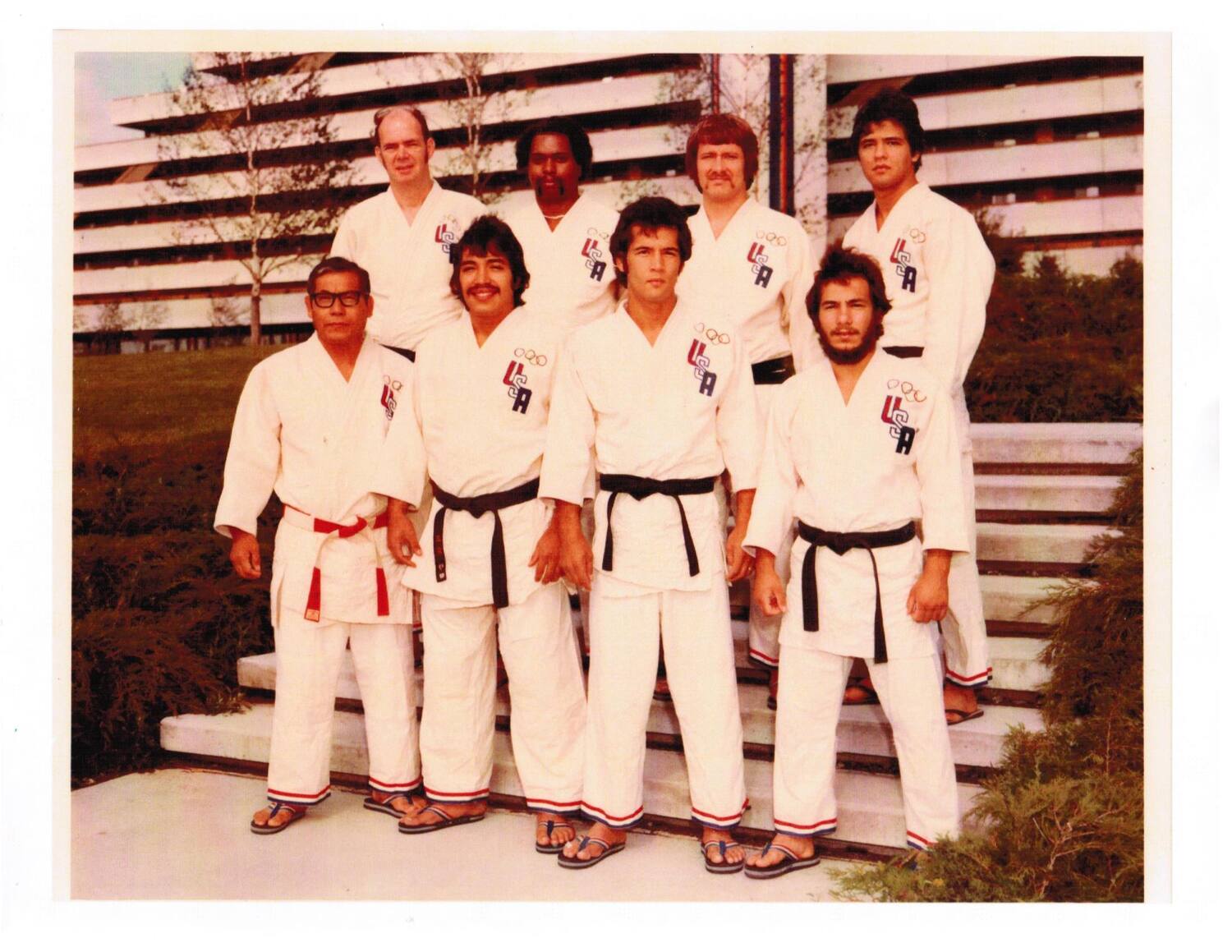 Montreal 76 Team