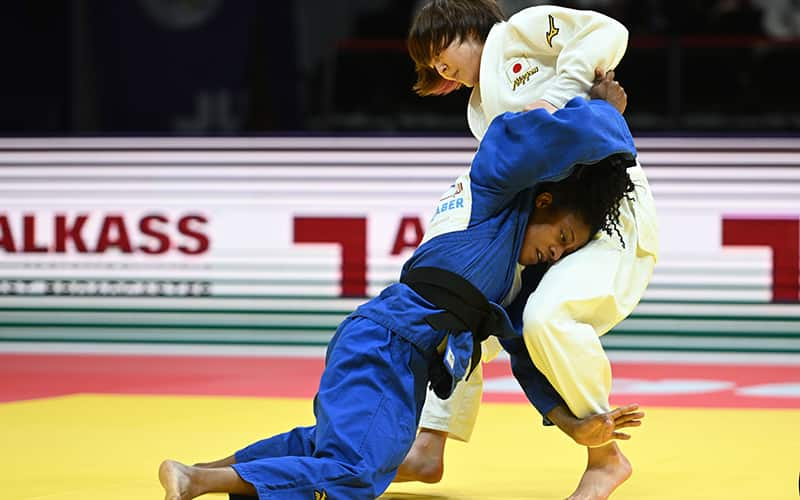 (Colorado Springs, CO) – Unseeded going into the Senior World Championships on Sunday, World No. 20 Maria Laborde (Kenosha, WI / NYAC / Ki-Itsu-Sai National Training Center) came up against the two-time reigning World Champion in her opening round of the 48 kg division.
Team USA Senior World Championships Competition Hub
2023 Senior World Championships Live Results
Laborde, a two-time Senior World medalist, drew a bye into the round of 32 where she faced Natsumi Tsunoda (JPN) – the No. 2-ranked athlete in the division who has lost just one match in the last two years and entered the event as the 2021 and 2022 Senior World Champion.
After a scoreless first minute, Tsunoda caught Laborde in an armbar to take the match. The win was the first of five straight for Tsunoda who went on to win the gold medal, throwing World No. 1 Shirine Boukli (FRA) for ippon (instant win) in the third minute of their final match.
Team USA did not have an entrant into the men's events on Sunday where 2021 Senior World bronze medalist Francisco Garrigos (ESP) won his first Senior World title.
Garrigos upset Tokyo Olympic Champion Naohisa Takato (JPN) in the semifinals, pulling away from a tied match at a waza-ari a piece to throw the four-time Senior World Champion for ippon in the third minute of Golden Score (sudden death overtime).
In the finals, Garrigos and Dilshodbek Baratov (UZB) went to Golden Score as well before Garrigos therw Baratov for a waza-ari in the first minute of the overtime period.
Competition continues on Monday with the men's 66 kg and women's 52 kg divisions.
Team USA's entrants in Monday's events are as follows:
Men's 66 kg
Ari Berliner (Schenectady, NY / NYAC / Jason Morris Judo Center)
Isaiah Ramirez (Barstow, CA / Barstow PAL Judo Club)
Women's 52 kg
Angelica Delgado (Miami, FL / NYAC / Ki-Itsu-Sai National Training Center)
Top eight and U.S. results are as follows:
Men's 60 kg
1. Francisco Garrigos (ESP)

2. Dilshodbek Baratov (UZB)

3. Giorgi Sardalashvili (GEO)

3. Harim Lee (KOR)

5. Jorre Verstraeten (BEL)

5. Naohisa Takato (JPN)

7. Nurkanat Serikbayev (KAZ)

7. Younes Saddiki (MAR)
Women's 48 kg
1. Natsumi Tsunoda (JPN)
2. Shirine Boukli (FRA)
3. Wakana Koga (JPN)
3. Assunta Scutto (ITA)
5. Blandine Pont (FRA)
5. Abiba Abuzhakynova (KAZ)
7. Milica Nikolic (SRB)
7. Amanda Lima (BRA)
Also Competed: Maria Laborde (Kenosha, WI / NYAC / Ki-Itsu-Sai National Training Center), 0-1