2022 SPECIAL COACH
ELECTIONS
2022 Coach Board Member Special Election Registered Voters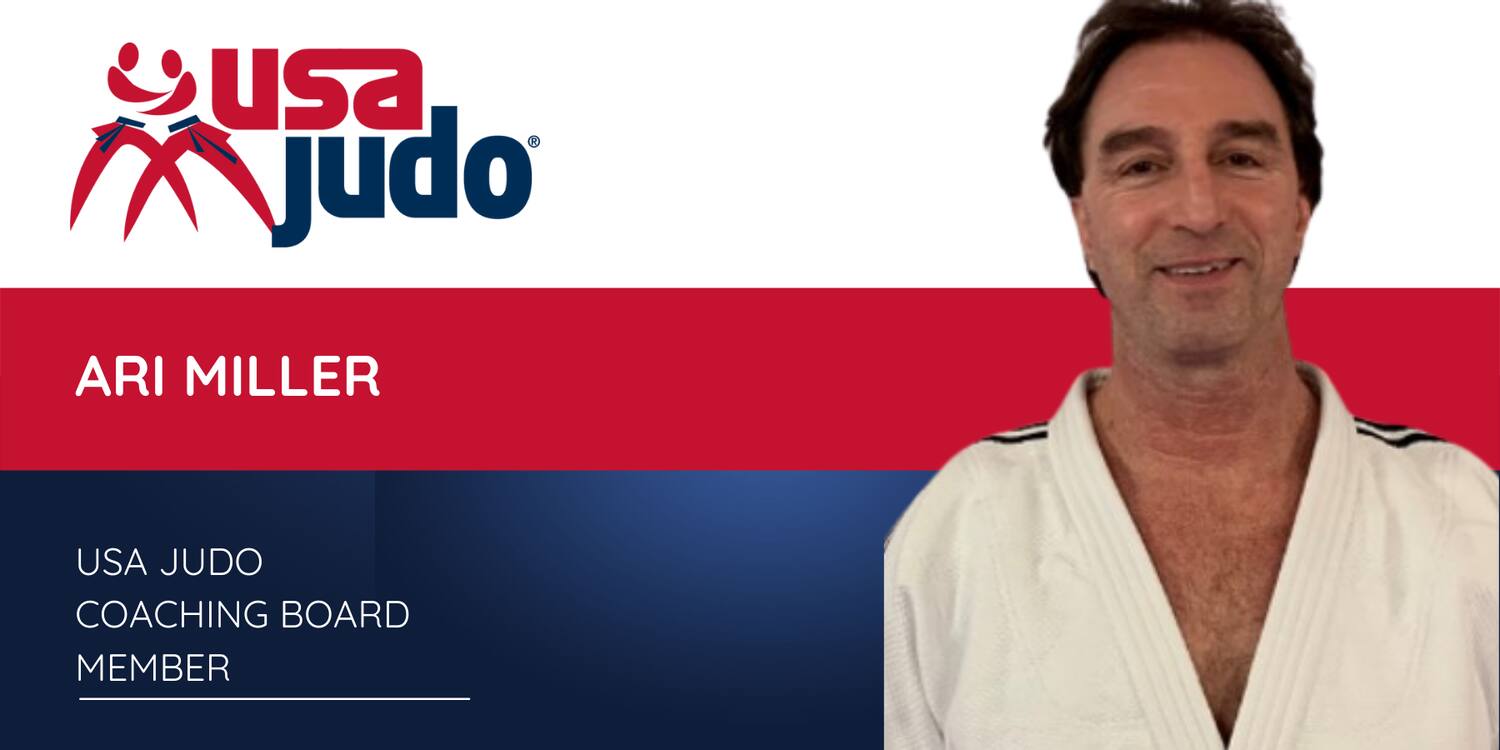 (Colorado Springs, Colo.) – Ari Miller (Virginia Beach, Va. / USA Stars East) has been elected by his peers to fill the open role of coach board member on the USA Judo Board of Directors. Miller's term will start Monday, March 28, 2022, and conclude in 2024.
A former nationally ranked judo athlete and wrestler at the University of Oklahoma, Miller is the head coach at USA Stars East and has served on multiple international coaching staffs, including a position as the co-head coach of the 2019 Junior World Championship Team.
With 282 USA Judo coaches voting in the online election, Miller earned 48.6% of the vote with eight candidates running for the position in the highly contested special election that concluded on Friday evening.
Complete voting results are as follows:
Ari Miller (Virginia Beach, Va. / USA Stars East): 137
Jason Morris (Glenville, N.Y. / Jason Morris Judo Center): 92
Chuck Wall (Spotsylvania, Va. / Wall 2 Wall Martial Arts): 33
Richard Mignogna (Golden, Colo. / Northglenn Judo Club): 6
Humberto Lopez (Miami, Fla. / Ricardo Tuero Judo Club): 5
Donna Turk (Navarre, Fla.): 5
Tim Webb (Pearland, Texas / Westlake Judo Club): 3
Michael Verdugo (South Pasadena, Calif. / Pasadena Kodokan Judo Dojo): 1
USA Judo thanks all nominees for pursuing this role and all of the coaches for the excellent voter participation.
Coach Board Member
Nominees
All nominees were requested to submit their platform statements. You can access platform statements from the nominees who submitted one by clicking on their name.
2022 SPECIAL ELECTION FOR COACH BOARD MEMBER NOMINATING & ELECTION
PROCEDURES
The USA Judo Nominating Committee will be conducting a 2022 Special Election for a new Coaching Board Member to be nominated and elected by registered USA Judo Coaches in good standing.
Thursday, February 28 – e-blast sent to coaches requesting nominations & register to vote
Friday, March 11 – deadline to receive nominations & register to vote
Monday, March 14 – Wednesday, March 16 – registered voters list posted on USA Judo Election Page
Thursday, March 17 – Sunday, March 20 – reconcile any missed voter registrations
Monday, March 21 – Friday, March 25 – Voting Period ballots sent by third party administrator, Association Elections
Saturday, March 26 – Tuesday, March 29 – insurance time in event of a tie or other unforeseen election issues
Monday, March 28 – Voting results published
Coaches are allowed to submit as many nominations as they would like for the coach board member position.
Only registered voters will be allowed to participate in the election administered by third party representative Association Elections.
Each registered coach voter will be able to select one candidate for Coach Board Member.
USA JUDO COACHING BOARD MEMBER OVERVIEW & ELECTION
INFORMATION
As a result of an unexpected vacancy in the role of Coaching Board Member on USA Judo's Board of Directors, a special election is being held immediately to fill this position.
The Coach Board Member will come from nominations made by Coach Members of USA Judo who are in good standing. At the appropriate time, the Nominating and Governance Committee will solicit nominations of coaches who are Coach Members, in accordance with procedures to be established by the Nominating and Governance Committee. The nominees will be reviewed by the Nominating and Governance Committee to confirm they qualify to serve, if elected. The Nominating and Governance Committee will then timely present the names of at least three (3) qualified nominees to the Coach Members for election (or, in the event there are fewer than 3 qualified nominees, the names of all qualified nominees). All current USA Judo Coach Members in good standing shall then vote for the Coach Board Member in accordance with procedures to be established by USA Judo. Each USA Judo Coach Member in good standing shall have 1 vote. The individual with the highest vote total is elected. Coach members in good standing are those individuals who register and meet the required certifications to serve as an active coach as determined by USA Judo. Certifications include, but are not limited to, minimum rank of Shodan, USA Judo Coaching Certification, Background Screen, SafeSport Certification and Concussion Training.
Function of USA Judo Board
Members
The USA Judo Board of Directors shall represent the interests of the Judo community for USA Judo in the United States and its athletes by providing USA Judo with policy, guidance, and strategic direction. The Board shall oversee the management of USA Judo and its affairs, but it does not manage USA Judo. The Board shall select a well-qualified Chief Executive Officer and oversee the Chief Executive Officer in the operation of USA Judo. The Board shall focus on long-term objectives and impacts rather than on day-to-day management, empowering the Chief Executive Officer to manage a staff-driven organization with effective Board oversight. In addition, the Board performs the following specific functions, among others:
implements procedures to orient new Board Directors, to educate all Directors on the business and governance affairs of USA Judo, and to evaluate Board performance;


selects, compensates, evaluates and may terminate the Chief Executive Officer, and plans for management succession;


reviews and approves USA Judo's strategic plan and the annual operating plans, budget, business plans, and corporate performance;


sets policy and provides guidance and strategic direction to management on significant issues facing USA Judo;


reviews and approves significant corporate actions;


oversees the financial reporting process, communications with stakeholders, and USA Judo's legal and regulatory compliance program;


oversees effective corporate governance;


approves capital structure, financial strategies, borrowing commitments, and long-range financial planning;


reviews and approves financial statements, annual reports, financial and control policies, and, upon the recommendation of the Audit and Finance Committee, selects independent auditors;


monitors to determine whether USA Judo's assets are being properly protected;


monitors USA Judo's compliance with laws and regulations and the performance of its broader responsibilities;


ensures that the Board and management are properly structured and prepared to act in case of an unforeseen corporate crisis; and


ensures that USA Judo adopts and maintains athlete safety rules, policies, and procedures that comply with the requirements of the USOPC and USCFSS.
Coach Board Members shall be directly nominated and elected by USA Judo Coaches in good standing.
The term for the USA Judo Coaching Board Member is four years, the term for the vacancy being filled ends 2024.
Unless there are determined to be extraordinary circumstances, no Director of the Board shall serve more than two (2) consecutive terms.
Directors of the Board shall not receive compensation for their services as Directors, although the reasonable expenses of Directors may be paid or reimbursed in accordance with USA Judo's policies. Directors are disqualified from receiving compensation for services rendered to or for the benefit of USA Judo in any other capacity. Athlete Directors, however, shall be entitled to obtain compensation from USA Judo in connection with their capacity as athletes, including all benefits to which all Elite Athletes are eligible.
Please address any questions to Mr. Timothy Jordan, Chair of USA Judo's Nominating Committee, at elections@usajudo.us.